'Sesame Street' gets new Hispanic character
Ismael Cruz is the newest addition to the cast of the popular children series.
NEW YORK (AP) — As a child in Puerto Rico, Ismael Cruz was delighted by the colorful characters in "Sesame Street," who not only entertained and educated him, but helped him learn "Inglés." He could not have imagined that two decades later he would be playing with them in front of the cameras.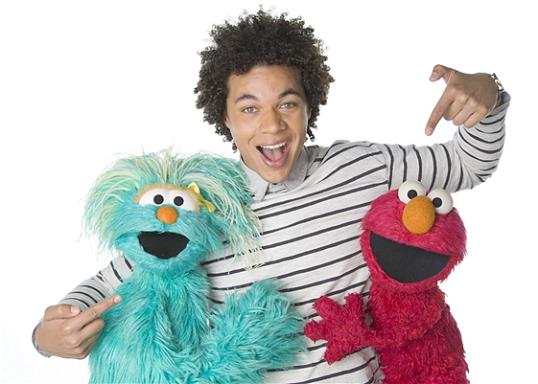 Cruz is the newest Hispanic addition to the cast of the popular children series, playing Armando, or "Mando."
Gallery: 11 celebrities who speak for animals
"'Sesame Street' is a magical place. It doesn't matter if you are working there or just visiting, or if you're watching on TV, that magic is always there," Cruz, 26, told The Associated Press. "I grew up watching the show, and for me it was a place that really existed and to which as a child I aspired to go, a place so diverse that I could see myself in the faces of the people that were there. Being on the set now is that, but with cameras."
Bing: Best celeb guests on "Sesame Street"
Cruz's character is a writer from Brooklyn who writes everything from short stories to essays and movie scripts. He also loves technology and social media.
The addition expands a cast of Hispanic characters that includes Maria (Sonia Manzano) and Luis (Emilio Delgado), who debuted on "Sesame Street" in 1971 as human characters, as well as Rosita, the charming turquoise monster who joined in 1993 with Mexican puppeteer Carmen Osbahr, who also voices Ovejita.
Gallery: 21 adorable Etsy finds for little ones
The show wants to reflect the population changes in the U.S., where Hispanics are the fastest-growing minority. It also features African-American, Asian and American Indian characters.
"It's a show that's always cutting-edge, that is always aware of what's going on with the population, so by including a character that is young, with new perspectives, Latino, and that bring that new generation, it is carrying on with that message," Cruz said.
Cruz grew up poor in Aguas Buenas, Puerto Rico, and his mother tuned in to "Sesame Street" so his son would learn English. Cruz studied music and dreamed of being an actor, eventually attending New York University's Tisch School of the Arts. Before "Sesame Street," he appeared on "The Good Wife" and in films "In The Blood," ''White Alligator" and "Chaser."
The casting call for a new Hispanic character on "Sesame Street" attracted hundreds of bilingual actors last August.
"I hadn't seen it, (but) many people who knew me and read the description of what they were looking for sent me messages through Facebook, email and phone telling me, 'You have to do this audition, this is perfect for you.' And that's how I began this process," he said.
"Mando" will make his debut on the 44th season of "Sesame Street," which starts airing Sept. 16. Carol-Lynn Parente, executive producer of the show, said she and her team knew immediately that Cruz was the perfect addition.
"He has a passion for creative expression and a warmth that comes right through the camera," Parente said in a statement.
More from The Family Room:
Mister Rogers on times of tragedy
Mother's nightmare: 2 sons each lose a leg
Father furious after finding crayon-written message
Love content like this? Friend us on Facebook, follow us on Twitter, and find us on Pinterest.
Readers: Calling all mom bloggers — we're looking for fresh voices on MSN Living. Email us your samples and contact info.
Photo: This April 2013 photo released by Sesame Workshop shows Puerto Rican actor Ismael Cruz Cordova, 26, of "Sesame Street," posing with muppets Rosita, left, and Elmo in New York. (AP Photo/Sesame Workshop, Gil Vaknin)
News, stories, tips and laughs for moms & dads
Transform the fall vegetable into cool decor pieces.

Put together these creative, but simple, Halloween looks for your youngsters.

We know you're documenting just about every move baby makes. (Do you even have any memory left on your phone? We didn't think so.) These tips from professional photographers can help you perfect your pics.

These six on-trend ideas will make baby's room your new favorite place to hang out.

Baby probably won't remember his first birthday party, but that doesn't mean you can't go all out (after all, parents need to celebrate making it through this first year, right?). These fun, colorful themes take planning to the next level.

See what celebrities who had problems conceiving have to say.

You'll be hearing a lot of advice and opinions. Some of it will be really helpful and some will be just plain wrong. Here are the most common things people say about babies that aren't true.

A new dad finds an Epcot Center's worth of innovation after expecting none at all.

The dog days of summer may be well behind us, but that doesn't mean it's time to pack in the outdoor adventures quite yet.

Protect yourself and your family with these ingenious gizmos and smartphone apps.

Make sure your go-to gadgets are as cute as your style, with these trendy tech finds!

Oh, how the times have changed...