How the government shutdown affects you and your baby
As of yesterday morning, no additional federal funds are available to support the Special Supplemental Nutrition Program for Women, Infants and Children (WIC) or any of their clinical services, food benefits and administrative costs.
Yesterday morning, the US government officially shutdown. And while the harsh reality has closed hundreds of national parks, zoos and sent government employees out of work without pay, the Congressional stalemate hits way, way closer to home for many. As of yesterday morning, no additional federal funds are available to support the Special Supplemental Nutrition Program for Women, Infants and Children (WIC) or any of their clinical services, food benefits and administrative costs.
Yep, you read correctly. The $6 billion program that helps pregnant women and new moms buy the healthy food they need if they're low-income or facing "nutritional risk" is no more. The repercussions, of course, depend on how individual states react and how long the government shutdown lasts. Political analyst Elizabeth Lower-Basch from the Center for Law and Social Policy said in an email to the Huffington Post on Saturday that, "States can probably shelter families receiving WIC from the effects of a shutdown for a short period, but it could be a real problem if it lasts more than a few days."
In a statement made on Saturday, before the shutdown had officially gone into effect, the Department of Agriculture (USDA) released a statement that read, "Unlike Social Security checks and many other safety net programs that can continue to operate under a shutdown, the Special Supplemental Nutrition Program for Women, Infants and Children (WIC) will cease issuing payments, leaving state governments scrounging for leftover funds from other programs that could be used to pay WIC benefits. Nearly 9 million at-risk mothers, infants, and children stand to lose their government-provided food money should the government shut down." However, the USDA suggested that some aspects of the program could last through a short shutdown. "States may have some funds available from infant formula rebates or other sources, including spendforward authority, to continue operations for a week or so, but States would likely be unable to sustain operations for a longer period," but even they're not optimistic if the government shutdown continues for more than a weeks time. "Contingency funds," they said, "will be available to help States — but even this funding would not fully mitigate a shortfall for the entire month of October."
Another shocker? The CDC will halt its flu campaign. Due to the shutdown, the Department of Heath and Human Services released a memo that said the CDC will be "unable to support the annual seasonal influenza program."
More than 1,6000 Head Start programs will also close as part of the government shutdown. These programs provide education, nutrition, health and other services to more than 1 million low-income children and families. At first, only the programs whose federal grants expire on October 1 will be affected but over time, as the shutdown lingers, more programs would likely be closed as a result.
As a result of the shutdown, the FDA will lose 6,620 employees and cease many inspections, enforcement actions and monitoring operations, also suspending the "majority" of its internal lab research.
Access to information has even been limited. A note on the homepage of the USDA reads: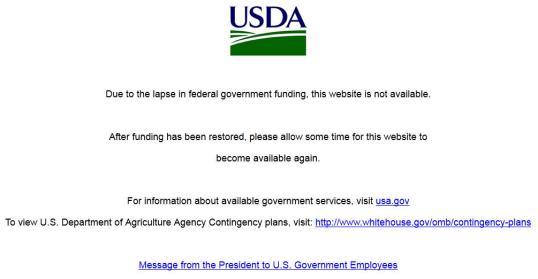 Has the shutdown impacted your day-to-day routine?
More from The Bump:
By Kylie McConville
Photo: Veer / The Bump
News, stories, tips and laughs for moms & dads
A new dad finds an Epcot Center's worth of innovation after expecting none at all.

Alcohol and tattoos are not meant for the pre-teen set

But Debra Harrell now has custody of daughter again

I am probably not the first to tell you this: Kids come with lots of stuff. Even if you try to be as minimal as possible, the little creatures require an awful lot to keep things running smoothly. Here's a master-plan slideshow of ways to cut corners on space in every room to accommodate all the things that come along with kids.

You never know for certain what type of parent you'll be until you've actually become one and your parenting style, as it becomes evident, may surprise you. Here are 4 parenting books to help you figure it all out.

Sunshine! Camping! Pool parties! BBQs! The sunny season is here and to help you make the most of it, we've hand-picked 7 great products to make this summer the best your family has ever had. Click through for our list to inspire your sunny day fun. From our sponsor: Walmart

We all love a picnic. But do one quick search for 'picnic ideas' on Pinterest and you're instantly teleported into a land of overachieving home chefs clearly looking for their big break on Food Network. Well, never mind that, we say. Scratch the 25-ingredient recipes and the incessant trips to the craft store for that perfect tablescape. Here are 5 truly simple picnic ideas that will look great, taste great, and make you feel like the winner you are! From our sponsor: Walmart

Admit it — you do these things, too! And that's OK. But maybe — just maybe — it's time to think about changing things up a little bit, for the sake of your sanity, your relationship with your kids, and because life's too short.

We asked veterinary experts and readers which breeds they think and if it is OK to shave longhaired pets in the summer.

Celeb moms post photos to show off their weight loss, but then they undermine their progress in the captions.

Kriste Lewis was inspired by her kidney disease to try out

Hittin' the road, moms and dads? Plan for these five things to happen...