Professor Teaches Tots to be Psychic
Of course, if you are psychic then you knew that.
In Boulder, Colorado, there is a teacher who is really focused on your kid's future—so much so, she teaches a class on how they can predict the future. Sure there's regular summer-camp fun stuff, such as swimming and singing songs. And then there are the classes about how to live in the moment and feel connected as a being in this universe.
Although it may seem a bit strange, it's hard to deny the value of some of her alternative teachings. I want my sons to respect nature and to be able to meditate and slow down their heart rates. Though I highly doubt my kids will come home with new psychic powers and suddenly tell me not to defrost the chicken I was planning to serve because their intuition suggested it would prefer pizza.
According to Stacia Synnestvedt, one of the teachers at Boulder's Psychic Horizons Center, the term "psychic" has become misconstrued. Much of the curriculum is well within the bounds of what one might discover through yoga, meditation or hallucinogens. But the curriculum jumps the shark when it describes teaching kids how to read auras, set energetic boundaries and meet spirit guides.
All in all, the program doesn't seem to harm its students. And who knows, once a student finds his or her spirit guide, maybe that friendly ghost will lead them on a journey back to real science.   
Love our blog? Become a fan of MSN Living on Facebook.  We're like the Lady Gaga of news and entertainment portals.
Check out my hilarious book Sorry I Peed on You (and other heartwarming letters to Mommy)(Andrews McMeel). Makes a great baby shower gift!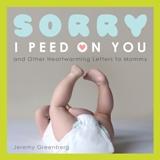 And hey, do ya love doggies and puppies? My hilarious and adorable new book, Sorry I Pooped in Your Shoe (and Other Heartwarming Letters from Doggie) (Andrews McMeel) is now available!
News, stories, tips and laughs for moms & dads
Jennifer Goodall gave birth Friday after much drama

My kids snapped a pic of me on my phone and it changed how I see myself

6-year-old has rare brain condition

He wanted to know if woman was pregnant

Did your state make the grade?

A new dad finds an Epcot Center's worth of innovation after expecting none at all.

Alcohol and tattoos are not meant for the pre-teen set

But Debra Harrell now has custody of daughter again

I am probably not the first to tell you this: Kids come with lots of stuff. Even if you try to be as minimal as possible, the little creatures require an awful lot to keep things running smoothly. Here's a master-plan slideshow of ways to cut corners on space in every room to accommodate all the things that come along with kids.

You never know for certain what type of parent you'll be until you've actually become one and your parenting style, as it becomes evident, may surprise you. Here are 4 parenting books to help you figure it all out.

Sunshine! Camping! Pool parties! BBQs! The sunny season is here and to help you make the most of it, we've hand-picked 7 great products to make this summer the best your family has ever had. Click through for our list to inspire your sunny day fun. From our sponsor: Walmart

We all love a picnic. But do one quick search for 'picnic ideas' on Pinterest and you're instantly teleported into a land of overachieving home chefs clearly looking for their big break on Food Network. Well, never mind that, we say. Scratch the 25-ingredient recipes and the incessant trips to the craft store for that perfect tablescape. Here are 5 truly simple picnic ideas that will look great, taste great, and make you feel like the winner you are! From our sponsor: Walmart