Obama reminds daughters their life 'not the norm'
President Obama laments the celeb-focused culture children are growing up in today.
WASHINGTON (AP) — President Barack Obama says he and the first lady are constantly reminding their daughters of the "slightly unreal environment" they're growing up in the White House.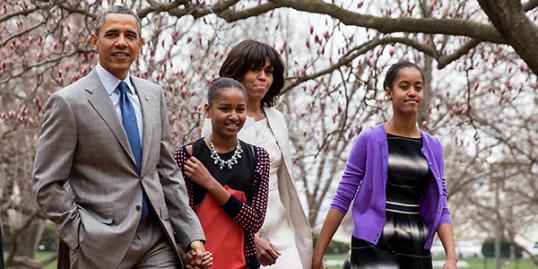 Bing: President's appearance at Amazon warehouse angers booksellers
In an interview published online Wednesday by Amazon's Kindle Singles, Obama lamented a shift in culture toward consumption and the focus on celebrity lifestyles.
MSN Living: The 10 most important things fathers can teach their kids
Obama says when he was growing up, "Kids weren't monitoring every day what Kim Kardashian was wearing or where Kanye West was going on vacation, and thinking that somehow that was the mark of success."
Obama says his daughters, Malia and Sasha, have other family members in the middle class and even poor, so they see that others struggle and that their life is "not the norm."
MSN Living: 15 uncanny famous mother-daughter look-alikes
More from The Family Room:
Royal baby Prince George could have 6 godparents
Will royal baby spark a lot of George babies?
Kate applauded for not hiding new-mommy tummy
Subscribe to The Family Room | Friend us on Facebook, follow us on Twitter and find us on Pinterest.
Photo: President Obama & family (Rex Features)
News, stories, tips and laughs for moms & dads
When it comes to being single and pregnant, it feels like everybody has their own opinion -- or way-too-nosy questions. Whether they're trying to get the "dirt" on baby's father, or asking about your quest for child support (so not their business!), people really say ridiculous things to single moms-to-be.

Thanksgivukkah, a mash-up super-holiday that magically occurs this year as Hanukkah and Thanksgiving fall on the same day, is quickly becoming every foodie's dream. It's literally a once-in-a-lifetime chance (the next one doesn't occur for another 77,798 years!) to make insanely delicious foods combining both traditions, like sweet potato latkes and pumpkin challah. Below is a round-up of some must follow Thanksgivukkah Pinterest boards!

From unsolicited advice that comes from someone without kids to real-life momzillas who always one-up baby's accomplishments, read on for the 12 worst comments new mamas have ever heard (and prepare for some serious LOLs).

It's not just a walk in the park. Get the real deal. By Bonnie Vengrow

Even the most organized person has mornings when something goes wrong. Here are a few remedies to help you survive, or avoid, those pesky morning annoyances.

Pinterest is the perfect place to find fun, crafty Thanksgiving ideas that are sure to make the big day special for kids – and the whole family.