Obama reminds daughters their life 'not the norm'
President Obama laments the celeb-focused culture children are growing up in today.
WASHINGTON (AP) — President Barack Obama says he and the first lady are constantly reminding their daughters of the "slightly unreal environment" they're growing up in the White House.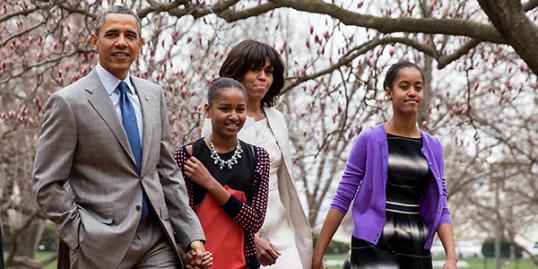 Bing: President's appearance at Amazon warehouse angers booksellers
In an interview published online Wednesday by Amazon's Kindle Singles, Obama lamented a shift in culture toward consumption and the focus on celebrity lifestyles.
MSN Living: The 10 most important things fathers can teach their kids
Obama says when he was growing up, "Kids weren't monitoring every day what Kim Kardashian was wearing or where Kanye West was going on vacation, and thinking that somehow that was the mark of success."
Obama says his daughters, Malia and Sasha, have other family members in the middle class and even poor, so they see that others struggle and that their life is "not the norm."
MSN Living: 15 uncanny famous mother-daughter look-alikes
More from The Family Room:
Royal baby Prince George could have 6 godparents
Will royal baby spark a lot of George babies?
Kate applauded for not hiding new-mommy tummy
Subscribe to The Family Room | Friend us on Facebook, follow us on Twitter and find us on Pinterest.
Photo: President Obama & family (Rex Features)
News, stories, tips and laughs for moms & dads
From about first grade all the way through college, back-to-school shopping meant color-coded lists and endless trips to the local Target. There's nothing like the giddy feeling of writing in a brand new planner (with colored pens of course). Maybe it was just my OCD kicking in, but getting organized for the new school year felt therapeutic in a Martha Stewart sort of way.

Every year, my mother insisted on the classic first day of school photo—uniform on, hair bow in place, plus frilly socks and Mary Janes, of course. But no photo opp was complete without my Kipling backpack that was about as big as I was (at least until 2nd grade or so).

Some people make big resolutions right before New Year's Eve, others on their birthdays, but mine always happen while back-to-school shopping. Something about the pristine, blank pages of my untouched notebooks and crisp, un-sharpened pencils has always made me feel like anything's possible: This will be the year I actually write down my assignments. I'm going to hole-punch and and organize all my handouts. No more showing up to class unprepared!

A special relationship that's worth noting.

You might have more in common than you think.

Feeling outsmarted by your little? So is this mother.