Obama reminds daughters their life 'not the norm'
President Obama laments the celeb-focused culture children are growing up in today.
WASHINGTON (AP) — President Barack Obama says he and the first lady are constantly reminding their daughters of the "slightly unreal environment" they're growing up in the White House.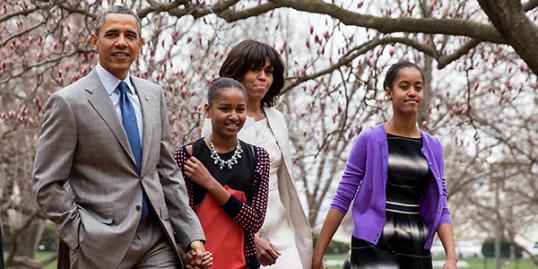 Bing: President's appearance at Amazon warehouse angers booksellers
In an interview published online Wednesday by Amazon's Kindle Singles, Obama lamented a shift in culture toward consumption and the focus on celebrity lifestyles.
MSN Living: The 10 most important things fathers can teach their kids
Obama says when he was growing up, "Kids weren't monitoring every day what Kim Kardashian was wearing or where Kanye West was going on vacation, and thinking that somehow that was the mark of success."
Obama says his daughters, Malia and Sasha, have other family members in the middle class and even poor, so they see that others struggle and that their life is "not the norm."
MSN Living: 15 uncanny famous mother-daughter look-alikes
More from The Family Room:
Royal baby Prince George could have 6 godparents
Will royal baby spark a lot of George babies?
Kate applauded for not hiding new-mommy tummy
Subscribe to The Family Room | Friend us on Facebook, follow us on Twitter and find us on Pinterest.
Photo: President Obama & family (Rex Features)
News, stories, tips and laughs for moms & dads
The 4 crucial conversations you need to have with your spouse before you make this decision.

You bring baby home and it seems like everyone has an opinion on which techniques you should use to get her to sleep, to feed her and to help her learn and develop. And they tell you which ones not to use too. So what's worth trying out and what's completely insane? Decide for yourself!

I'll say it: if your baby is melting down at Din Tai Fung, please pack your wipes and go

Pregnancy is just one long, unending stream of unsolicited advice—people love to tell you what to do, how to do it, and why you'd be crazy to do it any other way.

Maybe I was naïve, but I thought getting pregnant was as simple as having unprotected sex, and I'd be a mom in nine months flat. We spent years trying to prevent pregnancy, waiting until we were ready and having panic attacks if my period was late. So naturally, once we stopped preventing — boom! — it should've happened, right? Silly me.