Obama reminds daughters their life 'not the norm'
President Obama laments the celeb-focused culture children are growing up in today.
WASHINGTON (AP) — President Barack Obama says he and the first lady are constantly reminding their daughters of the "slightly unreal environment" they're growing up in the White House.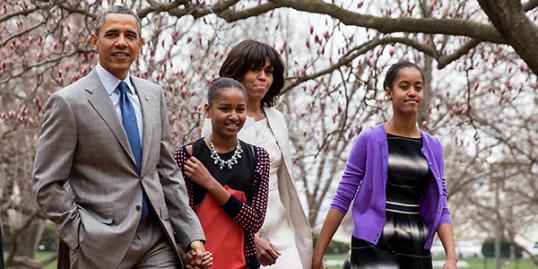 Bing: President's appearance at Amazon warehouse angers booksellers
In an interview published online Wednesday by Amazon's Kindle Singles, Obama lamented a shift in culture toward consumption and the focus on celebrity lifestyles.
MSN Living: The 10 most important things fathers can teach their kids
Obama says when he was growing up, "Kids weren't monitoring every day what Kim Kardashian was wearing or where Kanye West was going on vacation, and thinking that somehow that was the mark of success."
Obama says his daughters, Malia and Sasha, have other family members in the middle class and even poor, so they see that others struggle and that their life is "not the norm."
MSN Living: 15 uncanny famous mother-daughter look-alikes
More from The Family Room:
Royal baby Prince George could have 6 godparents
Will royal baby spark a lot of George babies?
Kate applauded for not hiding new-mommy tummy
Subscribe to The Family Room | Friend us on Facebook, follow us on Twitter and find us on Pinterest.
Photo: President Obama & family (Rex Features)
News, stories, tips and laughs for moms & dads
Would you rather be a parent now or then?

As all the kids line up to go to school, your son, Timmy, turns to you and says, "I don't want to take the bus. My stomach hurts. Please don't make me go." You cringe and think, Here we go again. What should be a simple morning routine explodes into a daunting challenge.

The strong bonds that dogs can form are undeniable.

Think you know your pet's every unspoken wish? Think again. Your pet is unlikely to be capable of communicating her wants and needs in ways you might assume she would. Even those of you most in touch with your pets' feelings are likely missing a few cues here and there.

The Chesapeake Bay Retriever made both our readers' and veterinary professionals' lists of breeds that love the water.

You might proudly call yourself a dog owner, pet parent or canine guardian, but let's be real: Your dog owns you. You might be laughing now, but think about it — you've surrendered the best seat on the sofa to him, you plan your entire weekend around his trips to the dog park, and you take him to the groomer more often than you get your own hair cut. And let's not forget who's in every photo on your Facebook and Instagram feeds. Sound familiar? We thought so. But in case you still think you're in charge, here are seven classic signs that your dog is the one calling the shots.