Obama reminds daughters their life 'not the norm'
President Obama laments the celeb-focused culture children are growing up in today.
WASHINGTON (AP) — President Barack Obama says he and the first lady are constantly reminding their daughters of the "slightly unreal environment" they're growing up in the White House.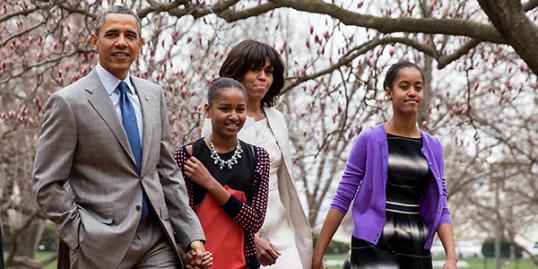 Bing: President's appearance at Amazon warehouse angers booksellers
In an interview published online Wednesday by Amazon's Kindle Singles, Obama lamented a shift in culture toward consumption and the focus on celebrity lifestyles.
MSN Living: The 10 most important things fathers can teach their kids
Obama says when he was growing up, "Kids weren't monitoring every day what Kim Kardashian was wearing or where Kanye West was going on vacation, and thinking that somehow that was the mark of success."
Obama says his daughters, Malia and Sasha, have other family members in the middle class and even poor, so they see that others struggle and that their life is "not the norm."
MSN Living: 15 uncanny famous mother-daughter look-alikes
More from The Family Room:
Royal baby Prince George could have 6 godparents
Will royal baby spark a lot of George babies?
Kate applauded for not hiding new-mommy tummy
Subscribe to The Family Room | Friend us on Facebook, follow us on Twitter and find us on Pinterest.
Photo: President Obama & family (Rex Features)
News, stories, tips and laughs for moms & dads
Do you have a finicky furry friend on your holiday gift list this year? You're in luck! We've rounded up the coolest cat-approved products to bring you purrfect gift ideas for every kind of cat -- from the curious kitten to the most refined feline. Any one of these special gifts could make your resident kitty purr with pleasure and maybe, just maybe, like the present this year even more than the box and wrapping paper it came in!

Plus, puppy names to watch

This holiday season's hottest toy has yet to be revealed, but more often than not, the best gifts are the ones kids don't even know to ask for. So this year, surprise your kids with unique presents under the tree, and watch as their eyes light up when they unwrap them. From space-age sand to a DIY race track, these out-of-the-box gift ideas will provide some serious shopping inspiration. Click through the slideshow above for all our favorite picks.

Yep, you're older than you think

Avoid these gaffes for a better relationship with your stepchildren—and your spouse.

The top 25 best holiday movies for kids and their families, from old school classics like Miracle on 34th Street and It's a Wonderful Life, to newer classics like Elf and The Nightmare Before Christmas.

Since the dawn of time, we men have been preprogrammed with two biological imperatives: Number one: to bravely kill bathtub spiders; and number two: to reproduce. (Actually, I really should have ordered those in reverse.) So what happens when we find out we're infertile?

New mamas weigh in on all the things they wish someone had warned them about before baby arrived.

We scoured Pinterest for 30 way-too-cute Elf on the Shelf poses we'd never seen before...let these inspire you during your family's funniest tradition.

Stroll down any aisle of a Toys"R"Us these days and you'll be confronted with a billion options that are light-years beyond anything you had to entertain yourself with as a kid. Lego cruise ships (complete with flatscreen TVs in the lounge and sideboard jet-skis), battery-operated Mercedes-Benz sedans, and hi-tech tablets with Android operating systems abound. We wondered, as we let ourselves get nostalgic for a moment, if any of the beloved toys we played with as children were still even on the market. Thanks to a quick hunt on the Internet we were able to find that Fisher Price still makes their classic Two Tune TV, and you can still get your hands on a good ol' Slinky. Here's a roundup of the best old-school toys for kids-- we encourage you to click through the slideshow and consider wrapping up a well-loved classic for your little one this year.

Cabbage Path Kids turn 30 this year.