District mulls 'grinding' ban for prom
Freaking. Grinding. The Nasty. Whatever you call it, sexually-explicit dance moves are a hot topic for debate at schools across the country.
Calling Elvis the Pelvis!  Many parents, and even some teens, think that dancing at school-sponsored events should involve a little less swiveling hips and a lot more G-rated moves.
It's not a new trend or topic, but one that schools across the country continue to battle.
In one Wisconsin school district, board members are looking at ways to tame "grinding," or the style of dancing that generally includes a male student rubbing up behind a female partner while both make a gyrating motion from side to side, before its upcoming prom, reports Waukesha Patch.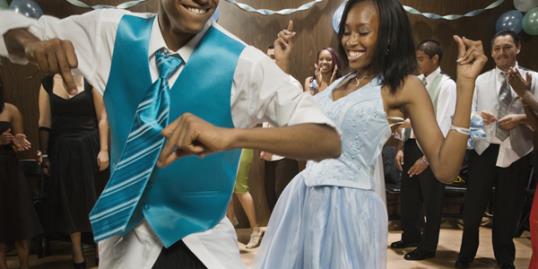 More from MSN Living: 11 mom sayings it's ok to ditch
"I had to Google grinding," Waukesha School Board Member Karin Rajnicek was quoted in the Waukesha Patch. "I prayed actually after I saw what it looked like and what people were doing because I wanted those images out of my head," she said. "We wouldn't let it happen during the hallway during school, we wouldn't let it happen at an activity after hours or at an athletic event or any other time."
At Waukesha School District, there are talks to institute a ban before prom. Students may have to sign a document that forbids sexually-suggestive dancing and attire and agree to possible ejection if they fail to abide.
More from MSN Living: The top 10 worst moments in mom judgment
At Pacific Hills School in West Hollywood, kids know that if things get too suggestive, their principal will throw on the lights and blast Burt Bacharach or anything William Shatner has recorded.
In 2006, Minnetonka High School in Minnetonka, Minnesota started a "Dance Like Your Grandma's Watching" campaign, which included a series of awkward but funny videos depicting the "dangers" of grinding.
Other schools have just canceled dances altogether in order to avoid the subject of too sexy dancing.
We all know teens don't like being told what to do. Case in point: 80 Waukesha School District students signed a petition stating they'd stay home if the ban is enacted.
"I understand there might be 80 kids who wouldn't come, but that shouldn't force us to allow the behavior," Superintendent Todd Gray told Waukesha Patch. "If you can't do something inappropriate and that means you are not going to come, that's life. If this is offensive to people and it is not appropriate and it is causing other bad behavior, we should say you don't get to do it at the dance. That doesn't preclude other fun things from happening."
Tell us what you think: Should grinding be banned at high school dances or is this "just what kids do"?
Bing: How to tell if your teen is having sex
More from Family Room:
Most addictive video games for kids
Toddler death raises concern over car seat rules
Violent video games and child aggression
Love content like this? Friend us on Facebook, follow us on Twitter and find us on Pinterest.
Photo: Hill Street Studios/Getty Images
Are you sure you want to delete this comment?
News, stories, tips and laughs for moms & dads
Make sure your go-to gadgets are as cute as your style, with these trendy tech finds!

Oh, how the times have changed...

Get ready to hit the mall! Check out the hottest back-to-school trends—and get ready to make a major style statement this year.

Unique, or downright strange?

This is Kevin Droniak and his grandma. They're besties, they're awesome and they're YouTube stars.

It can be difficult to entice little ones to eat anything at all, let alone to devour a healthy plate. But feeding your kids nutritious snacks after school just got way easier, thanks to these adorably clever and cute snack ideas! For more smart and fun ways to get your kids to enjoy healthful and delicious foods, try one of these amazingly artsy lunch ideas.

Through a tonsillectomy all the way to brain surgery, my mother deserves some recognition. She's my spine, my birthday shadow, my BFF, my thunder buddy, so Mommy, thank you.

My son needs me, as much as yours needs you. Sadly, my son needs me more. He needs someone to have his back, when it seems that the police, the men he'd wave to with excitement as a little boy, see him as a being worthy only of prison or death.

If you know someone who has adopted and have made some of these comments, don't fret... now you know!

"Because you shine from within," I said, touching my finger to her heart. "Not everybody sees it, but I do. I see it. And my job is to protect that light. So when people say mean comments that squelch that light, I want you to tell me. I will protect your light by listening and loving you, my brave, courageous, and unique little firefly."

Studies have shown that it helps, top education officials have recommended it, and now doctors are officially saying the same.

I may have accidentally dropped you a few times, forgotten to document your first fart, let a little pee fly and dressed you like an idiot, but I have also loved you with every piece of me, and you will never hear an apology for that.