Silliness Management
Keeping your kids crazy on your schedule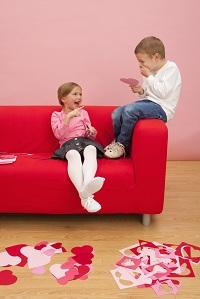 What most young people don't often appreciate is how incredibly wonderful it is to watch your kids grow up and mature. Although, to be more accurate there are phases in which your kids will grow up, but actually immature. My twin 4-year-old boys have decided to employ their expanding vocabularies and advancing motor skills not by asking how they may be better children, or what global problems they can start thinking about how to solve. Nope, they've acquired all this knowledge and ability, and are using it to crack each other up. They have these sessions in which they tell each other "jokes" and giggle hysterically. They go wild.  And once the boys have sent each other into fits of gleeful madness, it's like the hulk turning big and green. Ya gotta just wait 'till they come down. Don't even try to talk to them until you find them naked in some part of the house. Then they're exhausted, and you can scoop them up and read 'em a bedtime story.
But we have found a way to control the silliness. We allot time for it, and actually prod our kids to go nuts in those windows. For example, it's a nightmare when our kids decide to go manic right before bed. Trying to brush their teeth becomes a test of hand-eye coordination. So, at certain times while we're driving in the car, we'll announce, "Now is a good time to get your giggles out." Our kids love the game of it, and so they spaz hardcore in the car with the windows rolled up! They giggle, and make goofy statements that are somehow funny to them. (i.e. "Whoever ate a spoon?"—I guess that's irreverent to a child, but it's not funny to me.) Even at home, if we have company coming over, we say, "O.K, right now is a good time to get your giggles out, because we don't want too much silliness when your aunt comes over. You know she has a condition that causes her to cry anytime someone else seems happy." And our sons dutifully go ballistic.
I can't claim that it has completely eliminated unwanted exuberance. But it has really helped to control it. That's enough to practically make me giddy.  
How do you control silliness?
Love our blog? Become a fan of MSN Living on Facebook.  We're like the Lady Gaga of news and entertainment portals.
Check out my hilarious book Sorry I Peed on You (and other heartwarming letters to Mommy)(Andrews McMeel). Makes a great baby shower gift!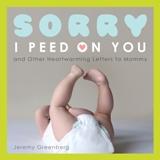 And hey, do ya love doggies and puppies? My hilarious and adorable new book, Sorry I Pooped in Your Shoe (and Other Heartwarming Letters from Doggie) (Andrews McMeel) is now available!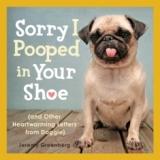 News, stories, tips and laughs for moms & dads
Make the most of the summer with these family-oriented activities!

Here our experts' best tips for how to be a positive role model for your kids so that they grow up healthy, strong and confident about the way they look.

Pets are part of many children's lives. Learn how to help them foster strong, healthy relationships.

It's that time again, parents...

One of our favorite ways to start the day is with a piping hot cup of coffee and a thought-provoking TED talk. In case you'€™re not familiar with the group, TED (which stands for Technology, Entertainment and Design) is a nonprofit organization dedicated to spreading ideas through projects and talks by a diverse group of inspired thinkers - people of all cultures, ages and disciplines. As you can probably guess, listening to these innovators share their ideas is a surefire way to jumpstart your day and get your creative juices flowing. Click through the slideshow above for the eight TED talks every parent needs to see. By Cordelia Tai

Much like their famous owners, these pooches live a fabulous life. Some are rescues, others purebred, but one thing is certain – these dogs play an important part in their famous parents' lives. Can you guess who owns each of these dogs?

If you value the backside of your theater seat and making it to your next paycheck, you may want to stay home

Two controversial science projects resembled weapons, school officials said.

One mom shares how she and her family make the Sedar fun and memorable for all

The threats were in public view on the boy's social media wall.

Sometimes, love isn't enough to save us.

Joe, Kevin, and Nick aren't the only hot bros in Hollywood. Seventeen has uncovered the cutest celebrity siblings!