'Tooth Fairy' Gives an Average of $3 This Year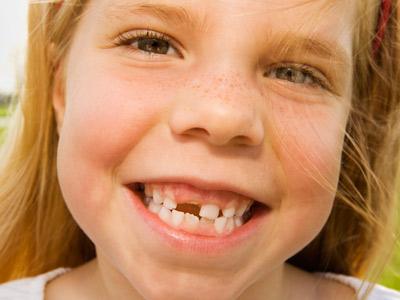 Kids reaching under their pillows the morning after losing a tooth are now likely to find about three bucks a pop, according to a new survey out this week by the Visa credit card company.
That average is up 15 percent from last year when the going rate was $2.60.
"The Tooth Fairy may be the canary in the economic coal mine. She's showing signs of life by leaving 40 cents more per tooth this year," said Jason Alderman, senior director of global financial education for Visa Inc. in a press release.  "This is not only good news for kids, but an ideal teachable moment for parents to engage their children in thinking about how to budget their windfall by saving a portion."
Visa has also launched an app and an online tool called the Tooth Fairy Calculator to help clueless parents everywhere decide how much to shell out. The tool takes into account state, age, gender, income and education levels to determine how much dough the kid should get without getting embarrassed on the playground.
For instance, a college-educated male parent at the age of 46 living in Hawaii and earning $39,900 a year should give just a $1 from the tooth fairy.
How about a 41-year-old mother with a high school diploma living in Alaska and making less than $25,000? The calculator urges her to give $3.
The tool also offers a look what the suggested amount is compared with what you received from the tooth fairy as a child.
The survey was conducted from July 13 to 17 through 2,000 telephone interviews.
Additional findings in the survey include:
• 3 percent of children receive less than a dollar, down from 7 percent last year.
• 30 percent of children receive exactly $1. Last year's survey showed that 29 percent of children received exactly $1.
• 13 percent of children receive between $2 and $4, down from 18 percent last year.
• 18 percent of children receive $5, the same amount as compared to last year.
• 8 percent of children receive more than $5, compared to 3 percent last year.
Photo: Denise Crew/Getty Images
More Family & Parenting on MSN Living:
51 Perfect Day Trips for Families
The Most Popular Baby Names of All Time
Top Names for the Top 10 Dog Breeds
News, stories, tips and laughs for moms & dads
Protect yourself and your family with these ingenious gizmos and smartphone apps.

Make sure your go-to gadgets are as cute as your style, with these trendy tech finds!

Oh, how the times have changed...

Get ready to hit the mall! Check out the hottest back-to-school trends—and get ready to make a major style statement this year.

Unique, or downright strange?

This is Kevin Droniak and his grandma. They're besties, they're awesome and they're YouTube stars.

It can be difficult to entice little ones to eat anything at all, let alone to devour a healthy plate. But feeding your kids nutritious snacks after school just got way easier, thanks to these adorably clever and cute snack ideas! For more smart and fun ways to get your kids to enjoy healthful and delicious foods, try one of these amazingly artsy lunch ideas.

Through a tonsillectomy all the way to brain surgery, my mother deserves some recognition. She's my spine, my birthday shadow, my BFF, my thunder buddy, so Mommy, thank you.

My son needs me, as much as yours needs you. Sadly, my son needs me more. He needs someone to have his back, when it seems that the police, the men he'd wave to with excitement as a little boy, see him as a being worthy only of prison or death.

If you know someone who has adopted and have made some of these comments, don't fret... now you know!

"Because you shine from within," I said, touching my finger to her heart. "Not everybody sees it, but I do. I see it. And my job is to protect that light. So when people say mean comments that squelch that light, I want you to tell me. I will protect your light by listening and loving you, my brave, courageous, and unique little firefly."

Studies have shown that it helps, top education officials have recommended it, and now doctors are officially saying the same.