'Tooth Fairy' Gives an Average of $3 This Year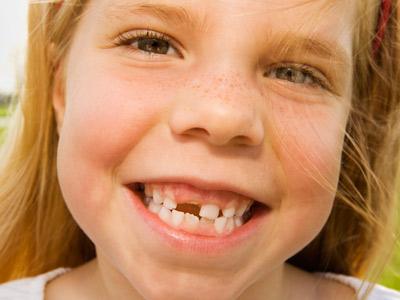 Kids reaching under their pillows the morning after losing a tooth are now likely to find about three bucks a pop, according to a new survey out this week by the Visa credit card company.
That average is up 15 percent from last year when the going rate was $2.60.
"The Tooth Fairy may be the canary in the economic coal mine. She's showing signs of life by leaving 40 cents more per tooth this year," said Jason Alderman, senior director of global financial education for Visa Inc. in a press release.  "This is not only good news for kids, but an ideal teachable moment for parents to engage their children in thinking about how to budget their windfall by saving a portion."
Visa has also launched an app and an online tool called the Tooth Fairy Calculator to help clueless parents everywhere decide how much to shell out. The tool takes into account state, age, gender, income and education levels to determine how much dough the kid should get without getting embarrassed on the playground.
For instance, a college-educated male parent at the age of 46 living in Hawaii and earning $39,900 a year should give just a $1 from the tooth fairy.
How about a 41-year-old mother with a high school diploma living in Alaska and making less than $25,000? The calculator urges her to give $3.
The tool also offers a look what the suggested amount is compared with what you received from the tooth fairy as a child.
The survey was conducted from July 13 to 17 through 2,000 telephone interviews.
Additional findings in the survey include:
• 3 percent of children receive less than a dollar, down from 7 percent last year.
• 30 percent of children receive exactly $1. Last year's survey showed that 29 percent of children received exactly $1.
• 13 percent of children receive between $2 and $4, down from 18 percent last year.
• 18 percent of children receive $5, the same amount as compared to last year.
• 8 percent of children receive more than $5, compared to 3 percent last year.
Photo: Denise Crew/Getty Images
More Family & Parenting on MSN Living:
51 Perfect Day Trips for Families
The Most Popular Baby Names of All Time
Top Names for the Top 10 Dog Breeds
News, stories, tips and laughs for moms & dads
Transform the fall vegetable into cool decor pieces.

Put together these creative, but simple, Halloween looks for your youngsters.

We know you're documenting just about every move baby makes. (Do you even have any memory left on your phone? We didn't think so.) These tips from professional photographers can help you perfect your pics.

These six on-trend ideas will make baby's room your new favorite place to hang out.

Baby probably won't remember his first birthday party, but that doesn't mean you can't go all out (after all, parents need to celebrate making it through this first year, right?). These fun, colorful themes take planning to the next level.

See what celebrities who had problems conceiving have to say.

You'll be hearing a lot of advice and opinions. Some of it will be really helpful and some will be just plain wrong. Here are the most common things people say about babies that aren't true.

A new dad finds an Epcot Center's worth of innovation after expecting none at all.

The dog days of summer may be well behind us, but that doesn't mean it's time to pack in the outdoor adventures quite yet.

Protect yourself and your family with these ingenious gizmos and smartphone apps.

Make sure your go-to gadgets are as cute as your style, with these trendy tech finds!

Oh, how the times have changed...