'Tooth Fairy' Gives an Average of $3 This Year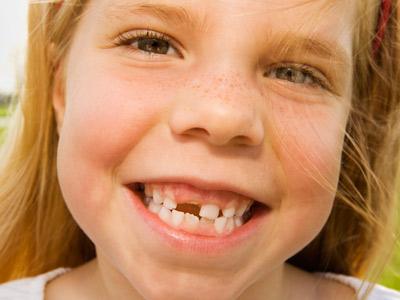 Kids reaching under their pillows the morning after losing a tooth are now likely to find about three bucks a pop, according to a new survey out this week by the Visa credit card company.
That average is up 15 percent from last year when the going rate was $2.60.
"The Tooth Fairy may be the canary in the economic coal mine. She's showing signs of life by leaving 40 cents more per tooth this year," said Jason Alderman, senior director of global financial education for Visa Inc. in a press release.  "This is not only good news for kids, but an ideal teachable moment for parents to engage their children in thinking about how to budget their windfall by saving a portion."
Visa has also launched an app and an online tool called the Tooth Fairy Calculator to help clueless parents everywhere decide how much to shell out. The tool takes into account state, age, gender, income and education levels to determine how much dough the kid should get without getting embarrassed on the playground.
For instance, a college-educated male parent at the age of 46 living in Hawaii and earning $39,900 a year should give just a $1 from the tooth fairy.
How about a 41-year-old mother with a high school diploma living in Alaska and making less than $25,000? The calculator urges her to give $3.
The tool also offers a look what the suggested amount is compared with what you received from the tooth fairy as a child.
The survey was conducted from July 13 to 17 through 2,000 telephone interviews.
Additional findings in the survey include:
• 3 percent of children receive less than a dollar, down from 7 percent last year.
• 30 percent of children receive exactly $1. Last year's survey showed that 29 percent of children received exactly $1.
• 13 percent of children receive between $2 and $4, down from 18 percent last year.
• 18 percent of children receive $5, the same amount as compared to last year.
• 8 percent of children receive more than $5, compared to 3 percent last year.
Photo: Denise Crew/Getty Images
More Family & Parenting on MSN Living:
51 Perfect Day Trips for Families
The Most Popular Baby Names of All Time
Top Names for the Top 10 Dog Breeds
News, stories, tips and laughs for moms & dads
Got kids that are questioning whether or not the Easter Bunny is real? If you want to keep the tradition going at least one more year, try one of these ideas...

You're cold-hearted? We'll take care of that for you...read on.

This kid despises poetry and he's not afraid to let you know.

I used to be one of those moms who thought, 'who on earth would bring their child to an event like that?' and then I had a son. Here's why you might become a convert, too.

Take a look at your house for these telltale signs that a cat is running the show.

Check out this list of requirements you should meet before getting a new puppy or adult dog.

Virtually everything you need to know about relationships, you learned in nursery school: Treat people as you want to be treated, clean up after yourself, and don't be a know-it-all.

Here are our experts' best tips for how to be a positive role model for your kids so that they grow up healthy, strong and confident about the way they look.

Much like their famous owners, these pooches live a fabulous life. Some are rescues, others purebred, but one thing is certain – these dogs play an important part in their famous parents' lives. Can you guess who owns each of these dogs?

We captured a frame-by-frame look just for you.

Two controversial science projects resembled weapons, school officials said.