'Tooth Fairy' Gives an Average of $3 This Year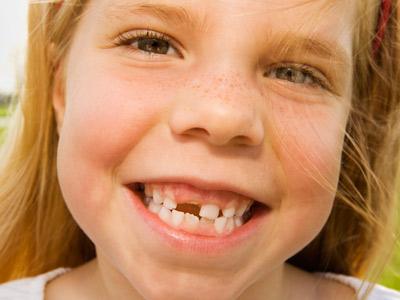 Kids reaching under their pillows the morning after losing a tooth are now likely to find about three bucks a pop, according to a new survey out this week by the Visa credit card company.
That average is up 15 percent from last year when the going rate was $2.60.
"The Tooth Fairy may be the canary in the economic coal mine. She's showing signs of life by leaving 40 cents more per tooth this year," said Jason Alderman, senior director of global financial education for Visa Inc. in a press release.  "This is not only good news for kids, but an ideal teachable moment for parents to engage their children in thinking about how to budget their windfall by saving a portion."
Visa has also launched an app and an online tool called the Tooth Fairy Calculator to help clueless parents everywhere decide how much to shell out. The tool takes into account state, age, gender, income and education levels to determine how much dough the kid should get without getting embarrassed on the playground.
For instance, a college-educated male parent at the age of 46 living in Hawaii and earning $39,900 a year should give just a $1 from the tooth fairy.
How about a 41-year-old mother with a high school diploma living in Alaska and making less than $25,000? The calculator urges her to give $3.
The tool also offers a look what the suggested amount is compared with what you received from the tooth fairy as a child.
The survey was conducted from July 13 to 17 through 2,000 telephone interviews.
Additional findings in the survey include:
• 3 percent of children receive less than a dollar, down from 7 percent last year.
• 30 percent of children receive exactly $1. Last year's survey showed that 29 percent of children received exactly $1.
• 13 percent of children receive between $2 and $4, down from 18 percent last year.
• 18 percent of children receive $5, the same amount as compared to last year.
• 8 percent of children receive more than $5, compared to 3 percent last year.
Photo: Denise Crew/Getty Images
More Family & Parenting on MSN Living:
51 Perfect Day Trips for Families
The Most Popular Baby Names of All Time
Top Names for the Top 10 Dog Breeds
News, stories, tips and laughs for moms & dads
A thrill-obsessed subculture claimed another life this week.

A few suggested answers for the diciest questions

Must-haves for every mommy on the road

Here's our list of fifteen moms in the food industry that deserve some recognition.

The site gets high marks for its user-friendly interface and excellent and responsive customer service. And the reviews are also pretty accurate. Compare amenities and prices next to a hotel's in the same area, and you're likely to see Airbnb come out on top.

We captured a frame-by-frame look just for you.

Other moms can be ruthless when it comes to picking apart your parenting choices. From dissing your decision to go back to work to criticizing when you started baby on solids, here are the most ridiculous comments moms have heard. Bonus, we've got just the right way to respond to the haters! You're welcome.

Nope, you don't have to spend the next nine months in black elastic-waist pants and oversize sweaters. And you don't have to shell out a fortune on your "temporary" wardrobe either. Check out these stylish and affordable maternity clothes.

Because society crumbles without us

Another kid figured out how to get into a claw machine.

As a new mom, you've recently discovered there are many things you can live without—sleep and modesty being chief among them. But what can't you live without? Seasoned moms share their Top 10 list for how to survive the early months of motherhood.

Here are our experts' best tips for how to be a positive role model for your kids so that they grow up healthy, strong and confident about the way they look.