Will royal baby spark a lot of George babies?
Love it or hate it, expect to see Prince William and Duchess Kate's newborn have an effect on baby name trends.
The Kate effect shows no sign of slowing. Within minutes of the duchess of Cambridge debuting her newborn son, the website of the designer who made Kate's blue polka dot dress crashed. (Sorry, fashionistas, the custom-made Jenny Packham frock is not for sale.)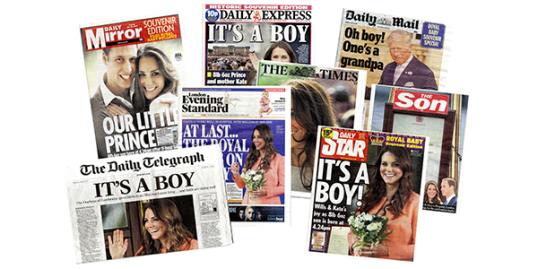 Will the royal baby's name, Prince George Alexander Louis, have the same effect on birth certificates and baby name trends?
Ancestry.com, the family history resource site, predicts yes.
More on Simply Chic: Shop like Duchess Kate
CBS reports on an Ancestry.com study that says in the past, the birth of a royal baby typically boosts the popularity of that name by roughly 32 percent the year following the birth. That would push George from the 12th-most-common name to No. 4 – meaning an additional 1,400 babies born in the U.K. in 2014 would bear baby Cambridge's given name.
More on MSN Living: Most stylish royals around the world
When Prince William was born, there was a 23 percent uptick in William names, while Prince Harry sparked a 55 percent increase in popularity.
The site noted:
"The royal naming pattern was uncovered through historical analysis of yearly birth indexes available on Ancestry.com, which detail every baby born in England and Wales from 1837 to 2005. The number of babies with the same name as a royal baby in the year of the royal's birth was compared with the number in the following year. Every royal from King Edward VII (born in 1841) to Princess Eugenie (born in 1990) was included in the study."
Tell us: What do you think of the royal baby's name?
Bing: The perks of being a princess
More from The Family Room:
11 not-so-princessy things Duchess Kate will have to deal with as a mom
Meet George Alexander Louis, Prince of Cambridge
What will the royal baby's last name be?
Subscribe to The Family Room | Friend us on Facebook, follow us on Twitter and find us on Pinterest.
Photo: Newspaper headlines on July 23 covering the birth of a son, Prince George Alexander Louis, for Catherine and William, the duchess and duke of Cambridge (Rex Features)
News, stories, tips and laughs for moms & dads
Remember the concept of weekends being a time for rest, relaxation, and togetherness? No? Us either. Between soccer games, playdates, dragging your kids to see the new exhibition at the local children's museum, and we need to pick up a gift for that birthday party that starts in . . . 20 minutes, juggling a busy family's weekend schedule can be more stressful than a weekday. While we know it's simply not realistic to cancel all your plans and obligations moving forward, clearing the calendar for just one weekend can be just the refresher that your family's craving. Here's why.

Any of these sound familiar?

4 steps for raising a child who doesn't feel emotionally stranded.

You just had a baby? You're a superstar! All those diapers, all that spit up, and you're makin' magic happen. But you're also likely tired - really tired - and busy (so, so busy). Taking time for yourself might seem like an indulgence but a happy mom makes for a happy baby. Here are 7 things you should definitely do to keep your sanity intact and your spirit high. <more, below>

Summertime is on, and the kids are out of school. Every mom knows that for these three months it's more important than ever to keep the kids busy. But you don't have to schedule your life away with camps, or drop a bundle on activities and games that come in a box. You can make your own fun, and even include the kids in the prep, with some simple, inexpensive DIY crafts that will keep them playing 'til the lightening bugs come out. Make your own fingerpaint, bubbles, and crayons. Create a fort-building kit and superhero capes that will kick their imaginations into overdrive. Here are 10 of our favorite kid-friendly DIY crafts to fuel your summertime fun.

Let these DIY dog bed projects be your inspiration and within a single weekend, you can construct something that really makes Rex feel like a king.

The task of finding an eco-friendly, safe-for-baby gift parents-to-be will actually use is kind of challenging. Add to that a price limit of $50, and the feat suddenly feels impossible! Fortunately, we combed the marketplace for some of the prettiest, most useful, sweetest gifts for baby and family. Many are fine on their own, while others would work well as part of a bigger basket — you know, if you wish to achieve that shower-goer hero status.

Jennifer Goodall gave birth Friday after much drama

My kids snapped a pic of me on my phone and it changed how I see myself

6-year-old has rare brain condition

He wanted to know if woman was pregnant

Did your state make the grade?