Most popular baby names of 2012
Sophia and Jacob reign supreme.
The most popular baby names of 2012 are officially here, with Sophia and Jacob holding onto their No. 1 spots.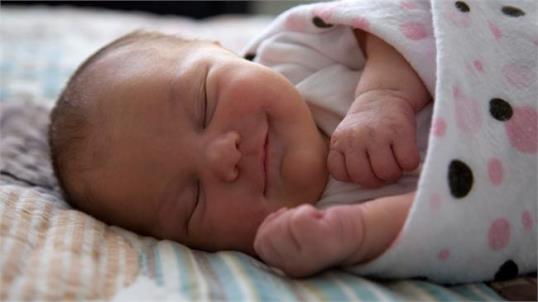 Jacob remains the most popular name for boys for the 14th year in a row.  An Old Testament name that means "supplanter" and a cousin of James, Jacob has been in the top 10 for two decades.
Sophia, which took the crown as the No. 1 girls' name last year, is a Greek name that means "wisdom."  It entered the top 10 in 2006.
Arya and Major were the fastest-rising names for 2012.  Arya's popularity stems from the show and book "Game of Thrones," while Major is a military name featured on reality TV show "Home by Novogratz."
Second-fastest risers Gael and Perla are widely used by parents of Spanish descent.
The Social Security Administration announced the 2012 Most Popular Baby Names on its website this afternoon.
The complete top 10 are:
girls
boys
Liam is the upset entry to the top 10, making the list for the first time. An Irish short form of William, Liam didn't enter the U.S. top 1,000 until 1967. Its popularity has been spurred by celebrity Liam Neeson. Liam replaces Daniel.
Elizabeth climbed back onto the girls' top 10, unseating Chloe.
Bing: Unusual baby names
Classic Emma, once No. 1, climbed higher on the list to the No. 2 spot, while Kardashian-inspired Mason held onto the No. 2 ranking for boys.
More from MSN Living:
Read 'em! Hot mommy bloggers, now on MSN
Top baby names so far for 2013
Adorable Etsy stuff for babies
The most popular baby names of all time
Photo credit: Kristin Duvall/Getty Images
News, stories, tips and laughs for moms & dads
Virtually everything you need to know about relationships, you learned in nursery school: Treat people as you want to be treated, clean up after yourself, and don't be a know-it-all.

Much like their famous owners, these pooches live a fabulous life. Some are rescues, others purebred, but one thing is certain – these dogs play an important part in their famous parents' lives. Can you guess who owns each of these dogs?

We captured a frame-by-frame look just for you.

Two controversial science projects resembled weapons, school officials said.

Here our experts' best tips for how to be a positive role model for your kids so that they grow up healthy, strong and confident about the way they look.

Make the most of the summer with these family-oriented activities!

Pets are part of many children's lives. Learn how to help them foster strong, healthy relationships.

It's that time again, parents...

One of our favorite ways to start the day is with a piping hot cup of coffee and a thought-provoking TED talk. In case you'€™re not familiar with the group, TED (which stands for Technology, Entertainment and Design) is a nonprofit organization dedicated to spreading ideas through projects and talks by a diverse group of inspired thinkers - people of all cultures, ages and disciplines. As you can probably guess, listening to these innovators share their ideas is a surefire way to jumpstart your day and get your creative juices flowing. Click through the slideshow above for the eight TED talks every parent needs to see. By Cordelia Tai

If you value the backside of your theater seat and making it to your next paycheck, you may want to stay home

One mom shares how she and her family make the Sedar fun and memorable for all

The threats were in public view on the boy's social media wall.