Most popular baby names of 2012
Sophia and Jacob reign supreme.
The most popular baby names of 2012 are officially here, with Sophia and Jacob holding onto their No. 1 spots.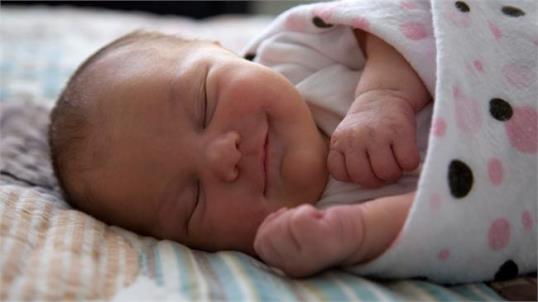 Jacob remains the most popular name for boys for the 14th year in a row.  An Old Testament name that means "supplanter" and a cousin of James, Jacob has been in the top 10 for two decades.
Sophia, which took the crown as the No. 1 girls' name last year, is a Greek name that means "wisdom."  It entered the top 10 in 2006.
Arya and Major were the fastest-rising names for 2012.  Arya's popularity stems from the show and book "Game of Thrones," while Major is a military name featured on reality TV show "Home by Novogratz."
Second-fastest risers Gael and Perla are widely used by parents of Spanish descent.
The Social Security Administration announced the 2012 Most Popular Baby Names on its website this afternoon.
The complete top 10 are:
girls
boys
Liam is the upset entry to the top 10, making the list for the first time. An Irish short form of William, Liam didn't enter the U.S. top 1,000 until 1967. Its popularity has been spurred by celebrity Liam Neeson. Liam replaces Daniel.
Elizabeth climbed back onto the girls' top 10, unseating Chloe.
Bing: Unusual baby names
Classic Emma, once No. 1, climbed higher on the list to the No. 2 spot, while Kardashian-inspired Mason held onto the No. 2 ranking for boys.
More from MSN Living:
Read 'em! Hot mommy bloggers, now on MSN
Top baby names so far for 2013
Adorable Etsy stuff for babies
The most popular baby names of all time
Photo credit: Kristin Duvall/Getty Images
News, stories, tips and laughs for moms & dads
Megan Davies Mennes has been blogging and posting photos of her son Quinn online for some time now. Quinn has Down syndrome, and Mennes has dealt with a few nasty comments here and there, the type of stuff you'd expect to encounter on the Internet.

From a cozy-chic hotel by the seashore in Los Angeles that doubles as a home away from home to a nature-lover's tropical paradise in Costa Rica, each of these properties is a family-friendly in its own special way.

Two controversial science projects resembled weapons, school officials said.

Must-haves for every mommy on the road

What are we teaching our children when we focus on their achievements rather than their kindness?

Discover the seemingly insignificant things that can affect your chances of getting pregnant.

A thrill-obsessed subculture claimed another life this week.

A few suggested answers for the diciest questions

Here's our list of fifteen moms in the food industry that deserve some recognition.

The site gets high marks for its user-friendly interface and excellent and responsive customer service. And the reviews are also pretty accurate. Compare amenities and prices next to a hotel's in the same area, and you're likely to see Airbnb come out on top.

We captured a frame-by-frame look just for you.

Other moms can be ruthless when it comes to picking apart your parenting choices. From dissing your decision to go back to work to criticizing when you started baby on solids, here are the most ridiculous comments moms have heard. Bonus, we've got just the right way to respond to the haters! You're welcome.