Kids will get gifts whether they're naughty or nice
Parents say behavior isn't really a factor in gift getting.
Although the threat of Santa knowing if you've been bad or good might come in handy to keep kids in line during the holiday season, it turns out to be an empty one. A new study finds that Santa (read: Mom and Dad) will give children presents whether they've been naughty or nice.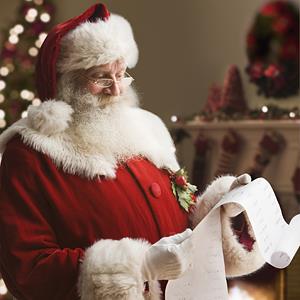 More from Parenting: 9 unique holiday traditions
USA Today reported about a national survey Walmart conducted of parents and kids, asking various questions about holiday gift giving and getting. Eighty percent of parents said their kids will get the same number of gifts, regardless of their behavior. But Santa's hold still works over kids: 62 percent surveyed said they believed they'd get more presents if they were nice over naughty.
More from Parenting: Car seat safety
Mom Amber Plante told USA Today that she'd rather her two sons have fond memories of Christmas morning, rather than using it to teach a lesson: "I'd rather my boys have fuzzy memories of happy times ripping open their presents, not of being harshly taught a lesson that, frankly, could be taught any other day of the year."
Does your kids' behavior influence how many presents they get? Do you tell your kids that Santa's watching?
Photo: Jose Luis Pelaez/Getty Images
Bing: Best toys of 2012
More from Parenting:
After-school snack ideas
Search for baby names
Best gifts for kids
News, stories, tips and laughs for moms & dads
Megan Davies Mennes has been blogging and posting photos of her son Quinn online for some time now. Quinn has Down syndrome, and Mennes has dealt with a few nasty comments here and there, the type of stuff you'd expect to encounter on the Internet.

From a cozy-chic hotel by the seashore in Los Angeles that doubles as a home away from home to a nature-lover's tropical paradise in Costa Rica, each of these properties is a family-friendly in its own special way.

Two controversial science projects resembled weapons, school officials said.

Must-haves for every mommy on the road

What are we teaching our children when we focus on their achievements rather than their kindness?

Discover the seemingly insignificant things that can affect your chances of getting pregnant.

A thrill-obsessed subculture claimed another life this week.

A few suggested answers for the diciest questions

Here's our list of fifteen moms in the food industry that deserve some recognition.

The site gets high marks for its user-friendly interface and excellent and responsive customer service. And the reviews are also pretty accurate. Compare amenities and prices next to a hotel's in the same area, and you're likely to see Airbnb come out on top.

We captured a frame-by-frame look just for you.

Other moms can be ruthless when it comes to picking apart your parenting choices. From dissing your decision to go back to work to criticizing when you started baby on solids, here are the most ridiculous comments moms have heard. Bonus, we've got just the right way to respond to the haters! You're welcome.