Kids will get gifts whether they're naughty or nice
Parents say behavior isn't really a factor in gift getting.
Although the threat of Santa knowing if you've been bad or good might come in handy to keep kids in line during the holiday season, it turns out to be an empty one. A new study finds that Santa (read: Mom and Dad) will give children presents whether they've been naughty or nice.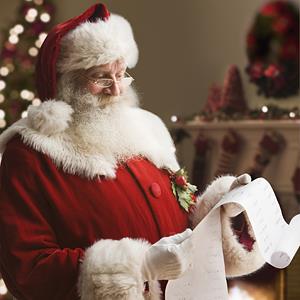 More from Parenting: 9 unique holiday traditions
USA Today reported about a national survey Walmart conducted of parents and kids, asking various questions about holiday gift giving and getting. Eighty percent of parents said their kids will get the same number of gifts, regardless of their behavior. But Santa's hold still works over kids: 62 percent surveyed said they believed they'd get more presents if they were nice over naughty.
More from Parenting: Car seat safety
Mom Amber Plante told USA Today that she'd rather her two sons have fond memories of Christmas morning, rather than using it to teach a lesson: "I'd rather my boys have fuzzy memories of happy times ripping open their presents, not of being harshly taught a lesson that, frankly, could be taught any other day of the year."
Does your kids' behavior influence how many presents they get? Do you tell your kids that Santa's watching?
Photo: Jose Luis Pelaez/Getty Images
Bing: Best toys of 2012
More from Parenting:
After-school snack ideas
Search for baby names
Best gifts for kids
News, stories, tips and laughs for moms & dads
We all love a picnic. But do one quick search for 'picnic ideas' on Pinterest and you're instantly teleported into a land of overachieving home chefs clearly looking for their big break on Food Network. Well, never mind that, we say. Scratch the 25-ingredient recipes and the incessant trips to the craft store for that perfect tablescape. Here are 5 truly simple picnic ideas that will look great, taste great, and make you feel like the winner you are! From our sponsor: Walmart

Admit it — you do these things, too! And that's OK. But maybe — just maybe — it's time to think about changing things up a little bit, for the sake of your sanity, your relationship with your kids, and because life's too short.

We asked veterinary experts and readers which breeds they think and if it is OK to shave longhaired pets in the summer.

You've exhausted your bag of craft tricks, found inspiration through our rainy day activity guide, and are still hungry for more artsy activities for your kids! We've found nine Pinterest users who have so many fantastic craft ideas for little ones that even we were slightly overwhelmed! (What to make first? Milk-box playhouses? Duct-tape rings?) The crafting possibilities are endless — and beautiful — so start clicking and get ready to repin!

Celeb moms post photos to show off their weight loss, but then they undermine their progress in the captions.

Kriste Lewis was inspired by her kidney disease to try out