Kids will get gifts whether they're naughty or nice
Parents say behavior isn't really a factor in gift getting.
Although the threat of Santa knowing if you've been bad or good might come in handy to keep kids in line during the holiday season, it turns out to be an empty one. A new study finds that Santa (read: Mom and Dad) will give children presents whether they've been naughty or nice.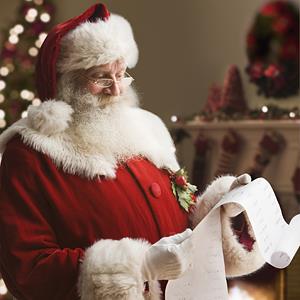 More from Parenting: 9 unique holiday traditions
USA Today reported about a national survey Walmart conducted of parents and kids, asking various questions about holiday gift giving and getting. Eighty percent of parents said their kids will get the same number of gifts, regardless of their behavior. But Santa's hold still works over kids: 62 percent surveyed said they believed they'd get more presents if they were nice over naughty.
More from Parenting: Car seat safety
Mom Amber Plante told USA Today that she'd rather her two sons have fond memories of Christmas morning, rather than using it to teach a lesson: "I'd rather my boys have fuzzy memories of happy times ripping open their presents, not of being harshly taught a lesson that, frankly, could be taught any other day of the year."
Does your kids' behavior influence how many presents they get? Do you tell your kids that Santa's watching?
Photo: Jose Luis Pelaez/Getty Images
Bing: Best toys of 2012
More from Parenting:
After-school snack ideas
Search for baby names
Best gifts for kids
News, stories, tips and laughs for moms & dads
Gone are the days of mystery meat and the crabby, hairnet-wearing lunch lady. Across the nation, school lunchrooms are getting a face-lift and a menu makeover. From picked-from-the-garden veggies to fresh-caught fish tacos, students are experiencing the gourmet treatment. Here's a sample of the most innovative (and delicious) lunch programs we uncovered — bet your school lunch never tasted this good!

In a few short weeks you'll be dropping your child off at college, where they'll spend the next four years learning, laughing, and probably partying. Of course, in true teen fashion, your child has already started shopping for their dorm room essentials. Don't panic just yet!

When tots burst through the door after a busy day at school, the first order of business is securing a snack.

The only thing more important than what you pack your child for lunch is what you pack it in.

Frustrated mom invents Ignore No More app

Do you have the right mix of moms surrounding you?