Kids will get gifts whether they're naughty or nice
Parents say behavior isn't really a factor in gift getting.
Although the threat of Santa knowing if you've been bad or good might come in handy to keep kids in line during the holiday season, it turns out to be an empty one. A new study finds that Santa (read: Mom and Dad) will give children presents whether they've been naughty or nice.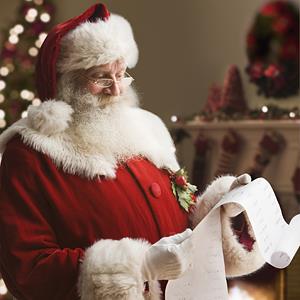 More from Parenting: 9 unique holiday traditions
USA Today reported about a national survey Walmart conducted of parents and kids, asking various questions about holiday gift giving and getting. Eighty percent of parents said their kids will get the same number of gifts, regardless of their behavior. But Santa's hold still works over kids: 62 percent surveyed said they believed they'd get more presents if they were nice over naughty.
More from Parenting: Car seat safety
Mom Amber Plante told USA Today that she'd rather her two sons have fond memories of Christmas morning, rather than using it to teach a lesson: "I'd rather my boys have fuzzy memories of happy times ripping open their presents, not of being harshly taught a lesson that, frankly, could be taught any other day of the year."
Does your kids' behavior influence how many presents they get? Do you tell your kids that Santa's watching?
Photo: Jose Luis Pelaez/Getty Images
Bing: Best toys of 2012
More from Parenting:
After-school snack ideas
Search for baby names
Best gifts for kids
News, stories, tips and laughs for moms & dads
When it comes to being single and pregnant, it feels like everybody has their own opinion -- or way-too-nosy questions. Whether they're trying to get the "dirt" on baby's father, or asking about your quest for child support (so not their business!), people really say ridiculous things to single moms-to-be.

Thanksgivukkah, a mash-up super-holiday that magically occurs this year as Hanukkah and Thanksgiving fall on the same day, is quickly becoming every foodie's dream. It's literally a once-in-a-lifetime chance (the next one doesn't occur for another 77,798 years!) to make insanely delicious foods combining both traditions, like sweet potato latkes and pumpkin challah. Below is a round-up of some must follow Thanksgivukkah Pinterest boards!

From unsolicited advice that comes from someone without kids to real-life momzillas who always one-up baby's accomplishments, read on for the 12 worst comments new mamas have ever heard (and prepare for some serious LOLs).

It's not just a walk in the park. Get the real deal. By Bonnie Vengrow

Even the most organized person has mornings when something goes wrong. Here are a few remedies to help you survive, or avoid, those pesky morning annoyances.

Pinterest is the perfect place to find fun, crafty Thanksgiving ideas that are sure to make the big day special for kids – and the whole family.