Kids will get gifts whether they're naughty or nice
Parents say behavior isn't really a factor in gift getting.
Although the threat of Santa knowing if you've been bad or good might come in handy to keep kids in line during the holiday season, it turns out to be an empty one. A new study finds that Santa (read: Mom and Dad) will give children presents whether they've been naughty or nice.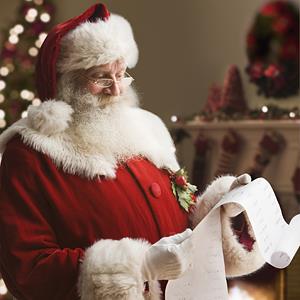 More from Parenting: 9 unique holiday traditions
USA Today reported about a national survey Walmart conducted of parents and kids, asking various questions about holiday gift giving and getting. Eighty percent of parents said their kids will get the same number of gifts, regardless of their behavior. But Santa's hold still works over kids: 62 percent surveyed said they believed they'd get more presents if they were nice over naughty.
More from Parenting: Car seat safety
Mom Amber Plante told USA Today that she'd rather her two sons have fond memories of Christmas morning, rather than using it to teach a lesson: "I'd rather my boys have fuzzy memories of happy times ripping open their presents, not of being harshly taught a lesson that, frankly, could be taught any other day of the year."
Does your kids' behavior influence how many presents they get? Do you tell your kids that Santa's watching?
Photo: Jose Luis Pelaez/Getty Images
Bing: Best toys of 2012
More from Parenting:
After-school snack ideas
Search for baby names
Best gifts for kids
family: tips, trends & advice for all things family
In the past, Mother's Day was all about brunch, macaroni necklaces and lots of family time; but times are a-changin'!

Whether she's into board games or tea, books or bangles, it's time to spoil Mom -- without breaking the bank.

With all the glitz and glamour that comes out of Tinseltown (not to mention the endless tabloid fodder), it's not always obvious that many celebrities are animal lovers, too.

I love being spoiled by my kids, but something's missing: a chance to hug my own mother

We've seen some pretty crazy things announced though tweets and status updates, including these 10 conception sharing no-no's.

When Julia Ward Howe wrote her Mother's Day Proclamation in 1870, she encouraged women of all nationalities to band together to support peace and end the carnage of war.

The average length of maternity is actually lower.

"No! Bad dog!" How many times have you scolded your misbehaving canine with those words? Probably too many. But before you fly off the handle, one of the most important things to understand about correcting bad behavior is that punishment doesn't work.

A divorcing couple keeps tradition intact for their child.

Your dog loves sticking his head out the window, but imagine the tragic results of disregarding his (or your) safety.

5 ways to totally ruin the mood while trying to conceive

Down-to-earth and funny tips that help moms enjoy every minute of parenting, from The Happiest Mom.