Boy, 12, launches youth social networking site
Grom Social caters to kids and their protective parents.
Boy geniuses and tech startups are common modern marketplace phenomena. The barons of our time may be the 20-year-old programmers who provide Internet services that the public embraces but never knew it wanted.
So, we should expect to see more young innovators offering their unique perspectives on online communications.
Zach Marks, a 12-year-old from Melbourne Beach, Fla., is the most recent, and perhaps the youngest, entrepreneur to enter the social networking market.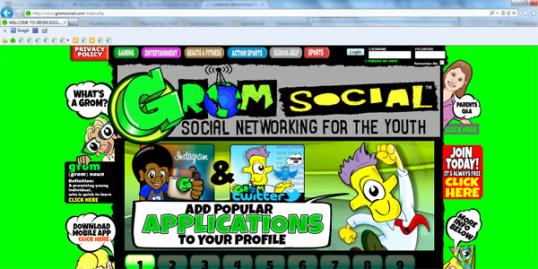 After some convincing, Marks' parents agreed to let him create a profile on Facebook. However, learning that Marks had conversed with adults online whom they didn't know, they barred Marks from using this profile.
More from MSN Living: 11 mom sayings it's ok to ditch
Exiled from the online social sphere, Marks began his own network, one geared toward an under-18 audience that would also garner parental approval. Although originally created just for his friends and family, the Marks family has decided to release the site to the public.  
Grom Social requires parental permission for users to create profiles. To create a profile users must enter a parent's email address. The site sends parents "report cards" on their children's site activity and interests.

Marks doesn't think parental involvement will deter kids from using the site. " I personally experienced what happens on social networking sites that are not safe for kids. I saw bad language and I was bullied. It was scary," Marks says. "With all the bad things happening in the world, kids want to know they are safe from bad people." 

Bing: Facebook to make major announcement
Users create a cartoonish avatar, a grom-atar, that they use on the brightly-colored, animated site to interact with "friends" and explore topics such as health, school, sports and entertainment. The site offers video game tips and help with school subjects for grades 1-10.
More from MSN Living: The top 10 worst moments in mom judgment

"We're getting 25,000 plus visits a day. Our membership grows every hour and we're speaking with some of the biggest companies in the world about becoming involved with GromSocial," Marks states.

If it continues to catch on, Grom Social just may be an incubator for future Mark Zuckerbergs and Zach Markses.

More from the Family Room:
Is homework really necessary?
Library reconsiders ban on children
School bans bible club prayer box
Love content like this? Friend us on Facebook, follow us on Twitter and find us on Pinterest
Photo: www.gromsocial.com
News, stories, tips and laughs for moms & dads
Got kids that are questioning whether or not the Easter Bunny is real? If you want to keep the tradition going at least one more year, try one of these ideas...

You're cold-hearted? We'll take care of that for you...read on.

This kid despises poetry and he's not afraid to let you know.

I used to be one of those moms who thought, 'who on earth would bring their child to an event like that?' and then I had a son. Here's why you might become a convert, too.

Take a look at your house for these telltale signs that a cat is running the show.

Check out this list of requirements you should meet before getting a new puppy or adult dog.

Virtually everything you need to know about relationships, you learned in nursery school: Treat people as you want to be treated, clean up after yourself, and don't be a know-it-all.

Here are our experts' best tips for how to be a positive role model for your kids so that they grow up healthy, strong and confident about the way they look.

Much like their famous owners, these pooches live a fabulous life. Some are rescues, others purebred, but one thing is certain – these dogs play an important part in their famous parents' lives. Can you guess who owns each of these dogs?

We captured a frame-by-frame look just for you.

Two controversial science projects resembled weapons, school officials said.