Boy, 12, launches youth social networking site
Grom Social caters to kids and their protective parents.
Boy geniuses and tech startups are common modern marketplace phenomena. The barons of our time may be the 20-year-old programmers who provide Internet services that the public embraces but never knew it wanted.
So, we should expect to see more young innovators offering their unique perspectives on online communications.
Zach Marks, a 12-year-old from Melbourne Beach, Fla., is the most recent, and perhaps the youngest, entrepreneur to enter the social networking market.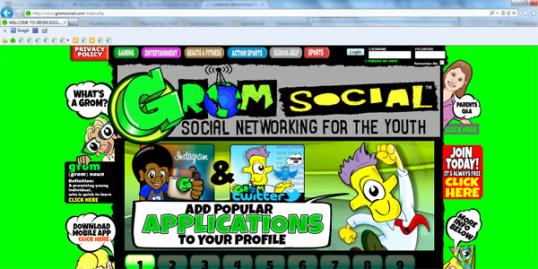 After some convincing, Marks' parents agreed to let him create a profile on Facebook. However, learning that Marks had conversed with adults online whom they didn't know, they barred Marks from using this profile.
More from MSN Living: 11 mom sayings it's ok to ditch
Exiled from the online social sphere, Marks began his own network, one geared toward an under-18 audience that would also garner parental approval. Although originally created just for his friends and family, the Marks family has decided to release the site to the public.  
Grom Social requires parental permission for users to create profiles. To create a profile users must enter a parent's email address. The site sends parents "report cards" on their children's site activity and interests.

Marks doesn't think parental involvement will deter kids from using the site. " I personally experienced what happens on social networking sites that are not safe for kids. I saw bad language and I was bullied. It was scary," Marks says. "With all the bad things happening in the world, kids want to know they are safe from bad people." 

Bing: Facebook to make major announcement
Users create a cartoonish avatar, a grom-atar, that they use on the brightly-colored, animated site to interact with "friends" and explore topics such as health, school, sports and entertainment. The site offers video game tips and help with school subjects for grades 1-10.
More from MSN Living: The top 10 worst moments in mom judgment

"We're getting 25,000 plus visits a day. Our membership grows every hour and we're speaking with some of the biggest companies in the world about becoming involved with GromSocial," Marks states.

If it continues to catch on, Grom Social just may be an incubator for future Mark Zuckerbergs and Zach Markses.

More from the Family Room:
Is homework really necessary?
Library reconsiders ban on children
School bans bible club prayer box
Love content like this? Friend us on Facebook, follow us on Twitter and find us on Pinterest
Photo: www.gromsocial.com
News, stories, tips and laughs for moms & dads
Back-to-school shopping is still in full swing, and your little gents probably need some new kicks to round out their fall wardrobes (you already picked up some bold shoes for the little ladies in your life, right?).

Not every kid is a fan of returning to the classroom, so parents try to ease the blow with a little back-to-school shopping.

Would you rather be a parent now or then?

As all the kids line up to go to school, your son, Timmy, turns to you and says, "I don't want to take the bus. My stomach hurts. Please don't make me go." You cringe and think, Here we go again. What should be a simple morning routine explodes into a daunting challenge.

The strong bonds that dogs can form are undeniable.

Think you know your pet's every unspoken wish? Think again. Your pet is unlikely to be capable of communicating her wants and needs in ways you might assume she would. Even those of you most in touch with your pets' feelings are likely missing a few cues here and there.

The Chesapeake Bay Retriever made both our readers' and veterinary professionals' lists of breeds that love the water.

You might proudly call yourself a dog owner, pet parent or canine guardian, but let's be real: Your dog owns you. You might be laughing now, but think about it — you've surrendered the best seat on the sofa to him, you plan your entire weekend around his trips to the dog park, and you take him to the groomer more often than you get your own hair cut. And let's not forget who's in every photo on your Facebook and Instagram feeds. Sound familiar? We thought so. But in case you still think you're in charge, here are seven classic signs that your dog is the one calling the shots.

One of the best things about being a veterinarian is all the different dogs I get to meet. Of course, I love the Labs and Beagles and Boxers and Poodles, not to mention those crazy Canine Cocktails, or what my parents used to call Heinz 57s. They are among the more popular dogs out there, and I see a lot of them. In fact, it used to be that it was rare to see anything else. Here are nine dog breeds I sometimes see now that I didn't see in the past.

Learning these 10 things is a good base with which to begin the tough preteen and teen years. Helping our children maneuver life is our jobs as parents, even if we haven't quite figured it all out ourselves yet.

Is your teen about to attend one of these top-ranking schools?

We've all seen her... But should we judge her?