Boy, 12, launches youth social networking site
Grom Social caters to kids and their protective parents.
Boy geniuses and tech startups are common modern marketplace phenomena. The barons of our time may be the 20-year-old programmers who provide Internet services that the public embraces but never knew it wanted.
So, we should expect to see more young innovators offering their unique perspectives on online communications.
Zach Marks, a 12-year-old from Melbourne Beach, Fla., is the most recent, and perhaps the youngest, entrepreneur to enter the social networking market.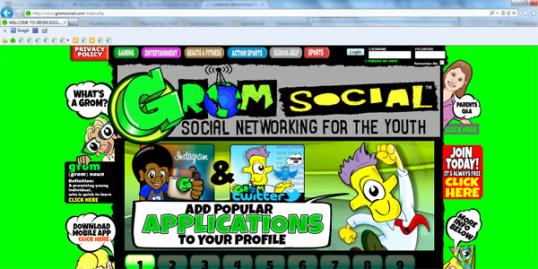 After some convincing, Marks' parents agreed to let him create a profile on Facebook. However, learning that Marks had conversed with adults online whom they didn't know, they barred Marks from using this profile.
More from MSN Living: 11 mom sayings it's ok to ditch
Exiled from the online social sphere, Marks began his own network, one geared toward an under-18 audience that would also garner parental approval. Although originally created just for his friends and family, the Marks family has decided to release the site to the public.  
Grom Social requires parental permission for users to create profiles. To create a profile users must enter a parent's email address. The site sends parents "report cards" on their children's site activity and interests.

Marks doesn't think parental involvement will deter kids from using the site. " I personally experienced what happens on social networking sites that are not safe for kids. I saw bad language and I was bullied. It was scary," Marks says. "With all the bad things happening in the world, kids want to know they are safe from bad people." 

Bing: Facebook to make major announcement
Users create a cartoonish avatar, a grom-atar, that they use on the brightly-colored, animated site to interact with "friends" and explore topics such as health, school, sports and entertainment. The site offers video game tips and help with school subjects for grades 1-10.
More from MSN Living: The top 10 worst moments in mom judgment

"We're getting 25,000 plus visits a day. Our membership grows every hour and we're speaking with some of the biggest companies in the world about becoming involved with GromSocial," Marks states.

If it continues to catch on, Grom Social just may be an incubator for future Mark Zuckerbergs and Zach Markses.

More from the Family Room:
Is homework really necessary?
Library reconsiders ban on children
School bans bible club prayer box
Love content like this? Friend us on Facebook, follow us on Twitter and find us on Pinterest
Photo: www.gromsocial.com

you guys are being negative, but truth is... its really no different than facebook. kiddie prowlers are there too.... i've seen thousands upon thousands of children on facebook where they have lied about their birthdate to obtain an account, as well as on myspace when it was big.... really, the kids only aspect will never be true because there will always be people in society on social networking that will lie to obtain profiles, however those children that are using it properly whom have parents that do check up on them, will be able to use the tools as they were intended.... why not hate on facebook creators for kiddie prowlers and pedos bein present, wake up people! its 2013, they are EVERYWHERE! My child doesnt have to have a facebook to have someone prey after them, nowadays all we have to do is send them to school and there is a chance of that!!!!!
Are you sure you want to delete this comment?
News, stories, tips and laughs for moms & dads
Do you have the right mix of moms surrounding you?

It's hard to keep young kids entertained while being confined indoors, but fear not, for we have some fun ideas to keep the entire family from climbing the walls during rainy days.

Back in our day, ending up with the same exact backpack as your BFF was a legitimate back-to-school concern. Nowadays? There are so many options, it's dizzying!

It is a parent's eternal dilemma: What do I make the kids for lunch today? And tomorrow? And next week? We fall into ruts, succumb to the tried-and-true, give in to our children's demands for junk food. No more! These school lunch ideas—for everything from sandwiches to snacks to hot meals—will freshen up your daily routine, so much so you may be tempted to make them for yourself.

Whether your kids have recently gone back to school or are preparing to go shortly, it's never too late to start thinking about how we can make this year successful and low-stress, both for our kids and ourselves. With that, here are 6 things parents might want to stop doing this year in order to make it the best one yet...for all of you!

Some families spend their after-dinner time playing card games, watching television, or prepping for the next day. And that is fine and dandy, but be sure to incorporate some new, fun games and activities into your evenings to keep it fresh and exciting during the school year.

Head back to school in style with these fashionable, affordable picks

Helpful tips for easing first day jitters.

Get savvy tips for saving cash on your children's school supplies

There's the list of supplies the school sends you; then there's what your kid really needs. Here's how to get off to a smart start and keep things organized all year.

After a long, fun, and relaxing summer, the thought of going back to school is a harsh one. It's only been three months since you walked the halls of your school, but it might as well have been an eternity because your brain pretty much remembers nothing. From getting lost trying to find your class in Hallway C to trying to figure out which table to eat at for lunch, here are just some of the many first day struggles we've all been through.

It's time to start rifling through bins of composition notebooks, glue sticks and highlighter pens. Your kids are heading back to school! We've rounded up 10 relatively easy DIY ideas from Pinterest to satisfy any crafty (or wannabe) parent. Send your kids off with one of these cute concepts that are sure to deliver lots of 'likes' on your Facebook page.