Boy, 12, launches youth social networking site
Grom Social caters to kids and their protective parents.
Boy geniuses and tech startups are common modern marketplace phenomena. The barons of our time may be the 20-year-old programmers who provide Internet services that the public embraces but never knew it wanted.
So, we should expect to see more young innovators offering their unique perspectives on online communications.
Zach Marks, a 12-year-old from Melbourne Beach, Fla., is the most recent, and perhaps the youngest, entrepreneur to enter the social networking market.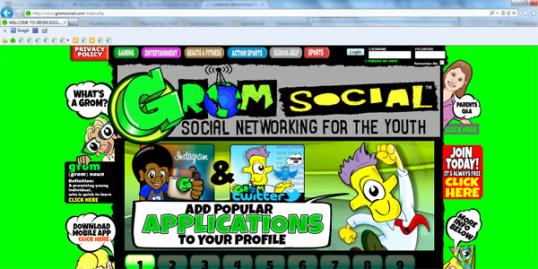 After some convincing, Marks' parents agreed to let him create a profile on Facebook. However, learning that Marks had conversed with adults online whom they didn't know, they barred Marks from using this profile.
More from MSN Living: 11 mom sayings it's ok to ditch
Exiled from the online social sphere, Marks began his own network, one geared toward an under-18 audience that would also garner parental approval. Although originally created just for his friends and family, the Marks family has decided to release the site to the public.  
Grom Social requires parental permission for users to create profiles. To create a profile users must enter a parent's email address. The site sends parents "report cards" on their children's site activity and interests.

Marks doesn't think parental involvement will deter kids from using the site. " I personally experienced what happens on social networking sites that are not safe for kids. I saw bad language and I was bullied. It was scary," Marks says. "With all the bad things happening in the world, kids want to know they are safe from bad people." 

Bing: Facebook to make major announcement
Users create a cartoonish avatar, a grom-atar, that they use on the brightly-colored, animated site to interact with "friends" and explore topics such as health, school, sports and entertainment. The site offers video game tips and help with school subjects for grades 1-10.
More from MSN Living: The top 10 worst moments in mom judgment

"We're getting 25,000 plus visits a day. Our membership grows every hour and we're speaking with some of the biggest companies in the world about becoming involved with GromSocial," Marks states.

If it continues to catch on, Grom Social just may be an incubator for future Mark Zuckerbergs and Zach Markses.

More from the Family Room:
Is homework really necessary?
Library reconsiders ban on children
School bans bible club prayer box
Love content like this? Friend us on Facebook, follow us on Twitter and find us on Pinterest
Photo: www.gromsocial.com

you guys are being negative, but truth is... its really no different than facebook. kiddie prowlers are there too.... i've seen thousands upon thousands of children on facebook where they have lied about their birthdate to obtain an account, as well as on myspace when it was big.... really, the kids only aspect will never be true because there will always be people in society on social networking that will lie to obtain profiles, however those children that are using it properly whom have parents that do check up on them, will be able to use the tools as they were intended.... why not hate on facebook creators for kiddie prowlers and pedos bein present, wake up people! its 2013, they are EVERYWHERE! My child doesnt have to have a facebook to have someone prey after them, nowadays all we have to do is send them to school and there is a chance of that!!!!!
Are you sure you want to delete this comment?
News, stories, tips and laughs for moms & dads
Millennials have a notoriously bad rap. In the age of all-encompassing technology, recent generations are often criticized for their affinity for video games, their short attention spans and their selfie-obsession. Such insularity in face of the apex of globalization seems especially troubling. And yet, there may be hope. All conjecture aside, social media has a different story to tell about the leaders of tomorrow. Not too long ago, Malala Yousufzai became the youngest Nobel Peace Prize nominee in history, but she's not the only wunderkind to watch. Click through this slideshow for our list of today's top ten inspirational kids. We think you'll find Malala's in very good company.

Find yourself wandering the aisles, suddenly needing an owl-shaped candle while drinking a $5 latte? You're not alone, moms...

When it comes to traveling with the family, "adventure" can mean a lot of different things. Just packing the suitcases for a 3-hour flight can be an adventure of its own. And surviving a 5-hour flight with a toddler? That's a whole different kind of adventure (tip: pack snacks). But when your family adventure is good, it can be is really, really good. Sometimes swimming with dolphins or ziplining through the rainforest is just the kind of vacation that will make you forget all about airport hassle, and will get your kids (even the teens) smiling. From hiking the Rockies to white-water rafting, we've found 11 family adventure vacations that will get the adrenaline pumping without driving you crazy.

When you're expecting a baby, preparations can be overwhelming. Decorating is stressful as it is, and when it comes to nurseries, there are the added concerns of reducing sharp edges, use of engaging colors and -- if you're a believer in the powers of feng shui—optimal furniture placement. Luckily, your favorite fashionable A-listers are here with tons of dazzling baby room ideas. Click through this slideshow for more nursery ideas from celebrities, stylists and just plain fashionable moms.

Our Research Institute scouted out the New York City Toy Fair and spotted a few standouts we predict will be topping wish lists shortly.

When we scoped out the New York City Toy Fair, we spotted everything from human-like robots to kid-friendly DIY projects.

Stroll down any aisle of a Toys"R"Us these days and you'll be confronted with a billion options that are light-years beyond anything you had to entertain yourself with as a kid. Lego cruise ships (complete with flatscreen TVs in the lounge and sideboard jet-skis), battery-operated Mercedes-Benz sedans, and hi-tech tablets with Android operating systems abound. We wondered, as we let ourselves get nostalgic for a moment, if any of the beloved toys we played with as children were still even on the market. Thanks to a quick hunt on the Internet we were able to find that Fisher Price still makes their classic Two Tune TV, and you can still get your hands on a good ol' Slinky. Here's a roundup of the best old-school toys for kids-- we encourage you to click through the slideshow and consider wrapping up a well-loved classic for your little one this year.

Not great with a budget? Don't sweat it. Try these simple ways to save.

Watch the video of Kristen Bell going head to head with paparazzi - it will make you angry

Every year, toy makers from around the world gather to show their latest creations at the Toy Fair in New York City. The high-tech models, gadgets and trinkets on display put those basic Legos we played with at kids to shame. Here are 10 new toys that we'd happily buy or children. Or, really, ourselves.

Here's some parenting advice for whatever stage of separation or divorce you're in.

Whether you pop it in the mail or post it on social media, a creative photo is a surefire way to grab everyone's attention and proudly say, "I'm pregnant!" Prepare for a lot of likes.