Boy killed by gun that looked like toy
Should colored guns be banned?
A 3-year-old boy in South Carolina was killed when he and his 7-year-old sister played with a bubble-gum pink gun they mistook for a toy. It's unclear which child fired the weapon. The childrens' grandparents were babysitting, but in another room when the incident occurred. Authorities are not saying how the kids got access to the gun.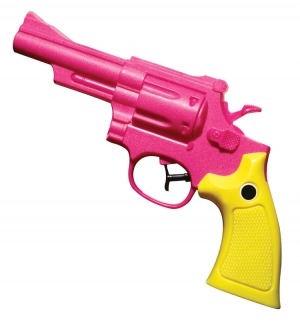 Candy-colored guns are part of an effort on the part of gun manufacturers to make pistols more attractive to women. One gun owner even modified an AR-15 to create a Hello Kitty assault rifle. However, colors can also make them more appealing to kids.
Plus: The day I got rid of our toy guns
Now some parents are calling on lawmakers to stop the manufacture and sale of these guns. From the petition on change.org:
"We ask that gun makers be responsible and stop making and selling hand guns and rifles that are brightly colored. These weapons look like toys. This is dangerous for children and law enforcement who cant distinguish the difference between a toy and the real thing. 
We regulate toy makers in this country and expect them to have high standards of safety…the gun industry should do the same. We call for action on this immediately."
Are you sure you want to delete this comment?
News, stories, tips and laughs for moms & dads
From the confusing to just plain cringe-worthy, check out the worst celebrity baby names this year.

This year, we saw a ton of celeb moms and dads choose unique, glamorous and totally timeless names for their baby boys and girls. From traditional to trendy, here are our picks for the best celebrity baby names.

The top 25 best holiday movies for kids and their families, from old school classics like Miracle on 34th Street and It's a Wonderful Life, to newer classics like Elf and The Nightmare Before Christmas.

Parenting has its up and downs, like any aspect of life. The people who really excel as parents are the ones who keep things interesting, at least in our book. Check out these Imgur posts from parents who really raised the bar.

Maybe you used to greet your partner at the door with a smile and a kiss (and sometimes even more than that!) but now, when he arrives, you launch into a fight because he's two minutes late and you need to take a shower or cook dinner or have a moment of baby-free sanity. That's pretty typical for new parents.

Watch them on a live stream!

We talked to 122 veterinary professionals and got their take on which canines are the smartest of them all.

Find out which names topped the lists

But will they get to stay together?

Readers share their favorite holiday family traditions that really make it the most wonderful time of the year. By Lauren Passell

Brand new Babycenter.com baby-naming reports reveal a few naming trends that may surprise you (or not).

Every family has its oddballs. And the holiday season is the one time of year when you're pretty much forced to interact and play nice with the grand majority of them. Click through the slideshow above for our guide to dealing with the five worst kinds of kin. *Disclaimer: All characters appearing in this work are fictitious. Any resemblance to real persons, living or dead, is purely coincidental.