Boy killed by gun that looked like toy
Should colored guns be banned?
A 3-year-old boy in South Carolina was killed when he and his 7-year-old sister played with a bubble-gum pink gun they mistook for a toy. It's unclear which child fired the weapon. The childrens' grandparents were babysitting, but in another room when the incident occurred. Authorities are not saying how the kids got access to the gun.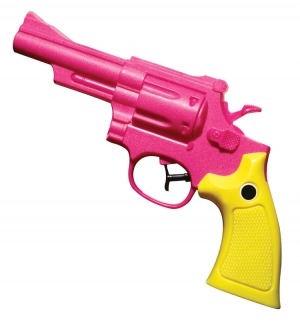 Candy-colored guns are part of an effort on the part of gun manufacturers to make pistols more attractive to women. One gun owner even modified an AR-15 to create a Hello Kitty assault rifle. However, colors can also make them more appealing to kids.
Plus: The day I got rid of our toy guns
Now some parents are calling on lawmakers to stop the manufacture and sale of these guns. From the petition on change.org:
"We ask that gun makers be responsible and stop making and selling hand guns and rifles that are brightly colored. These weapons look like toys. This is dangerous for children and law enforcement who cant distinguish the difference between a toy and the real thing. 
We regulate toy makers in this country and expect them to have high standards of safety…the gun industry should do the same. We call for action on this immediately."
Are you sure you want to delete this comment?
News, stories, tips and laughs for moms & dads
Transform the fall vegetable into cool decor pieces.

Put together these creative, but simple, Halloween looks for your youngsters.

We know you're documenting just about every move baby makes. (Do you even have any memory left on your phone? We didn't think so.) These tips from professional photographers can help you perfect your pics.

These six on-trend ideas will make baby's room your new favorite place to hang out.

Baby probably won't remember his first birthday party, but that doesn't mean you can't go all out (after all, parents need to celebrate making it through this first year, right?). These fun, colorful themes take planning to the next level.

See what celebrities who had problems conceiving have to say.

You'll be hearing a lot of advice and opinions. Some of it will be really helpful and some will be just plain wrong. Here are the most common things people say about babies that aren't true.

A new dad finds an Epcot Center's worth of innovation after expecting none at all.

The dog days of summer may be well behind us, but that doesn't mean it's time to pack in the outdoor adventures quite yet.

Protect yourself and your family with these ingenious gizmos and smartphone apps.

Make sure your go-to gadgets are as cute as your style, with these trendy tech finds!

Oh, how the times have changed...