Boy killed by gun that looked like toy
Should colored guns be banned?
A 3-year-old boy in South Carolina was killed when he and his 7-year-old sister played with a bubble-gum pink gun they mistook for a toy. It's unclear which child fired the weapon. The childrens' grandparents were babysitting, but in another room when the incident occurred. Authorities are not saying how the kids got access to the gun.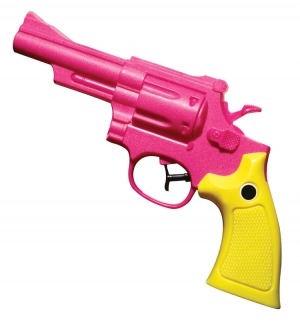 Candy-colored guns are part of an effort on the part of gun manufacturers to make pistols more attractive to women. One gun owner even modified an AR-15 to create a Hello Kitty assault rifle. However, colors can also make them more appealing to kids.
Plus: The day I got rid of our toy guns
Now some parents are calling on lawmakers to stop the manufacture and sale of these guns. From the petition on change.org:
"We ask that gun makers be responsible and stop making and selling hand guns and rifles that are brightly colored. These weapons look like toys. This is dangerous for children and law enforcement who cant distinguish the difference between a toy and the real thing. 
We regulate toy makers in this country and expect them to have high standards of safety…the gun industry should do the same. We call for action on this immediately."
Are you sure you want to delete this comment?
News, stories, tips and laughs for moms & dads
You're cold-hearted? We'll take care of that for you...read on.

This kid despises poetry and he's not afraid to let you know.

I used to be one of those moms who thought, 'who on earth would bring their child to an event like that?' and then I had a son. Here's why you might become a convert, too.

Take a look at your house for these telltale signs that a cat is running the show.

Check out this list of requirements you should meet before getting a new puppy or adult dog.

Virtually everything you need to know about relationships, you learned in nursery school: Treat people as you want to be treated, clean up after yourself, and don't be a know-it-all.

Here are our experts' best tips for how to be a positive role model for your kids so that they grow up healthy, strong and confident about the way they look.

Much like their famous owners, these pooches live a fabulous life. Some are rescues, others purebred, but one thing is certain – these dogs play an important part in their famous parents' lives. Can you guess who owns each of these dogs?

We captured a frame-by-frame look just for you.

Two controversial science projects resembled weapons, school officials said.

Make the most of the summer with these family-oriented activities!