Ohio school bans afro puffs & braids
In a new dress code coming under fire, afro-puffs and small twisted braids, with or without rubber bands, are not permitted.
The natural hair community is up in arms after a letter to parents detailing the new dress code at The Horizon Science Academy in Ohio was posted online. The letter included a ban on afro puffs and "small twisted braids."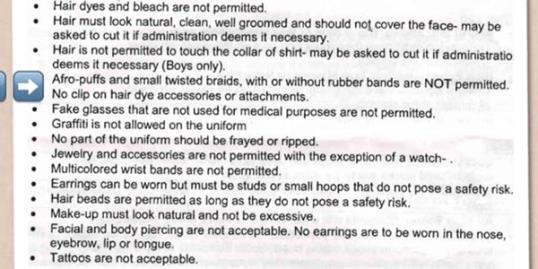 Gallery: 15 things moms overshare on Facebook
The letter outlines changes to the dress code for the upcoming school year and includes the line:
"Afro-puffs and small twisted braids, with our without rubberbands, are NOT permitted."
Afro-puffs are basically the African-American version of the ponytail (when pulled back hair puffs out instead of laying flat), reports Reason.com. The school reportedly does not have a ban on ponytails for students of other ethnicities.
Read the full article on Black Girl Long Hair.
Tell us: What do you think of this dress code decision?
Bing: Most outrageous hair styles
More on The Family Room:
Danish mothers hold public breastfeeding protest
Illinois school boasts 24 sets of twins
Students post school for sale on Craigslist
Love content like this? Friend us on Facebook, follow us on Twitter and find us on Pinterest.
Image: Copy of the Horizon Science Academy letter detailing changes to the dress code (Courtesy of Blackgirllonghair.co​m)
News, stories, tips and laughs for moms & dads
Transform the fall vegetable into cool decor pieces.

Put together these creative, but simple, Halloween looks for your youngsters.

We know you're documenting just about every move baby makes. (Do you even have any memory left on your phone? We didn't think so.) These tips from professional photographers can help you perfect your pics.

These six on-trend ideas will make baby's room your new favorite place to hang out.

Baby probably won't remember his first birthday party, but that doesn't mean you can't go all out (after all, parents need to celebrate making it through this first year, right?). These fun, colorful themes take planning to the next level.

See what celebrities who had problems conceiving have to say.

You'll be hearing a lot of advice and opinions. Some of it will be really helpful and some will be just plain wrong. Here are the most common things people say about babies that aren't true.

A new dad finds an Epcot Center's worth of innovation after expecting none at all.

The dog days of summer may be well behind us, but that doesn't mean it's time to pack in the outdoor adventures quite yet.

Protect yourself and your family with these ingenious gizmos and smartphone apps.

Make sure your go-to gadgets are as cute as your style, with these trendy tech finds!

Oh, how the times have changed...