Ohio school bans afro puffs & braids
In a new dress code coming under fire, afro-puffs and small twisted braids, with or without rubber bands, are not permitted.
The natural hair community is up in arms after a letter to parents detailing the new dress code at The Horizon Science Academy in Ohio was posted online. The letter included a ban on afro puffs and "small twisted braids."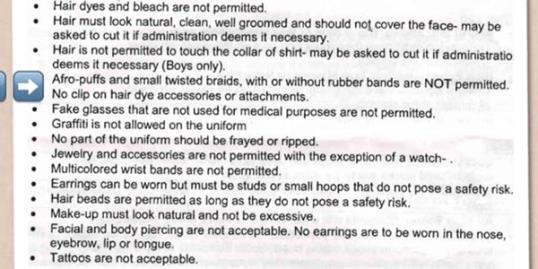 Gallery: 15 things moms overshare on Facebook
The letter outlines changes to the dress code for the upcoming school year and includes the line:
"Afro-puffs and small twisted braids, with our without rubberbands, are NOT permitted."
Afro-puffs are basically the African-American version of the ponytail (when pulled back hair puffs out instead of laying flat), reports Reason.com. The school reportedly does not have a ban on ponytails for students of other ethnicities.
Read the full article on Black Girl Long Hair.
Tell us: What do you think of this dress code decision?
Bing: Most outrageous hair styles
More on The Family Room:
Danish mothers hold public breastfeeding protest
Illinois school boasts 24 sets of twins
Students post school for sale on Craigslist
Love content like this? Friend us on Facebook, follow us on Twitter and find us on Pinterest.
Image: Copy of the Horizon Science Academy letter detailing changes to the dress code (Courtesy of Blackgirllonghair.co​m)
News, stories, tips and laughs for moms & dads
Got kids that are questioning whether or not the Easter Bunny is real? If you want to keep the tradition going at least one more year, try one of these ideas...

You're cold-hearted? We'll take care of that for you...read on.

This kid despises poetry and he's not afraid to let you know.

I used to be one of those moms who thought, 'who on earth would bring their child to an event like that?' and then I had a son. Here's why you might become a convert, too.

Take a look at your house for these telltale signs that a cat is running the show.

Check out this list of requirements you should meet before getting a new puppy or adult dog.

Virtually everything you need to know about relationships, you learned in nursery school: Treat people as you want to be treated, clean up after yourself, and don't be a know-it-all.

Here are our experts' best tips for how to be a positive role model for your kids so that they grow up healthy, strong and confident about the way they look.

Much like their famous owners, these pooches live a fabulous life. Some are rescues, others purebred, but one thing is certain – these dogs play an important part in their famous parents' lives. Can you guess who owns each of these dogs?

We captured a frame-by-frame look just for you.

Two controversial science projects resembled weapons, school officials said.