School called 'hateful' over satirical gay play
A Massachusetts charter school plans to perform 'The Most Fabulous Story Ever Told,' a spoof on the Book of Genesis featuring 'Adam and Steve.'
What if Adam's partner in the Garden of Eden wasn't Eve, but Steve?
A religious rumpus is brewing as one Massachusetts charter school plans to perform a spoof of the Bible's creation story that features gay characters, reports The Raw Story.
Despite threats of protest, Pioneer Valley Performing Arts Public Charter School (PPVA) has said the show will go on. The regional charter school serves 400 students, grades 7 through 12.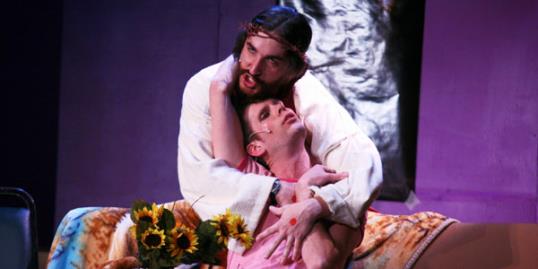 More from MSN Living: 11 adorable smiling animals
"While we have no control whether organizations from other states decide to protest the show, it is clear to me that many of the most recent emails are attempts to coerce PVPA into canceling the play," Head of School Scott Goldman said in a statement last week. "Allowing this to happen would very much go against the grain of our unique, artistic and intellectually rigorous PVPA community and the larger Pioneer Valley Community."
The PPVA website describes "The Most Fabulous Story Ever Told" as "cheeky, raucously funny, surprisingly tender and ultimately wise as it dissects history, relationships, gay politics and the mystery of faith."
"It's not a play that bashes religion but it does make fun of some religious attitudes," director Chris Rohman told MassLive.com. "Although it's full of jokes — some of them at the expense of religious fundamentalism — the play, is, at its heart, a thoughtful investigation of the meaning of faith and family."
More from MSN Living: 8 parenting obligations to ditch guilt-free
Even with threats of protest, the students are excited about putting on the play.
"They saw it as an opportunity to express some gay-positive messages that they want to share with the community," Rohman was quoted.
William Newman, director of the Western Massachusetts office of the ACLU, told MassLive.com, "The highest function of art is to make people think and talk and consider and be challenged. This play seems to fill the aspirations and goals of art."
"The Most Fabulous Story Ever Told" is scheduled for March 15 and 16 at Northampton's Academy of Music.
Would you go see this play?
Bing: Should religion be taught in schools?
More from Family Room:
Girls and manicures: How young is too young?
Single child families: The new normal?
Mom offers $500 to get daughter a job
Love content like this? Friend us on Facebook, follow us on Twitter and find us on Pinterest.
Readers: Calling all mom bloggers – we're looking for fresh voices on MSN Living. Email us your samples and contact info!
Photo: Christian groups call play hateful / Steven G. de Polo via Flickr, http://aka.ms/gayjes​us
family: tips, trends & advice for all things family
Kids and water parks go together like macaroni and cheese. Check out our top picks for your next wet and wild vacation.

We got new dads to dish on what they wish their partners knew. So, listen up, mamas!

Are you really ready to be a parent, or should you stick with a houseplant? Find out before you TTC.

With all the glitz and glamour that comes out of Tinseltown (not to mention the endless tabloid fodder), it's not always obvious that many celebrities are animal lovers, too.

From designer crosses to giant breeds, we scoured Vetstreet's data of millions of dog breeds to determine the trendiest breeds of the past decade.

One of the most unsettling consequences of bringing a child into your previously simple, happily oblivious manly life is that you're now unquestionably, inescapably…The Man.

Whether it was baby's first kick or the first time your boobs leaked in public, there's a point in every mom's life when the world as you know it ends and you realize -- Whoa, I'm someone's mom now. Some of our favorite mommy bloggers revealed what their aha moments were. They range from heartwarming to completely hilarious.

From DIY jewelry to homemade "flowers" to sweet vases, you can help your kid make mom's day with these crafty gifts.

The first parenting shock: They let you take the baby home. Like, without supervision. Only then do the real surprises unfold. Here's what readers told us was most unexpected for them as they embraced this whole mama thing.

Be prepared to say, 'awww,' multiple times while flipping through this collection super-sweet stuff for babies and kids on Etsy.com. Take a peek at some of our favorite finds for moms (and click 'More' to find out how to get this amazing gnome hat!)...By MSN Living editors

Your Mother's Day plans are all set, right? Brunch is booked and a fabulous gift is wrapped and ready to go. So take a breather and celebrate these stylish celebrity moms who work hard, care for their kids, and manage to look amazing in the process.

Find out this year's top baby names on Parenting.com, and see what we predict will be big in 2013