School District Aims to Put an End to 'Sexting'
But some wonder if this well intentioned policy might be overreaching.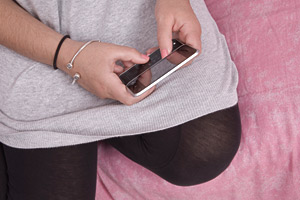 If you're a student in Troy, Michigan, you've officially been warned that your school district will not tolerate 'sexting', the transfer of any sexually explicit material via a mobile phone from one student to another, according to The Washington Post. School officials have been given the green light to confiscate a student's phone if there is any complaint that student has been sexting—no matter if it happened on or off campus. Offender's phone will be turned over to local prosecutors.
It's part of a recent ban enforced by the Troy Board of Education.
Of course, no adult thinks it's acceptable for teenagers to waste their data plans sending each other dirty photos. But some question if this policy is also a bit lewd in its criminalization of an action which is really nothing more than a physical expression of poor teenage decision making.
Michael J. Steinberg, legal director for the ACLU Michigan, was quoted in the Post story:
"Usually, this is kids being irresponsible and careless and certainly not criminals, and they shouldn't be treated that way."
There is also a differing of opinion regarding how big of a problem sexting actually is among teens. Some studies, such as one conducted in 2011 by the Pew Research Center reports that 4 percent of teenagers had sent naked images of themselves, and that 15 percent had received them. However, a Journal Pediatrics study reduces the percentage of teens that have texted sexual photos to 1 percent.
Regardless of how much texting is going on in Troy, Michigan, this policy will probably end up reflecting positively on the school district. Kids need to be sent the message that their naked bodies should not end up as someone else's desktop wallpaper. However, the teenage libido has been causing trouble since the beginning of time. Let's hope the authorities also remember that it's not a crime to be young and hormonally compromised.
Photo: Peter Glass/Getty Images
Love our blog? Become a fan of MSN Living on Facebook. We're like the Lady Gaga of news and entertainment portals.
Check out my hilarious book Sorry I Peed on You (and other heartwarming letters to Mommy)(Andrews McMeel). Makes a great baby shower gift!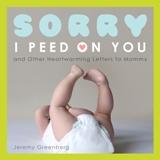 And hey, do ya love doggies and puppies? My hilarious and adorable new book, Sorry I Pooped in Your Shoe (and Other Heartwarming Letters from Doggie) (Andrews McMeel) is now available!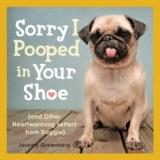 News, stories, tips and laughs for moms & dads
Adopting an animal is a major commitment. Yet all too often people put more effort into researching what kind of car to get than the type of pet that would best fit their lifestyle.

'Tis the season to send out holiday greeting cards to all your friends and family. But, as our friends at Awkward Family Pet Photos know, not all holiday snapshots are the same. Some are just plain kooky — especially when pets are included. So with good tidings and great cheer, here are 10 wacky holiday animal portraits that are sure to make you laugh out loud and get you in the holiday spirit. And possibly make you think twice about dressing up the family cat this year.

King of the jungle? Nah, it's just a labradoodle!

Side-by-side images of adorable babies and their celebrity doppelgängers

Do you have a finicky furry friend on your holiday gift list this year? You're in luck! We've rounded up the coolest cat-approved products to bring you purrfect gift ideas for every kind of cat -- from the curious kitten to the most refined feline. Any one of these special gifts could make your resident kitty purr with pleasure and maybe, just maybe, like the present this year even more than the box and wrapping paper it came in!

Plus, puppy names to watch

This holiday season's hottest toy has yet to be revealed, but more often than not, the best gifts are the ones kids don't even know to ask for. So this year, surprise your kids with unique presents under the tree, and watch as their eyes light up when they unwrap them. From space-age sand to a DIY race track, these out-of-the-box gift ideas will provide some serious shopping inspiration. Click through the slideshow above for all our favorite picks.

Yep, you're older than you think

Avoid these gaffes for a better relationship with your stepchildren—and your spouse.

The top 25 best holiday movies for kids and their families, from old school classics like Miracle on 34th Street and It's a Wonderful Life, to newer classics like Elf and The Nightmare Before Christmas.

Since the dawn of time, we men have been preprogrammed with two biological imperatives: Number one: to bravely kill bathtub spiders; and number two: to reproduce. (Actually, I really should have ordered those in reverse.) So what happens when we find out we're infertile?

New mamas weigh in on all the things they wish someone had warned them about before baby arrived.