It's National Dress Up Your Pet Day
Who says you can only force your four-legged friend into a humiliating costume on Oct. 31?
Time to dig out your pet's Halloween costume, because today we're celebrating
National Dress Up Your Pet Day
.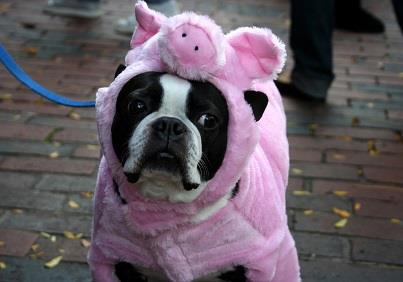 Of course, you don't have to put him in a Halloween costume — this holiday is not so limiting. You could just dress Fido or Fluffy up in a T-shirt or sweater. Even a tiny hat would suffice.
Or, how about a designer coat? Whatever attire you decide to put on your animal today, just be sure to take plenty of pictures and share them with us on our Facebook.
National Dress Up Your Pet Day was founded in 2009 by Celebrity Pet Lifestyle Expert and Animal Behaviorist, Colleen Paige. It is sponsored by the Animal Miracle Network as a fun way to celebrate our beloved pets and to support the pet fashion community.
"It's important to remember though, that it's not, however, a day to disrespect our pets with uncomfortable, vulgar and/or seasonally inappropriate costumes for the sake of a laugh or photo shoot," Paige is quoted on her website. "Have fun with your pets by dressing them in cute outfits and safe costumes - but keep your pet's comfort level in mind when involving him/her in this fun novelty day."
More from Vetstreet:
Veterinarian's surprising confession
10 dogs dressed up in red, white and blue
Are costumes safe for pets?
Why does my dog… sleep curled up in a ball when he sleeps?
10 trendiest dog names of the year
Bing: Pets in funny costumes
Photo: Andrew Teman, Flickr
Love content like this? Friend us on Facebook, follow us on Twitter and find us on Pinterest
News, stories, tips and laughs for moms & dads
Remember the concept of weekends being a time for rest, relaxation, and togetherness? No? Us either. Between soccer games, playdates, dragging your kids to see the new exhibition at the local children's museum, and we need to pick up a gift for that birthday party that starts in . . . 20 minutes, juggling a busy family's weekend schedule can be more stressful than a weekday. While we know it's simply not realistic to cancel all your plans and obligations moving forward, clearing the calendar for just one weekend can be just the refresher that your family's craving. Here's why.

Any of these sound familiar?

4 steps for raising a child who doesn't feel emotionally stranded.

You just had a baby? You're a superstar! All those diapers, all that spit up, and you're makin' magic happen. But you're also likely tired - really tired - and busy (so, so busy). Taking time for yourself might seem like an indulgence but a happy mom makes for a happy baby. Here are 7 things you should definitely do to keep your sanity intact and your spirit high. <more, below>

Summertime is on, and the kids are out of school. Every mom knows that for these three months it's more important than ever to keep the kids busy. But you don't have to schedule your life away with camps, or drop a bundle on activities and games that come in a box. You can make your own fun, and even include the kids in the prep, with some simple, inexpensive DIY crafts that will keep them playing 'til the lightening bugs come out. Make your own fingerpaint, bubbles, and crayons. Create a fort-building kit and superhero capes that will kick their imaginations into overdrive. Here are 10 of our favorite kid-friendly DIY crafts to fuel your summertime fun.

Let these DIY dog bed projects be your inspiration and within a single weekend, you can construct something that really makes Rex feel like a king.

The task of finding an eco-friendly, safe-for-baby gift parents-to-be will actually use is kind of challenging. Add to that a price limit of $50, and the feat suddenly feels impossible! Fortunately, we combed the marketplace for some of the prettiest, most useful, sweetest gifts for baby and family. Many are fine on their own, while others would work well as part of a bigger basket — you know, if you wish to achieve that shower-goer hero status.

Jennifer Goodall gave birth Friday after much drama

My kids snapped a pic of me on my phone and it changed how I see myself

6-year-old has rare brain condition

He wanted to know if woman was pregnant

Did your state make the grade?