It's National Dress Up Your Pet Day
Who says you can only force your four-legged friend into a humiliating costume on Oct. 31?
Time to dig out your pet's Halloween costume, because today we're celebrating
National Dress Up Your Pet Day
.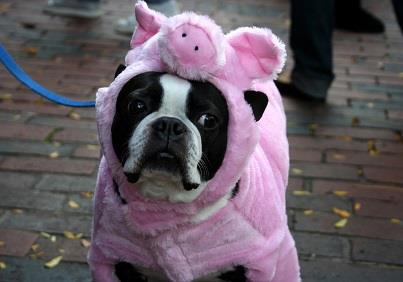 Of course, you don't have to put him in a Halloween costume — this holiday is not so limiting. You could just dress Fido or Fluffy up in a T-shirt or sweater. Even a tiny hat would suffice.
Or, how about a designer coat? Whatever attire you decide to put on your animal today, just be sure to take plenty of pictures and share them with us on our Facebook.
National Dress Up Your Pet Day was founded in 2009 by Celebrity Pet Lifestyle Expert and Animal Behaviorist, Colleen Paige. It is sponsored by the Animal Miracle Network as a fun way to celebrate our beloved pets and to support the pet fashion community.
"It's important to remember though, that it's not, however, a day to disrespect our pets with uncomfortable, vulgar and/or seasonally inappropriate costumes for the sake of a laugh or photo shoot," Paige is quoted on her website. "Have fun with your pets by dressing them in cute outfits and safe costumes - but keep your pet's comfort level in mind when involving him/her in this fun novelty day."
More from Vetstreet:
Veterinarian's surprising confession
10 dogs dressed up in red, white and blue
Are costumes safe for pets?
Why does my dog… sleep curled up in a ball when he sleeps?
10 trendiest dog names of the year
Bing: Pets in funny costumes
Photo: Andrew Teman, Flickr
Love content like this? Friend us on Facebook, follow us on Twitter and find us on Pinterest
News, stories, tips and laughs for moms & dads
It can be difficult to entice little ones to eat anything at all, let alone to devour a healthy plate. But feeding your kids nutritious snacks after school just got way easier, thanks to these adorably clever and cute snack ideas! For more smart and fun ways to get your kids to enjoy healthful and delicious foods, try one of these amazingly artsy lunch ideas.

"Because you shine from within," I said, touching my finger to her heart. "Not everybody sees it, but I do. I see it. And my job is to protect that light. So when people say mean comments that squelch that light, I want you to tell me. I will protect your light by listening and loving you, my brave, courageous, and unique little firefly."

Studies have shown that it helps, top education officials have recommended it, and now doctors are officially saying the same.

I may have accidentally dropped you a few times, forgotten to document your first fart, let a little pee fly and dressed you like an idiot, but I have also loved you with every piece of me, and you will never hear an apology for that.

Back-to-school shopping is still in full swing, and your little gents probably need some new kicks to round out their fall wardrobes (you already picked up some bold shoes for the little ladies in your life, right?).

Not every kid is a fan of returning to the classroom, so parents try to ease the blow with a little back-to-school shopping.

Would you rather be a parent now or then?

As all the kids line up to go to school, your son, Timmy, turns to you and says, "I don't want to take the bus. My stomach hurts. Please don't make me go." You cringe and think, Here we go again. What should be a simple morning routine explodes into a daunting challenge.

The strong bonds that dogs can form are undeniable.

Think you know your pet's every unspoken wish? Think again. Your pet is unlikely to be capable of communicating her wants and needs in ways you might assume she would. Even those of you most in touch with your pets' feelings are likely missing a few cues here and there.

The Chesapeake Bay Retriever made both our readers' and veterinary professionals' lists of breeds that love the water.

You might proudly call yourself a dog owner, pet parent or canine guardian, but let's be real: Your dog owns you. You might be laughing now, but think about it — you've surrendered the best seat on the sofa to him, you plan your entire weekend around his trips to the dog park, and you take him to the groomer more often than you get your own hair cut. And let's not forget who's in every photo on your Facebook and Instagram feeds. Sound familiar? We thought so. But in case you still think you're in charge, here are seven classic signs that your dog is the one calling the shots.