Report: Finland is best place to be a mother
Save the Children has come out with its State of the World's Mothers Index, and the results are startling.
By: Emma Waverman (follow her on Twitter)
Finland and other Nordic countries are ranked the best places to be a mother, according to a report from Save the Children, an organization that promotes children's rights.  
Sub-Saharan Africa is the most dangerous place to give birth, the report finds, and if you are pregnant in the Democratic Republic of Congo, you have a one in 30 chance of not living through the birth.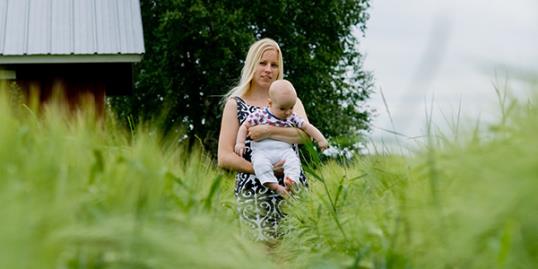 More from MSN.ca: Angelina Jolie chooses a mastectomy so cancer can't take her away from her kids
I  have recently returned from a trip to the Dominican Republic, where I toured three SOS Children's Villages. A number of the orphaned children that I met ended up in care because their mothers had died in childbirth. It sounded outlandish to me that dying in childbirth is so common. There must be a way to make it better. And there is.
More from MSN.ca: Disney's Princess Merida makeover causes outrage
The Save the Children report shows that we have work to do as well, especially in the North. Canada ranks at 22 on the Best Places to Be a Mother, behind the Scandinavian countries but a little ahead of the United States and Britain. But Canada has the second-highest rate of newborn deaths in the industrialized world, ahead of the United States. A high proportion of those deaths are in the North and  among indigenous populations.
More from MSN.ca: Michigan mom wants "pornographic" Anne Frank pulled
The report looked at five factors to determine the Mother's Index ranking, including breastfeeding support, mother's education, gross domestic product, political participation of women, and chance of survival during pregnancy.
Some other startling stats:   
Every year, 40 million women give birth at home without the help of a skilled birth attendant.
Every day, 800 women die during pregnancy or childbirth, and 8,000 newborn babies die during their first month of life.
Newborn deaths account for 43 percent of all deaths among children under age 5.
More from The Family Room:
School bans 'The Perks of Being a Wallflower'
Rich families hire handicapped 'black-market Disney guides' to skip long lines
School bans Ten Commandments from classrooms
Photo: Finland mother / Garron Nicholls/Getty Images
News, stories, tips and laughs for moms & dads
12 playful and engaging gift ideas for babies and toddlers this season.

When it comes to being single and pregnant, it feels like everybody has their own opinion -- or way-too-nosy questions. Whether they're trying to get the "dirt" on baby's father, or asking about your quest for child support (so not their business!), people really say ridiculous things to single moms-to-be.

Thanksgivukkah, a mash-up super-holiday that magically occurs this year as Hanukkah and Thanksgiving fall on the same day, is quickly becoming every foodie's dream. It's literally a once-in-a-lifetime chance (the next one doesn't occur for another 77,798 years!) to make insanely delicious foods combining both traditions, like sweet potato latkes and pumpkin challah. Below is a round-up of some must follow Thanksgivukkah Pinterest boards!

From unsolicited advice that comes from someone without kids to real-life momzillas who always one-up baby's accomplishments, read on for the 12 worst comments new mamas have ever heard (and prepare for some serious LOLs).

It's not just a walk in the park. Get the real deal. By Bonnie Vengrow

Even the most organized person has mornings when something goes wrong. Here are a few remedies to help you survive, or avoid, those pesky morning annoyances.