Report: Finland is best place to be a mother
Save the Children has come out with its State of the World's Mothers Index, and the results are startling.
By: Emma Waverman (follow her on Twitter)
Finland and other Nordic countries are ranked the best places to be a mother, according to a report from Save the Children, an organization that promotes children's rights.  
Sub-Saharan Africa is the most dangerous place to give birth, the report finds, and if you are pregnant in the Democratic Republic of Congo, you have a one in 30 chance of not living through the birth.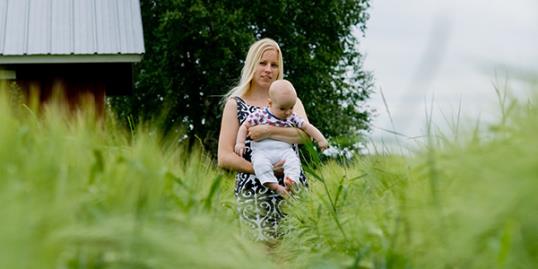 More from MSN.ca: Angelina Jolie chooses a mastectomy so cancer can't take her away from her kids
I  have recently returned from a trip to the Dominican Republic, where I toured three SOS Children's Villages. A number of the orphaned children that I met ended up in care because their mothers had died in childbirth. It sounded outlandish to me that dying in childbirth is so common. There must be a way to make it better. And there is.
More from MSN.ca: Disney's Princess Merida makeover causes outrage
The Save the Children report shows that we have work to do as well, especially in the North. Canada ranks at 22 on the Best Places to Be a Mother, behind the Scandinavian countries but a little ahead of the United States and Britain. But Canada has the second-highest rate of newborn deaths in the industrialized world, ahead of the United States. A high proportion of those deaths are in the North and  among indigenous populations.
More from MSN.ca: Michigan mom wants "pornographic" Anne Frank pulled
The report looked at five factors to determine the Mother's Index ranking, including breastfeeding support, mother's education, gross domestic product, political participation of women, and chance of survival during pregnancy.
Some other startling stats:   
Every year, 40 million women give birth at home without the help of a skilled birth attendant.
Every day, 800 women die during pregnancy or childbirth, and 8,000 newborn babies die during their first month of life.
Newborn deaths account for 43 percent of all deaths among children under age 5.
More from The Family Room:
School bans 'The Perks of Being a Wallflower'
Rich families hire handicapped 'black-market Disney guides' to skip long lines
School bans Ten Commandments from classrooms
Photo: Finland mother / Garron Nicholls/Getty Images
News, stories, tips and laughs for moms & dads
Oh, Pinterest. We love you, we hate you. You inspire us, and you make us feel terribly lame at the same time. But what we always love, without a fault, is finding examples of people who have tried, and failed, to create a Pinterest-inspired work of art. With that, our fave 'fails.' Original Pinterest inspirations on the left, crafting fails on the right - away we go… By Gina Cohen and Charyn Pfeuffer, MSN Living

The company reportedly considered her act "destruction of property."

Why it's time to retire the trend already

It's not nice to make an expectant mom cry

Tummy troubles in your four-legged friends? Carrageenan in their pet food may be to blame.

Looking for new ways to cut back on your spending? We love these helpful (and clever!) money-saving tips and tricks that moms shared on our message boards.