Report: Finland is best place to be a mother
Save the Children has come out with its State of the World's Mothers Index, and the results are startling.
By: Emma Waverman (follow her on Twitter)
Finland and other Nordic countries are ranked the best places to be a mother, according to a report from Save the Children, an organization that promotes children's rights.  
Sub-Saharan Africa is the most dangerous place to give birth, the report finds, and if you are pregnant in the Democratic Republic of Congo, you have a one in 30 chance of not living through the birth.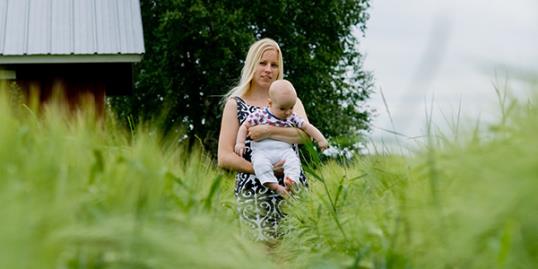 More from MSN.ca: Angelina Jolie chooses a mastectomy so cancer can't take her away from her kids
I  have recently returned from a trip to the Dominican Republic, where I toured three SOS Children's Villages. A number of the orphaned children that I met ended up in care because their mothers had died in childbirth. It sounded outlandish to me that dying in childbirth is so common. There must be a way to make it better. And there is.
More from MSN.ca: Disney's Princess Merida makeover causes outrage
The Save the Children report shows that we have work to do as well, especially in the North. Canada ranks at 22 on the Best Places to Be a Mother, behind the Scandinavian countries but a little ahead of the United States and Britain. But Canada has the second-highest rate of newborn deaths in the industrialized world, ahead of the United States. A high proportion of those deaths are in the North and  among indigenous populations.
More from MSN.ca: Michigan mom wants "pornographic" Anne Frank pulled
The report looked at five factors to determine the Mother's Index ranking, including breastfeeding support, mother's education, gross domestic product, political participation of women, and chance of survival during pregnancy.
Some other startling stats:   
Every year, 40 million women give birth at home without the help of a skilled birth attendant.
Every day, 800 women die during pregnancy or childbirth, and 8,000 newborn babies die during their first month of life.
Newborn deaths account for 43 percent of all deaths among children under age 5.
More from The Family Room:
School bans 'The Perks of Being a Wallflower'
Rich families hire handicapped 'black-market Disney guides' to skip long lines
School bans Ten Commandments from classrooms
Photo: Finland mother / Garron Nicholls/Getty Images
News, stories, tips and laughs for moms & dads
Nope, you don't have to spend the next nine months in black elastic-waist pants and oversize sweaters. And you don't have to shell out a fortune on your "temporary" wardrobe either. Check out these stylish and affordable maternity clothes.

Because society crumbles without us

Another kid figured out how to get into a claw machine.

As a new mom, you've recently discovered there are many things you can live without—sleep and modesty being chief among them. But what can't you live without? Seasoned moms share their Top 10 list for how to survive the early months of motherhood.

Here are our experts' best tips for how to be a positive role model for your kids so that they grow up healthy, strong and confident about the way they look.

The center of the family is your relationship; not the children.

Transform your mornings from grumpy to great by following these 12 simple steps. (Singing in the shower is highly encouraged.)

We're all aware of the reasons one might prefer to raise biological children. There's the miraculous experience that is pregnancy and childbirth. Also, let's not forget how expensive adoption is (though with the cost of childbirth in the United States growing ever-more crippling, it's hard to say which method is most economical). Couple that with the difficulty of the adoption process -- unless, of course, you're Madonna -- and you've got plenty of strong incentives to go the traditional route. Despite the arduous adoption process and the significant financial commitment, all kinds of people -- both famous and not -- choose to adopt for a variety of reasons. Check out this slideshow to see which celebrities (besides the famous Jolie-Pitts) opted to adopt.

One of our favorite ways to start the day is with a piping hot cup of coffee and a thought-provoking TED talk. In case you'€™re not familiar with the group, TED (which stands for Technology, Entertainment and Design) is a nonprofit organization dedicated to spreading ideas through projects and talks by a diverse group of inspired thinkers - people of all cultures, ages and disciplines. As you can probably guess, listening to these innovators share their ideas is a surefire way to jumpstart your day and get your creative juices flowing. Click through the slideshow above for the eight TED talks every parent needs to see. By Cordelia Tai

Got kids that are questioning whether or not the Easter Bunny is real? If you want to keep the tradition going at least one more year, try one of these ideas...

You're cold-hearted? We'll take care of that for you...read on.

This kid despises poetry and he's not afraid to let you know.