Report: Finland is best place to be a mother
Save the Children has come out with its State of the World's Mothers Index, and the results are startling.
By: Emma Waverman (follow her on Twitter)
Finland and other Nordic countries are ranked the best places to be a mother, according to a report from Save the Children, an organization that promotes children's rights.  
Sub-Saharan Africa is the most dangerous place to give birth, the report finds, and if you are pregnant in the Democratic Republic of Congo, you have a one in 30 chance of not living through the birth.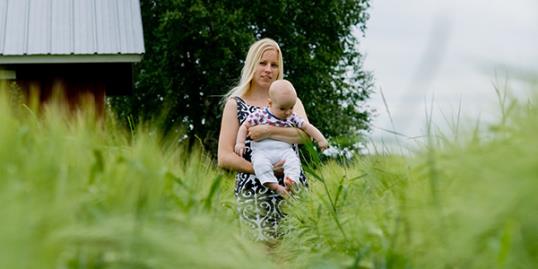 More from MSN.ca: Angelina Jolie chooses a mastectomy so cancer can't take her away from her kids
I  have recently returned from a trip to the Dominican Republic, where I toured three SOS Children's Villages. A number of the orphaned children that I met ended up in care because their mothers had died in childbirth. It sounded outlandish to me that dying in childbirth is so common. There must be a way to make it better. And there is.
More from MSN.ca: Disney's Princess Merida makeover causes outrage
The Save the Children report shows that we have work to do as well, especially in the North. Canada ranks at 22 on the Best Places to Be a Mother, behind the Scandinavian countries but a little ahead of the United States and Britain. But Canada has the second-highest rate of newborn deaths in the industrialized world, ahead of the United States. A high proportion of those deaths are in the North and  among indigenous populations.
More from MSN.ca: Michigan mom wants "pornographic" Anne Frank pulled
The report looked at five factors to determine the Mother's Index ranking, including breastfeeding support, mother's education, gross domestic product, political participation of women, and chance of survival during pregnancy.
Some other startling stats:   
Every year, 40 million women give birth at home without the help of a skilled birth attendant.
Every day, 800 women die during pregnancy or childbirth, and 8,000 newborn babies die during their first month of life.
Newborn deaths account for 43 percent of all deaths among children under age 5.
More from The Family Room:
School bans 'The Perks of Being a Wallflower'
Rich families hire handicapped 'black-market Disney guides' to skip long lines
School bans Ten Commandments from classrooms
Photo: Finland mother / Garron Nicholls/Getty Images
News, stories, tips and laughs for moms & dads
Whether your kids have recently gone back to school or are preparing to go shortly, it's never too late to start thinking about how we can make this year successful and low-stress, both for our kids and ourselves. With that, here are 6 things parents might want to stop doing this year in order to make it the best one yet...for all of you!

Some families spend their after-dinner time playing card games, watching television, or prepping for the next day. And that is fine and dandy, but be sure to incorporate some new, fun games and activities into your evenings to keep it fresh and exciting during the school year.

Head back to school in style with these fashionable, affordable picks

Helpful tips for easing first day jitters.

Get savvy tips for saving cash on your children's school supplies

There's the list of supplies the school sends you; then there's what your kid really needs. Here's how to get off to a smart start and keep things organized all year.

After a long, fun, and relaxing summer, the thought of going back to school is a harsh one. It's only been three months since you walked the halls of your school, but it might as well have been an eternity because your brain pretty much remembers nothing. From getting lost trying to find your class in Hallway C to trying to figure out which table to eat at for lunch, here are just some of the many first day struggles we've all been through.

It's time to start rifling through bins of composition notebooks, glue sticks and highlighter pens. Your kids are heading back to school! We've rounded up 10 relatively easy DIY ideas from Pinterest to satisfy any crafty (or wannabe) parent. Send your kids off with one of these cute concepts that are sure to deliver lots of 'likes' on your Facebook page.

Family had lived in Portugal for several years

Dining hall food, delish? Yes! With a little know-how and maybe a few minutes waiting to use the communal microwave, you can DIY concoctions that are healthy, yummy, and will definitely keep you from snoozing through your afternoon classes.

The dog days of summer may be well behind us, but that doesn't mean it's time to pack in the outdoor adventures quite yet.

Between the Halloween costume sewing and pumpkin patch outings, you probably don't have time to give your little one's nursery a full-blown Fall makeover. But luckily there are plenty of simple, sweet ways to incorporate the season.