Report: Finland is best place to be a mother
Save the Children has come out with its State of the World's Mothers Index, and the results are startling.
By: Emma Waverman (follow her on Twitter)
Finland and other Nordic countries are ranked the best places to be a mother, according to a report from Save the Children, an organization that promotes children's rights.  
Sub-Saharan Africa is the most dangerous place to give birth, the report finds, and if you are pregnant in the Democratic Republic of Congo, you have a one in 30 chance of not living through the birth.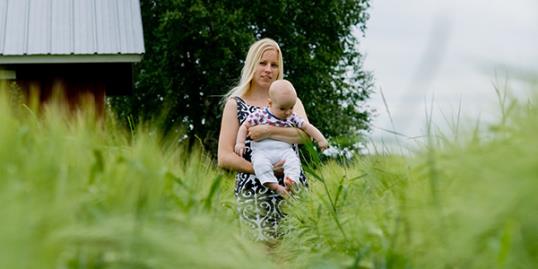 More from MSN.ca: Angelina Jolie chooses a mastectomy so cancer can't take her away from her kids
I  have recently returned from a trip to the Dominican Republic, where I toured three SOS Children's Villages. A number of the orphaned children that I met ended up in care because their mothers had died in childbirth. It sounded outlandish to me that dying in childbirth is so common. There must be a way to make it better. And there is.
More from MSN.ca: Disney's Princess Merida makeover causes outrage
The Save the Children report shows that we have work to do as well, especially in the North. Canada ranks at 22 on the Best Places to Be a Mother, behind the Scandinavian countries but a little ahead of the United States and Britain. But Canada has the second-highest rate of newborn deaths in the industrialized world, ahead of the United States. A high proportion of those deaths are in the North and  among indigenous populations.
More from MSN.ca: Michigan mom wants "pornographic" Anne Frank pulled
The report looked at five factors to determine the Mother's Index ranking, including breastfeeding support, mother's education, gross domestic product, political participation of women, and chance of survival during pregnancy.
Some other startling stats:   
Every year, 40 million women give birth at home without the help of a skilled birth attendant.
Every day, 800 women die during pregnancy or childbirth, and 8,000 newborn babies die during their first month of life.
Newborn deaths account for 43 percent of all deaths among children under age 5.
More from The Family Room:
School bans 'The Perks of Being a Wallflower'
Rich families hire handicapped 'black-market Disney guides' to skip long lines
School bans Ten Commandments from classrooms
Photo: Finland mother / Garron Nicholls/Getty Images
News, stories, tips and laughs for moms & dads
Every year, toy makers from around the world gather to show their latest creations at the Toy Fair in New York City. The high-tech models, gadgets and trinkets on display put those basic Legos we played with at kids to shame. Here are 10 new toys that we'd happily buy or children. Or, really, ourselves.

Here's some parenting advice for whatever stage of separation or divorce you're in.

Whether you pop it in the mail or post it on social media, a creative photo is a surefire way to grab everyone's attention and proudly say, "I'm pregnant!" Prepare for a lot of likes.

Remember the magical children's rooms in Peter Pan and The Little Prince? These timeless novels described spaces that were enchanting and made us wish that we could inhabit the rooms ourselves. The sumptuous interiors that were filled with never-ending toys and fort-like draping may seem like a fairytale, but thanks to four of our favorite kids' furniture websites, the dream could actually become a reality. Click through the slideshow to check out the best kids furniture websites that have everything necessary to create a fantasy room for your little one. And check out Sophia Demenge's super-fun space in the video below. By Barry Samaha

They lay, they play, and they take selfies with supermodels. Meet 5 of the most social media-savvy pets—animals taking control of their own fashionable online image.

We could try to offer you carefully researched and crafted words of Dad-centric inspiration, intended to show you the path to being a better man and, in turn, a better father. But Tom Limbert took up the task for us in his new book 'Dad's Playbook: Wisdom for Fathers from the Greatest Coaches of All Time,' so we left it to him. Limbert -- a parent coach and the founder of the Studio Grow children's play space in Berkeley, California -- has collected pearls of wisdom from an elite crew of coaches who have not only experienced greatness themselves, but also found ways to consistently instill it in their teams. "It's monkey-see, monkey-do," Limbert told us, after we asked him to gather the best quotes on achieving one's goals. "If you want your child to follow, you have to lead." Click on to read the often simple-seeming words that have inspired countless others to follow through on the field, but that can also easily be translated to the school, work, fitness, and, of course, parenting arenas.

What parents need to know

It's raining, it's pouring ... but that doesn't mean the day has to be a snore. Rather than let the kids grow restless and rambunctious, why not divert their energy toward some fun family bonding activities? Although the weather may have scotched your original plans for the day, seize the opportunity to reconnect and let loose with your loved ones. Click through this slideshow for ten refreshing rainy day activities that'll make you glad the clouds (almost) rained on your parade.

Every family has its oddballs. And the holiday season is the one time of year when you're pretty much forced to interact and play nice with the grand majority of them. Click through the slideshow above for our guide to dealing with the five worst kinds of kin. *Disclaimer: All characters appearing in this work are fictitious. Any resemblance to real persons, living or dead, is purely coincidental.

Not great with a budget? Don't sweat it. Try these simple ways to save.

Actress Kimberly Williams-Paisley hated the dementia that made her mother seem like a different person—erratic, silent, sometimes angry. Then she found a way to love that mom too.

Getting back into dating after baby can be tough -- and complicated -- but you deserve a shot at love, Mama! Just be on the look out for these red flags.