Woman wakes from coma and finds out she's pregnant
You won't believe this amazing story.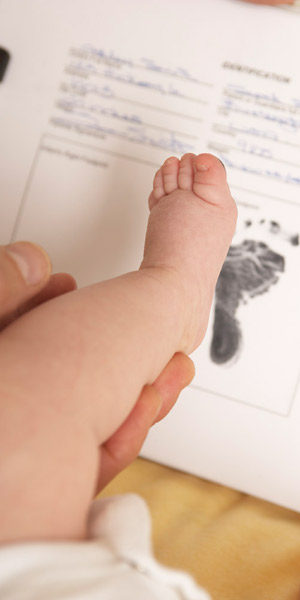 In today's daily dose of news that you're absolutely
not going to believe, a woman awoke after three months in a coma to find that she was four months pregnant.
In September 2012, Gemma Holmes was driving a scooter in Hilperton, England, when she collided with a parked car. The impact was enough to cause her to fly across a busy street and slam into a lamppost.
Holmes suffered a broken back and severe head injuries. She was in a coma and airlifted to a hospital, where doctors didn't think she would survive.
Amazingly enough, three months after the crash, Holmes woke up from the coma to find that not only had she defied her doctors' grim prognosis but that she also was pregnant. Because she'd suffered amnesia as a result of the accident, the 26-year-old couldn't remember what had happened over the past three years, including how and when she had met the baby's father. "I was in shock," she told reporters. "When I woke up and I was told I was pregnant I remember thinking, 'What? How did that happen?'"

At the time, doctors warned against keeping the baby, advising that it would be potentially dangerous to her health and would keep her from having surgery on her back. Holmes said no; she was adamant about keeping her baby. She told "ITV This Morning," "I just thought that if this little baby inside me had managed to survive the awful crash, then he was meant to be." For the duration of her pregnancy, she refused painkillers out of fear that the medication could harm her baby, which made the lingering pain from her injuries almost unbearable. She also was confined to a wheelchair. But for the mama-to-be, the pain was worth it.
In May 2013, Holmes gave birth via C-section to a healthy baby named Ruben Miracle Holmes. "I couldn't stop crying when they first showed him to me, because he is my little miracle baby. I was just so happy to see him after everything we've been through," the new mama told SWNS.com. Though she has no plans to get back together with Ruben's father, who was located after the crash, Holmes says the new daddy wants to be a part of his son's life, too. "It is just great for my son. There is no chance we will get back together, but I am glad he will be part of Ruben's life."
But surgery from the crash is inevitable. "The doctors have said they will operate on my back after Ruben is 6 months old, because I'm breastfeeding and they want to give me time to bond," Holmes says.
After the six-month mark, "The doctors will have to break my back again and put metal plates in. I will then have up to two more years in the wheelchair before they think I may be able to walk and run with my baby." The new mama says she isn't worried about the impending surgery and the two years she will be off her feet. "Rueben is the best thing to ever happen to me. I may not remember how he came to me, but I've got the rest of our lives to make up for that," she said.
"Ruben is just gorgeous; he is perfect."
Can you believe this mama's unbelievable story?
More from The Bump:

Photo: Veer / The Bump


Congratulations on the birth of that wonderful (and apparently determined) little boy! I have to admire your courage and determination as well.
Having suffered a broken back in a car accident, I can relate to the long road ahead. But medicine has made such big strides in the past decades. I became pregnant several years after my accident and, while not as severe as yours, was able to give birth to a wonderful daughter. What a reward these children are!   
Best of luck with your surgery. I know you will thoroughly enjoy your bundle of joy. He'll help you through the tough times.
Are you sure you want to delete this comment?
News, stories, tips and laughs for moms & dads
From Ryan Gosling earrings to portable speakers, there's something here for kids of all ages.

When it comes to holiday giving, it's the thought that counts, which is why homemade gifts from kids are so treasured by their mothers. Children might not have money to spend on an expensive piece of jewelry or designer handbag, but they do have the time to DIY something special for their number one fan. If you're in charge of helping the little ones think of presents, check out the above list of homemade gifts for mom. From a custom vase to Instagram coasters to Warhol-inspired wall art, we have something for every taste and skill level.

At our household, we have a large, diverse collection of toys. While I'm not as uptight as my husband on what enters our kids' toy chest, my husband must approve all toy acquisitions mostly because of aesthetics (appearance is important). In our search for functional and stylish toys, the sustainable ones often have the best design, and appeal to the visual and tactile senses or improve fine motor skills such as dexterity and hand coordination. Here are a few of our family favorites that intrigue and hold our little ones' attention—and look good, too.

Worried that a violent video game might sneak its way into your shopping cart during the holidays? Before you make it to the register, make sure you're armed with all the information you need regarding your child's games. Just because your well-meaning thirteen-year-old promises you that the game he's about to buy with the gift card from Uncle Mike is totally chill, doesn't mean it's good for kids. Do your research ahead of time to avoid any game store drama. And have a chat with your offspring before the big day; let them know that you're going to have to green light their choices before they get their hearts set on any particular item. At the end of the day, you're just being a good parent. Some of the games on the market now may look OK at first glance, but are actually quite objectionable. Trust us: We've done our homework and we're here to give you the ultimate low-down. Check out this slideshow for all the games to steer clear of this season. Don't say we didn't warn you.

Two sociologists have found that parents who have daughters are more inclined to support the GOP and turn a cold shoulder to Democrats.

The experts at Nameberry.com predict what will be big in baby-naming next year

Famed event-planner David Stark shared tips for making chic holiday decorations using items you already have around the house. Take a look!

Sociologist Karen Z. Kramer found that over the past decade more than 550,000 men were stay-at-home fathers, which is about 3.5 percent of the married with kids population.

Ben Miller celebrates his wife's birthday and the anniversary of the day their premature son Ward Miles came home for good with a video documenting his first year.

Adopting an animal is a major commitment. Yet all too often people put more effort into researching what kind of car to get than the type of pet that would best fit their lifestyle.

'Tis the season to send out holiday greeting cards to all your friends and family. But, as our friends at Awkward Family Pet Photos know, not all holiday snapshots are the same. Some are just plain kooky — especially when pets are included. So with good tidings and great cheer, here are 10 wacky holiday animal portraits that are sure to make you laugh out loud and get you in the holiday spirit. And possibly make you think twice about dressing up the family cat this year.

King of the jungle? Nah, it's just a labradoodle!