Baby Bikini Onesies: Cool or Creepy?
And is it any worse than the toddler-sized Metallica t-shirt?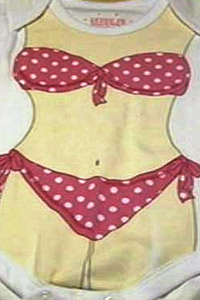 I have never understood fashion. I still have the same haircut I wore to my senior prom, and as I write this I'm wearing nothing more than a barrel and suspenders. My wife is sitting next to me in overalls, smoking a corncob pipe. It's safe to say that we are not fashion forward. But maybe that's a good thing, especially since what's deemed as "fashion" progresses into ever weirder realms.
Take, for example, the "baby bikini onesy," which has understandably raised quite a bit of controversy. It essentially looks like a baby-sized nightgown with a bikini airbrushed onto it. Because who doesn't want to see a baby and be forced to imagine the little thing sporting a pair of boobs? Yik—it grosses me out just to write about it!
But maybe that's because I am hypersensitive to the dangers of this world. There are many fun, innocent examples of adult imagery on kids' clothes. One of my favorites is the toddler-sized Metallica t-shirts. It's cute, and when I see a toddler in a Metallica t-shirt I don't see it as some premature form of corruption. I don't think that toddler is some antisocial, angry youth. I think he has a parent who used to be. Although that parent must now conform to the adult world, it doesn't mean that he can't celebrate his youth by choosing a fun piece of fashion for his kids. Maybe this baby bikini onesy is the same thing for a mom who used to have a bikini bod before giving birth? It could just be an innocent way to have a bit of fun with kids' clothes, but our society is so scorched by its sickos that we can't lighten up and laugh.
Either way, to me it looks weird. My kids will wear nothing but barrels and overalls until they leave for college.
Is the baby bikini onesy innocent fun or creepy-weird?
Love our blog? Become a fan of MSN Living on Facebook.  We're like the Lady Gaga of news and entertainment portals.
Check out my hilarious book Sorry I Peed on You (and other heartwarming letters to Mommy)(Andrews McMeel). Makes a great baby shower gift!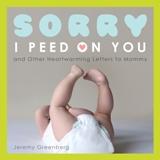 And hey, do ya love doggies and puppies? My hilarious and adorable new book, Sorry I Pooped in Your Shoe (and Other Heartwarming Letters from Doggie) (Andrews McMeel) is now available!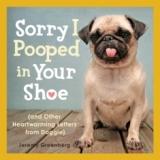 News, stories, tips and laughs for moms & dads
A thrill-obsessed subculture claimed another life this week.

A few suggested answers for the diciest questions

Must-haves for every mommy on the road

Here's our list of fifteen moms in the food industry that deserve some recognition.

The site gets high marks for its user-friendly interface and excellent and responsive customer service. And the reviews are also pretty accurate. Compare amenities and prices next to a hotel's in the same area, and you're likely to see Airbnb come out on top.

We captured a frame-by-frame look just for you.

Other moms can be ruthless when it comes to picking apart your parenting choices. From dissing your decision to go back to work to criticizing when you started baby on solids, here are the most ridiculous comments moms have heard. Bonus, we've got just the right way to respond to the haters! You're welcome.

Nope, you don't have to spend the next nine months in black elastic-waist pants and oversize sweaters. And you don't have to shell out a fortune on your "temporary" wardrobe either. Check out these stylish and affordable maternity clothes.

Because society crumbles without us

Another kid figured out how to get into a claw machine.

As a new mom, you've recently discovered there are many things you can live without—sleep and modesty being chief among them. But what can't you live without? Seasoned moms share their Top 10 list for how to survive the early months of motherhood.

Here are our experts' best tips for how to be a positive role model for your kids so that they grow up healthy, strong and confident about the way they look.