Baby Bikini Onesies: Cool or Creepy?
And is it any worse than the toddler-sized Metallica t-shirt?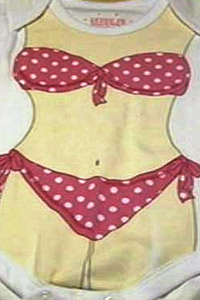 I have never understood fashion. I still have the same haircut I wore to my senior prom, and as I write this I'm wearing nothing more than a barrel and suspenders. My wife is sitting next to me in overalls, smoking a corncob pipe. It's safe to say that we are not fashion forward. But maybe that's a good thing, especially since what's deemed as "fashion" progresses into ever weirder realms.
Take, for example, the "baby bikini onesy," which has understandably raised quite a bit of controversy. It essentially looks like a baby-sized nightgown with a bikini airbrushed onto it. Because who doesn't want to see a baby and be forced to imagine the little thing sporting a pair of boobs? Yik—it grosses me out just to write about it!
But maybe that's because I am hypersensitive to the dangers of this world. There are many fun, innocent examples of adult imagery on kids' clothes. One of my favorites is the toddler-sized Metallica t-shirts. It's cute, and when I see a toddler in a Metallica t-shirt I don't see it as some premature form of corruption. I don't think that toddler is some antisocial, angry youth. I think he has a parent who used to be. Although that parent must now conform to the adult world, it doesn't mean that he can't celebrate his youth by choosing a fun piece of fashion for his kids. Maybe this baby bikini onesy is the same thing for a mom who used to have a bikini bod before giving birth? It could just be an innocent way to have a bit of fun with kids' clothes, but our society is so scorched by its sickos that we can't lighten up and laugh.
Either way, to me it looks weird. My kids will wear nothing but barrels and overalls until they leave for college.
Is the baby bikini onesy innocent fun or creepy-weird?
Love our blog? Become a fan of MSN Living on Facebook.  We're like the Lady Gaga of news and entertainment portals.
Check out my hilarious book Sorry I Peed on You (and other heartwarming letters to Mommy)(Andrews McMeel). Makes a great baby shower gift!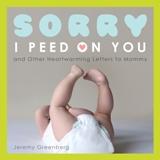 And hey, do ya love doggies and puppies? My hilarious and adorable new book, Sorry I Pooped in Your Shoe (and Other Heartwarming Letters from Doggie) (Andrews McMeel) is now available!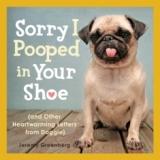 News, stories, tips and laughs for moms & dads
Transform the fall vegetable into cool decor pieces.

Put together these creative, but simple, Halloween looks for your youngsters.

We know you're documenting just about every move baby makes. (Do you even have any memory left on your phone? We didn't think so.) These tips from professional photographers can help you perfect your pics.

These six on-trend ideas will make baby's room your new favorite place to hang out.

Baby probably won't remember his first birthday party, but that doesn't mean you can't go all out (after all, parents need to celebrate making it through this first year, right?). These fun, colorful themes take planning to the next level.

See what celebrities who had problems conceiving have to say.

You'll be hearing a lot of advice and opinions. Some of it will be really helpful and some will be just plain wrong. Here are the most common things people say about babies that aren't true.

A new dad finds an Epcot Center's worth of innovation after expecting none at all.

The dog days of summer may be well behind us, but that doesn't mean it's time to pack in the outdoor adventures quite yet.

Protect yourself and your family with these ingenious gizmos and smartphone apps.

Make sure your go-to gadgets are as cute as your style, with these trendy tech finds!

Oh, how the times have changed...