Parents Upset Over Lunchtime Palm Scanner
$300,000 system leads to privacy concerns.
Parents of students at Carroll County schools in Baltimore say a new policy that scans kids' palms to pay for their lunches goes too far.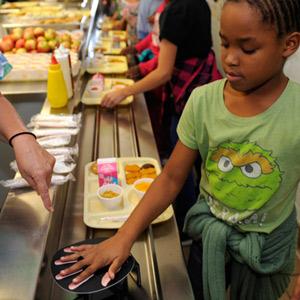 With the PalmSecure system, students hover their hands over an infrared scanner that ID's them by the unique patterns in their skin and registers a sale, according to a report from the Daily Herald.
The Herald talked to Mike Richmond, who has two children at a Westminster elementary school. He said the scanning started before parents were given the chance to opt out.
"I didn't appreciate how they handled it. I'm concerned about it. I know it's the way of the future, but it's fingerprinting, it's palm-printing."
The district said the goal is to decrease the time it takes to pay for lunches since the children have a limited amount of time to eat their meals.
The controversial system is operating in three Carroll County elementary schools with plans to expand to the whole district within a year. It's also used in many other schools around the country where there have also been concerns about invasion of privacy as well as the cost of the system. Once implemented, PalmSecure will run the Carroll County district about $300,000.
Bing: Read more about the story.
Photo: Barbara Haddock Taylor/Baltimore Sun/MCT via Getty Images
More Family & Parenting on MSN Living:
51 Perfect Day Trips for Families
The Most Popular Baby Names of All Time
Top Names for the Top 10 Dog Breeds
News, stories, tips and laughs for moms & dads
It can be difficult to entice little ones to eat anything at all, let alone to devour a healthy plate. But feeding your kids nutritious snacks after school just got way easier, thanks to these adorably clever and cute snack ideas! For more smart and fun ways to get your kids to enjoy healthful and delicious foods, try one of these amazingly artsy lunch ideas.

"Because you shine from within," I said, touching my finger to her heart. "Not everybody sees it, but I do. I see it. And my job is to protect that light. So when people say mean comments that squelch that light, I want you to tell me. I will protect your light by listening and loving you, my brave, courageous, and unique little firefly."

Studies have shown that it helps, top education officials have recommended it, and now doctors are officially saying the same.

I may have accidentally dropped you a few times, forgotten to document your first fart, let a little pee fly and dressed you like an idiot, but I have also loved you with every piece of me, and you will never hear an apology for that.

Back-to-school shopping is still in full swing, and your little gents probably need some new kicks to round out their fall wardrobes (you already picked up some bold shoes for the little ladies in your life, right?).

Not every kid is a fan of returning to the classroom, so parents try to ease the blow with a little back-to-school shopping.

Would you rather be a parent now or then?

As all the kids line up to go to school, your son, Timmy, turns to you and says, "I don't want to take the bus. My stomach hurts. Please don't make me go." You cringe and think, Here we go again. What should be a simple morning routine explodes into a daunting challenge.

The strong bonds that dogs can form are undeniable.

Think you know your pet's every unspoken wish? Think again. Your pet is unlikely to be capable of communicating her wants and needs in ways you might assume she would. Even those of you most in touch with your pets' feelings are likely missing a few cues here and there.

The Chesapeake Bay Retriever made both our readers' and veterinary professionals' lists of breeds that love the water.

You might proudly call yourself a dog owner, pet parent or canine guardian, but let's be real: Your dog owns you. You might be laughing now, but think about it — you've surrendered the best seat on the sofa to him, you plan your entire weekend around his trips to the dog park, and you take him to the groomer more often than you get your own hair cut. And let's not forget who's in every photo on your Facebook and Instagram feeds. Sound familiar? We thought so. But in case you still think you're in charge, here are seven classic signs that your dog is the one calling the shots.