Parents Upset Over Lunchtime Palm Scanner
$300,000 system leads to privacy concerns.
Parents of students at Carroll County schools in Baltimore say a new policy that scans kids' palms to pay for their lunches goes too far.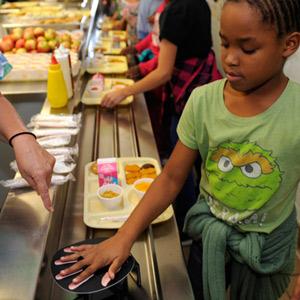 With the PalmSecure system, students hover their hands over an infrared scanner that ID's them by the unique patterns in their skin and registers a sale, according to a report from the Daily Herald.
The Herald talked to Mike Richmond, who has two children at a Westminster elementary school. He said the scanning started before parents were given the chance to opt out.
"I didn't appreciate how they handled it. I'm concerned about it. I know it's the way of the future, but it's fingerprinting, it's palm-printing."
The district said the goal is to decrease the time it takes to pay for lunches since the children have a limited amount of time to eat their meals.
The controversial system is operating in three Carroll County elementary schools with plans to expand to the whole district within a year. It's also used in many other schools around the country where there have also been concerns about invasion of privacy as well as the cost of the system. Once implemented, PalmSecure will run the Carroll County district about $300,000.
Bing: Read more about the story.
Photo: Barbara Haddock Taylor/Baltimore Sun/MCT via Getty Images
More Family & Parenting on MSN Living:
51 Perfect Day Trips for Families
The Most Popular Baby Names of All Time
Top Names for the Top 10 Dog Breeds
family: tips, trends & advice for all things family
Down-to-earth and funny tips that help moms enjoy every minute of parenting, from The Happiest Mom.

Some celebrities seem too young or wild or weird to be grandparents. Others fit the image, but you just never knew. Think you know these famous grandparents?

Death is a natural part of life, but it's never easy to understand. Here are some tips when the time comes to talk to your kids about pets passing.

Are you a 'dog person' or 'cat person'?

Whether they're on small pups like the Pug or huge ones like the Mastiff, adorable wrinkles are the envy of many a dog lover — which is exactly why we set out in search of the canine world's most wrinkled breeds.

Making homemade foods stamps is an inexpensive easy way to create decorative art with kids. Proving that playing with your food can actually be fun for the whole family, DIY veggie stamps can create a wide variety of cool designs for an afternoon of crafting.