Parents Upset Over Lunchtime Palm Scanner
$300,000 system leads to privacy concerns.
Parents of students at Carroll County schools in Baltimore say a new policy that scans kids' palms to pay for their lunches goes too far.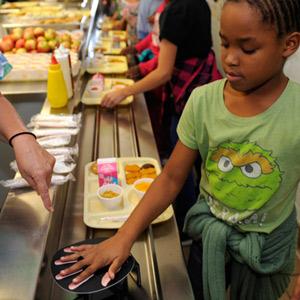 With the PalmSecure system, students hover their hands over an infrared scanner that ID's them by the unique patterns in their skin and registers a sale, according to a report from the Daily Herald.
The Herald talked to Mike Richmond, who has two children at a Westminster elementary school. He said the scanning started before parents were given the chance to opt out.
"I didn't appreciate how they handled it. I'm concerned about it. I know it's the way of the future, but it's fingerprinting, it's palm-printing."
The district said the goal is to decrease the time it takes to pay for lunches since the children have a limited amount of time to eat their meals.
The controversial system is operating in three Carroll County elementary schools with plans to expand to the whole district within a year. It's also used in many other schools around the country where there have also been concerns about invasion of privacy as well as the cost of the system. Once implemented, PalmSecure will run the Carroll County district about $300,000.
Bing: Read more about the story.
Photo: Barbara Haddock Taylor/Baltimore Sun/MCT via Getty Images
More Family & Parenting on MSN Living:
51 Perfect Day Trips for Families
The Most Popular Baby Names of All Time
Top Names for the Top 10 Dog Breeds
News, stories, tips and laughs for moms & dads
Baby booms are certainly fun, but the pileup of shower invites can be rough on a bank account. The challenge: Find a great gift for cheap that's cute, useful, "big" enough to count as a whole gift...and doesn't seem like you skimped. Here are eight fun, functional options I love that definitely fit the bill. And they're all under $30! By The Bump Editors

You'd be shocked at how much a choice selection of apps can change your life for the better. From a honing device for kid-friendly locations to a virtual accountant, these eleven apps belong on every parent's home screen. It may seem counterintuitive, but amping up your smartphone with these handy features will actually make unplugging that much easier, since you know you've got your bases covered. Check them out in the slideshow above, download what you will, and we bet you won't be able to remember what life was like without them.

12 playful and engaging gift ideas for babies and toddlers this season.

When it comes to being single and pregnant, it feels like everybody has their own opinion -- or way-too-nosy questions. Whether they're trying to get the "dirt" on baby's father, or asking about your quest for child support (so not their business!), people really say ridiculous things to single moms-to-be.

Thanksgivukkah, a mash-up super-holiday that magically occurs this year as Hanukkah and Thanksgiving fall on the same day, is quickly becoming every foodie's dream. It's literally a once-in-a-lifetime chance (the next one doesn't occur for another 77,798 years!) to make insanely delicious foods combining both traditions, like sweet potato latkes and pumpkin challah. Below is a round-up of some must follow Thanksgivukkah Pinterest boards!

From unsolicited advice that comes from someone without kids to real-life momzillas who always one-up baby's accomplishments, read on for the 12 worst comments new mamas have ever heard (and prepare for some serious LOLs).