Sandy Hook hero harassed by conspiracy theorists
Gene Rosen sheltered six kids during the Sandy Hook massacre. Now the Good Samaritan's deeds have been called out by a group who believes the shooting was a hoax.
What would you do if you found six little children and a bus driver at the end of your driveway? Now imagine if one of the kids said, "We can't go back to school. Our teacher is dead," reports Salon.com.
That's the scenario Newtown, Conn. Resident Gene Rosen faced on the morning of the Sandy Hook Elementary School shooting. Like any civic-minded citizen, the 69-year old retired psychologist brought the kids inside, gave them food, juice and toys and called their parents.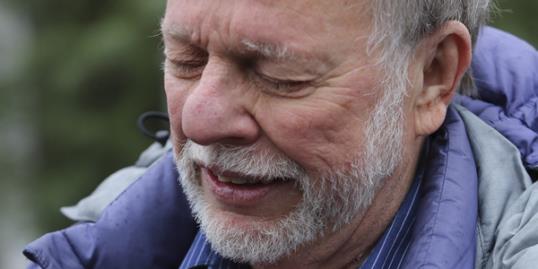 More from MSN Living:
11 mom sayings it's okay to ditch
In the hours and days that followed, Rosen became a bit of a local media darling.
"I wanted to speak about the bravery of the children, and it kind of helped me work through this," he was quoted.
What seemed like the simple gesture of a Good Samaritan went horribly wrong though when he started getting harassed by a conspiracy theorist group that alleges that the entire shooting was a hoax. Photos of Rosen's house have been posted online, fake Google+ and YouTube accounts have been created in his name and dozens of blog posts and videos have surfaced "exposing" him as a fraud.
"I don't know what to do," Rosen was quoted. "I'm getting hang up calls, I'm getting some calls, I'm getting emails with, not direct threats, but accusations that I'm lying, that I'm a crisis actor, 'how much am I being paid?'"
One purported business query even taunted: "How are all those little students doing? You know, the ones that showed up at your house after the 'shooting'. What is the going rate for getting involved in a gov't sponsored hoax anyway?"
More from MSN Living: The top 10 worst moments in mom judgment
In speaking out about the harassment, Rosen asked Salon.com, "Am I being stupid?" But as a staunch believer in free speech, he decided to talk because he feels there needs to be some "moral push back."
"There must be some way to morally shame these people, because there were twenty dead children lying an eighth of a mile from my window all night long," Rosen was quoted.
How would you react to such harassment?
Bing: Newtown begins healing, how you can help
More from the Family Room:
Library reconsiders ban on children
Districts look to beef up school safety with panic buttons
Photo: Mary Altaffer/AP
Love content like this? Friend us on Facebook, follow us on Twitter and find us on Pinterest
News, stories, tips and laughs for moms & dads
One mom says no, no we don't

We know—it's cold outside and you're dreaming of beaches. Consider this the next best thing: awesome indoor water parks around the world equipped with pools, water slides, swim-up bars, and in some cases, all-year "sunlight."

Figuring out the best kind of vacation for your family can take a bit of time -- if you're beach people, it's pretty easy. Find a resort, make sure they have cribs and book your tickets. Adventure buffs with older kids can hit a national park and have a total blast, while artsy types might prefer to pick a cosmopolitan city with great museums, restaurants, and some serious insider tips on babysitters. Whatever your preferences for a spring getaway for the family, there's still time! Click through this slideshow for some of our favorite vacation ideas for families, from those with babies and toddlers through to teens. Bon voyage!

Ah, bedtime. That sweet, sweet hour when you pack the kiddos off to dreamland and you get some much-needed "me time." Right? Well, sometimes. Bedtime can also be one of the most stressful times of day. Developing a bedtime ritual is something nearly every baby expert and pediatrician recommends. Children rely on ritual and stability, and it's a huge comfort to them to repeat the same actions every night before bed.You can treat this time of day as a series of hurdles to jump over before the big relief or decide to turn bedtime into a series of sweet moments to cherish daily. Here are our favorite ideas for bedtime rituals that everyone in the family will take comfort in.

Millennials have a notoriously bad rap. In the age of all-encompassing technology, recent generations are often criticized for their affinity for video games, their short attention spans and their selfie-obsession. Such insularity in face of the apex of globalization seems especially troubling. And yet, there may be hope. All conjecture aside, social media has a different story to tell about the leaders of tomorrow. Not too long ago, Malala Yousufzai became the youngest Nobel Peace Prize nominee in history, but she's not the only wunderkind to watch. Click through this slideshow for our list of today's top ten inspirational kids. We think you'll find Malala's in very good company.

Find yourself wandering the aisles, suddenly needing an owl-shaped candle while drinking a $5 latte? You're not alone, moms...

When it comes to traveling with the family, "adventure" can mean a lot of different things. Just packing the suitcases for a 3-hour flight can be an adventure of its own. And surviving a 5-hour flight with a toddler? That's a whole different kind of adventure (tip: pack snacks). But when your family adventure is good, it can be is really, really good. Sometimes swimming with dolphins or ziplining through the rainforest is just the kind of vacation that will make you forget all about airport hassle, and will get your kids (even the teens) smiling. From hiking the Rockies to white-water rafting, we've found 11 family adventure vacations that will get the adrenaline pumping without driving you crazy.

When you're expecting a baby, preparations can be overwhelming. Decorating is stressful as it is, and when it comes to nurseries, there are the added concerns of reducing sharp edges, use of engaging colors and -- if you're a believer in the powers of feng shui—optimal furniture placement. Luckily, your favorite fashionable A-listers are here with tons of dazzling baby room ideas. Click through this slideshow for more nursery ideas from celebrities, stylists and just plain fashionable moms.

Our Research Institute scouted out the New York City Toy Fair and spotted a few standouts we predict will be topping wish lists shortly.

When we scoped out the New York City Toy Fair, we spotted everything from human-like robots to kid-friendly DIY projects.

Stroll down any aisle of a Toys"R"Us these days and you'll be confronted with a billion options that are light-years beyond anything you had to entertain yourself with as a kid. Lego cruise ships (complete with flatscreen TVs in the lounge and sideboard jet-skis), battery-operated Mercedes-Benz sedans, and hi-tech tablets with Android operating systems abound. We wondered, as we let ourselves get nostalgic for a moment, if any of the beloved toys we played with as children were still even on the market. Thanks to a quick hunt on the Internet we were able to find that Fisher Price still makes their classic Two Tune TV, and you can still get your hands on a good ol' Slinky. Here's a roundup of the best old-school toys for kids-- we encourage you to click through the slideshow and consider wrapping up a well-loved classic for your little one this year.

Not great with a budget? Don't sweat it. Try these simple ways to save.