Yahoo maternity leave gets a boost — how does it compare to yours?
The average length of maternity leave is actually lower.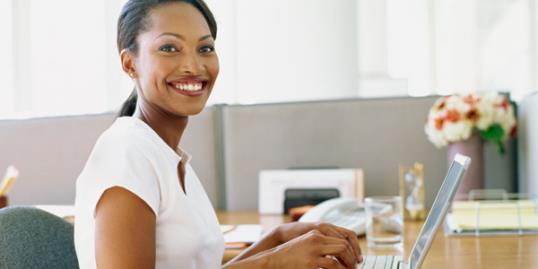 By: Elena Donovan Mauer for TheBump.com
Yahoo CEO Marissa Mayer sparked controversy earlier this year, when she announced that her company's employees would no longer be able to work from home. "That's so anti-working-parent,​" people thought. But in April, Mayer made an announcement that may have people thinking her workplace is more family-friendly: Maternity and paternity leave has been extended.
More from The Bump: Do you have working mom guilt?
"Under the new policy, mothers can take 16 weeks of paid leave with benefits, and fathers can take up to eight weeks, each time they have a new child via childbirth. Both parents receive eight weeks of paid leave for new children via adoption, foster-child placement or surrogacy," reports NBC Bay Area. This is about double the maternity leave that the company's old policy allowed.
This may allow Yahoo to better compete with nearby tech companies Google and Facebook for employees. Google offers 18 to 22 weeks of paid maternity leave, and Facebook offers four months of paid leave to both mothers and fathers.
So, is this normal? Well, no, it's not. According to the Department of Health and Human Services' Women's Health USA 2011 report, the average length of maternity leave was 10.3 weeks, and only 24.9 percent of women had paid maternity leave for more than two months. In fact almost one-third (29.4 percent) didn't take any maternity leave, and 33.1 percent of those who took it didn't have any portion of their leave paid.
In the U.S., companies are required by law to hold a parent's job for 12 weeks after the birth of a child, but that's only if the company and employee both qualify under the Family Leave and Medical Act (FMLA). For example, if your company has fewer than 50 employees or you've worked for the company for less than 12 months, you wouldn't qualify. And, none of those 12 weeks is required to be paid. How much you're paid for depends on your employer's policies.
More from The Bump: The truth about being a working mom
So there's quite a range, as working moms on TheBump.com message boards demonstrate:
"I took 12 weeks, which was as much as was allowed by my employer. Six weeks were paid. However I did just hear that our maternity policy changed and now they are paying the full 12-week period. So when I'm out this September with baby No. 2 it will be paid for. Yay!" – RedDDD
"I will take eight weeks off. I work for a small company and don't qualify for FMLA. I negotiated it with my employer up from six weeks. I will have four weeks paid, made up of two weeks vacation and two weeks paid maternity leave. I am the first in my company to have a baby, and two weeks paid maternity and paternity leave is now written into our company policy. I am proud to be a part of that added benefit." – jlaOK
"I took two weeks before birth and 20 afterwards. This is two weeks beyond my company's maximum policy. An exception was allowed since I had a huge vacation balance and the last two weeks fell during the holidays, which are slow for us. The company fully paid my salary for the two weeks before, and I had a combination of short-term disability and pay (for a total of my whole salary) for 12 weeks after birth. I was then able to use sick and vacation pay for weeks 13 through 20." – whynotwhynot
More from The Bump: The worst things to say to working moms
"I am taking six weeks off and then going back part time for six weeks. Then I'll be working from home two or three days a weeks and in the office either two or three days a week. It will all be paid, thank God." – JNLSLSM
"I took six weeks with my first child and five weeks with my second. I needed the money, so I returned to work. Besides, both times, my employer called or emailed me while I was off, and I worked from home anyway. Four weeks was paid at 60 percent of my salary. The other two weeks were unpaid." – LoCarb
"I took the 12 weeks allowed under FMLA. They wouldn't hold my job any longer than that. I received four weeks of short-term disability pay at 60 percent of my wages." – financial diva
"All in all I took six-and-a-half months. I did a lot of research, and the other people in my company who had taken maternity leave said seven months is the max. Sixteen weeks were paid." – Brendamndz
"I took 13 weeks off. The plan was 12, but my daughter came early. I'm a teacher, and I had to give a specific date that I could come back, so they could put a substitute on contract. Ten days were paid — five were sick days and five were childbirth leave. The rest was unpaid." – dizzykates
How much maternity leave did you take or do you plan to take? Do you think more companies should extend their maternity leave, like Yahoo did?
More from The Bump:
Maternity leave around the world
The 10 hardest things about maternity leave (and how to deal)
News, stories, tips and laughs for moms & dads
Do you have the right mix of moms surrounding you?

It's hard to keep young kids entertained while being confined indoors, but fear not, for we have some fun ideas to keep the entire family from climbing the walls during rainy days.

Back in our day, ending up with the same exact backpack as your BFF was a legitimate back-to-school concern. Nowadays? There are so many options, it's dizzying!

It is a parent's eternal dilemma: What do I make the kids for lunch today? And tomorrow? And next week? We fall into ruts, succumb to the tried-and-true, give in to our children's demands for junk food. No more! These school lunch ideas—for everything from sandwiches to snacks to hot meals—will freshen up your daily routine, so much so you may be tempted to make them for yourself.

Whether your kids have recently gone back to school or are preparing to go shortly, it's never too late to start thinking about how we can make this year successful and low-stress, both for our kids and ourselves. With that, here are 6 things parents might want to stop doing this year in order to make it the best one yet...for all of you!

Some families spend their after-dinner time playing card games, watching television, or prepping for the next day. And that is fine and dandy, but be sure to incorporate some new, fun games and activities into your evenings to keep it fresh and exciting during the school year.

Head back to school in style with these fashionable, affordable picks

Helpful tips for easing first day jitters.

Get savvy tips for saving cash on your children's school supplies

There's the list of supplies the school sends you; then there's what your kid really needs. Here's how to get off to a smart start and keep things organized all year.

After a long, fun, and relaxing summer, the thought of going back to school is a harsh one. It's only been three months since you walked the halls of your school, but it might as well have been an eternity because your brain pretty much remembers nothing. From getting lost trying to find your class in Hallway C to trying to figure out which table to eat at for lunch, here are just some of the many first day struggles we've all been through.

It's time to start rifling through bins of composition notebooks, glue sticks and highlighter pens. Your kids are heading back to school! We've rounded up 10 relatively easy DIY ideas from Pinterest to satisfy any crafty (or wannabe) parent. Send your kids off with one of these cute concepts that are sure to deliver lots of 'likes' on your Facebook page.