Father furious after finding crayon-written message
'I am willing to give up some of my constitutional rights … to be safer' – the words one fourth-grader copied down after a lesson about the Constitution.
A lesson about the Bill of Rights took a strange turn when a Jacksonville, Fla., father found the words, "I am willing to give up some of my constitutional rights in order to be safer or more secure" scrawled in crayon on paper in his fourth-grader's backpack.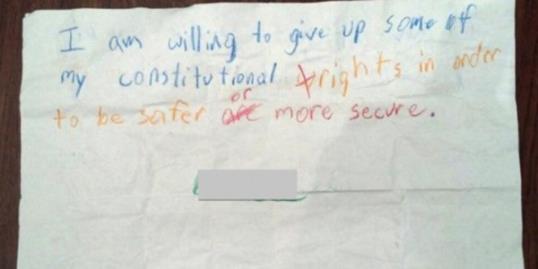 Back in January, a local lawyer visited Cedar Hills Elementary, the school Aaron Harvey's son attends, to teach students about the Constitution, reports TheBlaze.
Now here's where things get weird. When the attorney left, Harvey says the fourth-grade teacher dictated the sentence and had students write it down. Several of his son's classmates corroborated this story.
More from MSN Living: 4 musts for moms of boys
The paper sat in Harvey's son's backpack for months, until it was discovered last week. Harvey took his concerns to TheBlaze, instead of to the school because he wasn't sure he would have gotten a straightforward answer if he asked the school directly.
More from MSN Living: 10 single-mom secrets
"Everybody has their opinions," Harvey told TheBlaze. "I am strongly for proper education, for the freedom of thought so you can form your own opinion and have your own free speech in the future … [but] the education is, 'when was the Constitution drafted, when was it ratified, why did this happen, why did we choose to do this … all these things, why did they particular choose those specific rights to be in our Bill of Rights.'"
Bing: Outrageous school bans
Kandra Albury, a spokeswoman for Duvall County Public Schools, which includes Cedar Hills, told TheBlaze that the district and principal were "checking into" what had happened.
"I believe in our Constitution. I am a veteran, I served for six and a half years proudly and I served to protect our rights," Harvey told TheBlaze. "Now whenever I have someone coming in and trying to pollute my child's mind with biased opinions … there's no education in that."
Tell us in the comments: What do you think about this incident?
More from The Family Room:
Does having kids make you happy?
Are single-child families the new normal?
Spanking in public: Another great parenting debate
Love content like this? Friend us on Facebook, follow us on Twitter and find us on Pinterest.
Readers: Calling all mom bloggers — we're looking for fresh voices on MSN Living. Email us your samples and contact info.
Photo: Father angry over constitutional lesson / Courtesy of The Blaze, theblaze.com
News, stories, tips and laughs for moms & dads
Millennials have a notoriously bad rap. In the age of all-encompassing technology, recent generations are often criticized for their affinity for video games, their short attention spans and their selfie-obsession. Such insularity in face of the apex of globalization seems especially troubling. And yet, there may be hope. All conjecture aside, social media has a different story to tell about the leaders of tomorrow. Not too long ago, Malala Yousufzai became the youngest Nobel Peace Prize nominee in history, but she's not the only wunderkind to watch. Click through the slideshow above for our list of today's top ten inspirational kids. We think you'll find Malala's in very good company.

When it comes to traveling with the family, "adventure" can mean a lot of different things. Just packing the suitcases for a 3-hour flight can be an adventure of its own. And surviving a 5-hour flight with a toddler? That's a whole different kind of adventure (tip: pack snacks). But when your family adventure is good, it can be is really, really good. Sometimes swimming with dolphins or ziplining through the rainforest is just the kind of vacation that will make you forget all about airport hassle, and will get your kids (even the teens) smiling. From hiking the Rockies to white-water rafting, we've found 11 family adventure vacations that will get the adrenaline pumping without driving you crazy.

When you're expecting a baby, preparations can be overwhelming. Decorating is stressful as it is, and when it comes to nurseries, there are the added concerns of reducing sharp edges, use of engaging colors and -- if you're a believer in the powers of feng shui—optimal furniture placement. Luckily, your favorite fashionable A-listers are here with tons of dazzling baby room ideas. Click through this slideshow for more nursery ideas from celebrities, stylists and just plain fashionable moms.

Our Research Institute scouted out the New York City Toy Fair and spotted a few standouts we predict will be topping wish lists shortly.

When we scoped out the New York City Toy Fair, we spotted everything from human-like robots to kid-friendly DIY projects.

Stroll down any aisle of a Toys"R"Us these days and you'll be confronted with a billion options that are light-years beyond anything you had to entertain yourself with as a kid. Lego cruise ships (complete with flatscreen TVs in the lounge and sideboard jet-skis), battery-operated Mercedes-Benz sedans, and hi-tech tablets with Android operating systems abound. We wondered, as we let ourselves get nostalgic for a moment, if any of the beloved toys we played with as children were still even on the market. Thanks to a quick hunt on the Internet we were able to find that Fisher Price still makes their classic Two Tune TV, and you can still get your hands on a good ol' Slinky. Here's a roundup of the best old-school toys for kids-- we encourage you to click through the slideshow and consider wrapping up a well-loved classic for your little one this year.

Not great with a budget? Don't sweat it. Try these simple ways to save.

Watch the video of Kristen Bell going head to head with paparazzi - it will make you angry

Every year, toy makers from around the world gather to show their latest creations at the Toy Fair in New York City. The high-tech models, gadgets and trinkets on display put those basic Legos we played with at kids to shame. Here are 10 new toys that we'd happily buy or children. Or, really, ourselves.

Find yourself wandering the aisles, suddenly needing an owl-shaped candle while drinking a $5 latte? You're not alone, moms...

Here's some parenting advice for whatever stage of separation or divorce you're in.

Whether you pop it in the mail or post it on social media, a creative photo is a surefire way to grab everyone's attention and proudly say, "I'm pregnant!" Prepare for a lot of likes.