Boy asks Santa to stop sister's bullying
All this 8-year-old wants for Christmas is to keep his sister from being bullied.
Karen Suffern recently asked her 8-year-old twins to write letters to Santa, as she wanted to start budgeting early for the holidays. Her son, Ryan, originally asked for a remote control car and helicopter. But Ryan then changed his mind, instead asking Santa to stop his sister from being teased at school.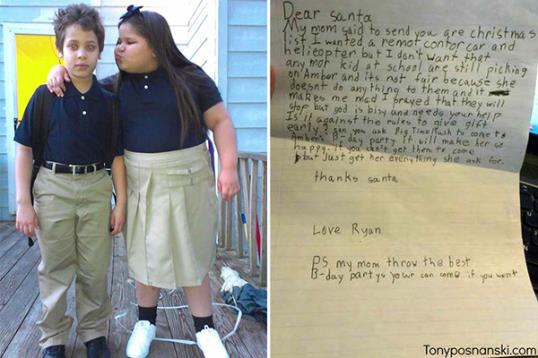 MSN Living: The Bully Epidemic
 "Dear Santa ... I wanted a (remote control) car and helicopter, but I don't want that anymor. Kid at school are still picking on Amber and its not fair," Ryan wrote. "I prayed that they will stop but god is bisy and needs your help."
Suffern explains that her daughter is bullied for her weight, mood disorders and multiracial background. Suffern told CNN:
"Every day when she goes to school, she says, 'Mommy, can I just stay at home?' and she just doesn't want to go."
MSN Living: Is Your Kid a Bully?
The mom posted a photo of the letter to Facebook, and it was soon reposted to CNN's iReport. In the letter, Ryan also asks Santa to bring the stars of Nickelodeon's Big Time Rush to his sister's birthday party.
"It will make her so happy."
Read the rest of this heartwarming story here.
More from Family Room:
Couple regrets conceiving twins
Some parents trade adopted kids online
Best and worst careers for working moms
Subscribe to The Family Room | Friend us on Facebook, follow us on Twitter and find us on Pinterest.
Photo: Courtesy of Tony Posnanski, http://theantijared.​com
News, stories, tips and laughs for moms & dads
What are we teaching our children when we focus on their achievements rather than their kindness?

Discover the seemingly insignificant things that can affect your chances of getting pregnant.

A thrill-obsessed subculture claimed another life this week.

A few suggested answers for the diciest questions

Must-haves for every mommy on the road

Here's our list of fifteen moms in the food industry that deserve some recognition.

The site gets high marks for its user-friendly interface and excellent and responsive customer service. And the reviews are also pretty accurate. Compare amenities and prices next to a hotel's in the same area, and you're likely to see Airbnb come out on top.

We captured a frame-by-frame look just for you.

Other moms can be ruthless when it comes to picking apart your parenting choices. From dissing your decision to go back to work to criticizing when you started baby on solids, here are the most ridiculous comments moms have heard. Bonus, we've got just the right way to respond to the haters! You're welcome.

Nope, you don't have to spend the next nine months in black elastic-waist pants and oversize sweaters. And you don't have to shell out a fortune on your "temporary" wardrobe either. Check out these stylish and affordable maternity clothes.

Because society crumbles without us

Another kid figured out how to get into a claw machine.