Boy asks Santa to stop sister's bullying
All this 8-year-old wants for Christmas is to keep his sister from being bullied.
Karen Suffern recently asked her 8-year-old twins to write letters to Santa, as she wanted to start budgeting early for the holidays. Her son, Ryan, originally asked for a remote control car and helicopter. But Ryan then changed his mind, instead asking Santa to stop his sister from being teased at school.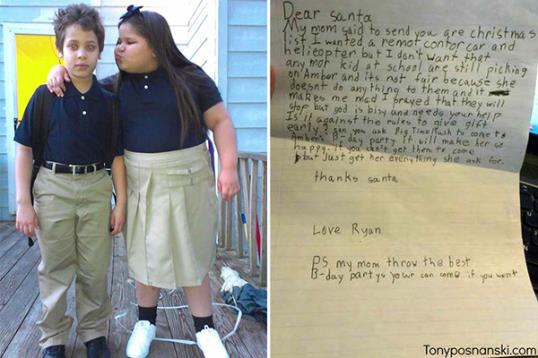 MSN Living: The Bully Epidemic
 "Dear Santa ... I wanted a (remote control) car and helicopter, but I don't want that anymor. Kid at school are still picking on Amber and its not fair," Ryan wrote. "I prayed that they will stop but god is bisy and needs your help."
Suffern explains that her daughter is bullied for her weight, mood disorders and multiracial background. Suffern told CNN:
"Every day when she goes to school, she says, 'Mommy, can I just stay at home?' and she just doesn't want to go."
MSN Living: Is Your Kid a Bully?
The mom posted a photo of the letter to Facebook, and it was soon reposted to CNN's iReport. In the letter, Ryan also asks Santa to bring the stars of Nickelodeon's Big Time Rush to his sister's birthday party.
"It will make her so happy."
Read the rest of this heartwarming story here.
More from Family Room:
Couple regrets conceiving twins
Some parents trade adopted kids online
Best and worst careers for working moms
Subscribe to The Family Room | Friend us on Facebook, follow us on Twitter and find us on Pinterest.
Photo: Courtesy of Tony Posnanski, http://theantijared.​com
News, stories, tips and laughs for moms & dads
Make sure your go-to gadgets are as cute as your style, with these trendy tech finds!

Oh, how the times have changed...

Get ready to hit the mall! Check out the hottest back-to-school trends—and get ready to make a major style statement this year.

Unique, or downright strange?

This is Kevin Droniak and his grandma. They're besties, they're awesome and they're YouTube stars.

It can be difficult to entice little ones to eat anything at all, let alone to devour a healthy plate. But feeding your kids nutritious snacks after school just got way easier, thanks to these adorably clever and cute snack ideas! For more smart and fun ways to get your kids to enjoy healthful and delicious foods, try one of these amazingly artsy lunch ideas.

Through a tonsillectomy all the way to brain surgery, my mother deserves some recognition. She's my spine, my birthday shadow, my BFF, my thunder buddy, so Mommy, thank you.

My son needs me, as much as yours needs you. Sadly, my son needs me more. He needs someone to have his back, when it seems that the police, the men he'd wave to with excitement as a little boy, see him as a being worthy only of prison or death.

If you know someone who has adopted and have made some of these comments, don't fret... now you know!

"Because you shine from within," I said, touching my finger to her heart. "Not everybody sees it, but I do. I see it. And my job is to protect that light. So when people say mean comments that squelch that light, I want you to tell me. I will protect your light by listening and loving you, my brave, courageous, and unique little firefly."

Studies have shown that it helps, top education officials have recommended it, and now doctors are officially saying the same.

I may have accidentally dropped you a few times, forgotten to document your first fart, let a little pee fly and dressed you like an idiot, but I have also loved you with every piece of me, and you will never hear an apology for that.