Boy asks Santa to stop sister's bullying
All this 8-year-old wants for Christmas is to keep his sister from being bullied.
Karen Suffern recently asked her 8-year-old twins to write letters to Santa, as she wanted to start budgeting early for the holidays. Her son, Ryan, originally asked for a remote control car and helicopter. But Ryan then changed his mind, instead asking Santa to stop his sister from being teased at school.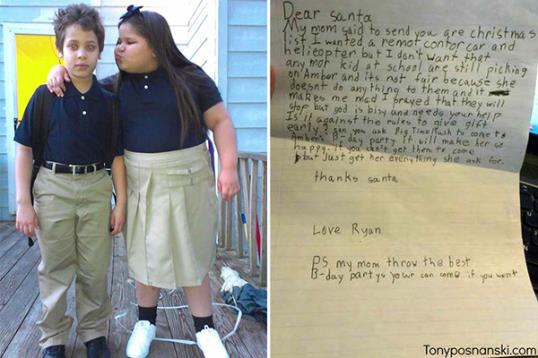 MSN Living: The Bully Epidemic
 "Dear Santa ... I wanted a (remote control) car and helicopter, but I don't want that anymor. Kid at school are still picking on Amber and its not fair," Ryan wrote. "I prayed that they will stop but god is bisy and needs your help."
Suffern explains that her daughter is bullied for her weight, mood disorders and multiracial background. Suffern told CNN:
"Every day when she goes to school, she says, 'Mommy, can I just stay at home?' and she just doesn't want to go."
MSN Living: Is Your Kid a Bully?
The mom posted a photo of the letter to Facebook, and it was soon reposted to CNN's iReport. In the letter, Ryan also asks Santa to bring the stars of Nickelodeon's Big Time Rush to his sister's birthday party.
"It will make her so happy."
Read the rest of this heartwarming story here.
More from Family Room:
Couple regrets conceiving twins
Some parents trade adopted kids online
Best and worst careers for working moms
Subscribe to The Family Room | Friend us on Facebook, follow us on Twitter and find us on Pinterest.
Photo: Courtesy of Tony Posnanski, http://theantijared.​com
News, stories, tips and laughs for moms & dads
Transform the fall vegetable into cool decor pieces.

Put together these creative, but simple, Halloween looks for your youngsters.

We know you're documenting just about every move baby makes. (Do you even have any memory left on your phone? We didn't think so.) These tips from professional photographers can help you perfect your pics.

These six on-trend ideas will make baby's room your new favorite place to hang out.

Baby probably won't remember his first birthday party, but that doesn't mean you can't go all out (after all, parents need to celebrate making it through this first year, right?). These fun, colorful themes take planning to the next level.

See what celebrities who had problems conceiving have to say.

You'll be hearing a lot of advice and opinions. Some of it will be really helpful and some will be just plain wrong. Here are the most common things people say about babies that aren't true.

A new dad finds an Epcot Center's worth of innovation after expecting none at all.

The dog days of summer may be well behind us, but that doesn't mean it's time to pack in the outdoor adventures quite yet.

Protect yourself and your family with these ingenious gizmos and smartphone apps.

Make sure your go-to gadgets are as cute as your style, with these trendy tech finds!

Oh, how the times have changed...