Boy asks Santa to stop sister's bullying
All this 8-year-old wants for Christmas is to keep his sister from being bullied.
Karen Suffern recently asked her 8-year-old twins to write letters to Santa, as she wanted to start budgeting early for the holidays. Her son, Ryan, originally asked for a remote control car and helicopter. But Ryan then changed his mind, instead asking Santa to stop his sister from being teased at school.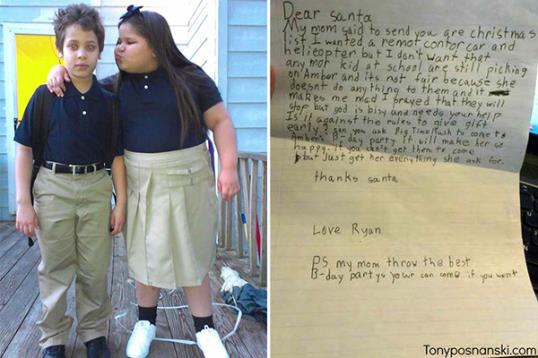 MSN Living: The Bully Epidemic
 "Dear Santa ... I wanted a (remote control) car and helicopter, but I don't want that anymor. Kid at school are still picking on Amber and its not fair," Ryan wrote. "I prayed that they will stop but god is bisy and needs your help."
Suffern explains that her daughter is bullied for her weight, mood disorders and multiracial background. Suffern told CNN:
"Every day when she goes to school, she says, 'Mommy, can I just stay at home?' and she just doesn't want to go."
MSN Living: Is Your Kid a Bully?
The mom posted a photo of the letter to Facebook, and it was soon reposted to CNN's iReport. In the letter, Ryan also asks Santa to bring the stars of Nickelodeon's Big Time Rush to his sister's birthday party.
"It will make her so happy."
Read the rest of this heartwarming story here.
More from Family Room:
Couple regrets conceiving twins
Some parents trade adopted kids online
Best and worst careers for working moms
Subscribe to The Family Room | Friend us on Facebook, follow us on Twitter and find us on Pinterest.
Photo: Courtesy of Tony Posnanski, http://theantijared.​com
News, stories, tips and laughs for moms & dads
Take a look at your house for these telltale signs that a cat is running the show.

Check out this list of requirements you should meet before getting a new puppy or adult dog.

Virtually everything you need to know about relationships, you learned in nursery school: Treat people as you want to be treated, clean up after yourself, and don't be a know-it-all.

Here are our experts' best tips for how to be a positive role model for your kids so that they grow up healthy, strong and confident about the way they look.

I used to be one of those moms who thought, 'who on earth would bring their child to an event like that?' and then I had a son. Here's why you might become a convert, too.

Much like their famous owners, these pooches live a fabulous life. Some are rescues, others purebred, but one thing is certain – these dogs play an important part in their famous parents' lives. Can you guess who owns each of these dogs?

We captured a frame-by-frame look just for you.

Two controversial science projects resembled weapons, school officials said.

Make the most of the summer with these family-oriented activities!

Pets are part of many children's lives. Learn how to help them foster strong, healthy relationships.

It's that time again, parents...