Puppy saves boy from speeding truck
"Geo the Hero" rescues 10-year-old.
At just 7 months old, a puppy is being hailed as a hero for pushing a 10-year-old boy out of the path of an oncoming truck in Essex, England, in the United Kingdom.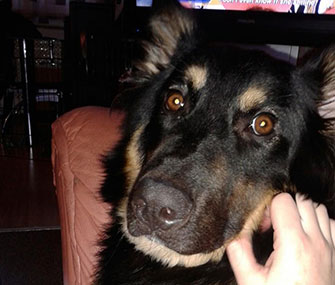 The boy, Charlie, was waiting with his brothers and mother to cross a street earlier this month when an out-of-control truck driver came up over the curb. Geo, a German shepherd-collie mix, jumped in front of Charlie and pushed him out of the way.
The pup was hit by the truck and then struck by another car. Although Geo sustained broken bones and internal injuries, veterinarians who are caring for him expect him to make a full recovery — and according to his Facebook page, Geo the Hero, he has just returned home.
— Read it at the Huffington Post
Photo: Facebook // Geo, the heroic puppy, rests at home.
Bing: More amazing animal stories
More from Vetstreet:
5 Dogs Breeds That Are Sadly Losing Popularity
Photos: National Dog Show Winners – Best in Show Is…
4 Best Places to Pet a Cat – and One to Leave Alone
Video: Playtime for Baby Monkey and Kitten
12 Best Couch Potato Dog Breeds
Are you sure you want to delete this comment?
News, stories, tips and laughs for moms & dads
Learning these 10 things is a good base with which to begin the tough preteen and teen years. Helping our children maneuver life is our jobs as parents, even if we haven't quite figured it all out ourselves yet.

We've all seen her... But should we judge her?

Unique, or downright strange?

In a few short weeks you'll be dropping your child off at college, where they'll spend the next four years learning, laughing, and probably partying. Of course, in true teen fashion, your child has already started shopping for their dorm room essentials. Don't panic just yet!

When tots burst through the door after a busy day at school, the first order of business is securing a snack.

The only thing more important than what you pack your child for lunch is what you pack it in.

Frustrated mom invents Ignore No More app

Do you have the right mix of moms surrounding you?

It's hard to keep young kids entertained while being confined indoors, but fear not, for we have some fun ideas to keep the entire family from climbing the walls during rainy days.

Back in our day, ending up with the same exact backpack as your BFF was a legitimate back-to-school concern. Nowadays? There are so many options, it's dizzying!

It is a parent's eternal dilemma: What do I make the kids for lunch today? And tomorrow? And next week? We fall into ruts, succumb to the tried-and-true, give in to our children's demands for junk food. No more! These school lunch ideas—for everything from sandwiches to snacks to hot meals—will freshen up your daily routine, so much so you may be tempted to make them for yourself.

Whether your kids have recently gone back to school or are preparing to go shortly, it's never too late to start thinking about how we can make this year successful and low-stress, both for our kids and ourselves. With that, here are 6 things parents might want to stop doing this year in order to make it the best one yet...for all of you!