Baby names for Kim and Kanye
You're welcome, lovebirds
Well, now she's done it. Kim Kardashian has found a way to upstage even Kate Middleton! She's having a baby with Kanye West, who made the official announcement in song form at a recent concert, in the form of the articulately phrased: "Now you having my baby."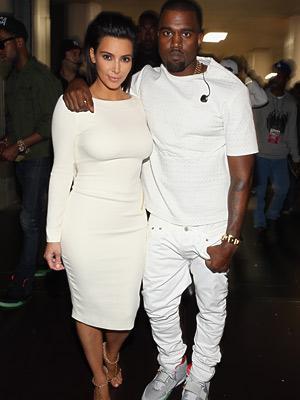 We thought we'd take the liberty of suggesting some baby name ideas for the pair. Our five faves:
1. Kalamity. It's very sassy, very 'old west.' Hey, there's another reason to like it - it's apropos for Kanye.
2. Kimye. A perfect blend of the two, and when pronounced, "Kim-Yay," it's a true celebration of mom.
3. Kasper. A spin on the friendliest ghost of all.
4. Kaliente. One hot person + another hot person = one super hot bundle of joy.
5. Keurig. It's early and we haven't had our coffee yet.
Bing: Worst celeb baby names
Photo: Photo: Christopher Polk/Getty Images For BET
More from MSN Living:
Top baby name predictions for 2013
News, stories, tips and laughs for moms & dads
When it comes to being single and pregnant, it feels like everybody has their own opinion -- or way-too-nosy questions. Whether they're trying to get the "dirt" on baby's father, or asking about your quest for child support (so not their business!), people really say ridiculous things to single moms-to-be.

Thanksgivukkah, a mash-up super-holiday that magically occurs this year as Hanukkah and Thanksgiving fall on the same day, is quickly becoming every foodie's dream. It's literally a once-in-a-lifetime chance (the next one doesn't occur for another 77,798 years!) to make insanely delicious foods combining both traditions, like sweet potato latkes and pumpkin challah. Below is a round-up of some must follow Thanksgivukkah Pinterest boards!

From unsolicited advice that comes from someone without kids to real-life momzillas who always one-up baby's accomplishments, read on for the 12 worst comments new mamas have ever heard (and prepare for some serious LOLs).

It's not just a walk in the park. Get the real deal. By Bonnie Vengrow

Even the most organized person has mornings when something goes wrong. Here are a few remedies to help you survive, or avoid, those pesky morning annoyances.

Pinterest is the perfect place to find fun, crafty Thanksgiving ideas that are sure to make the big day special for kids – and the whole family.