Baby names for Kim and Kanye
You're welcome, lovebirds
Well, now she's done it. Kim Kardashian has found a way to upstage even Kate Middleton! She's having a baby with Kanye West, who made the official announcement in song form at a recent concert, in the form of the articulately phrased: "Now you having my baby."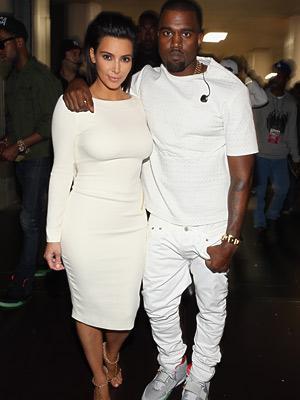 We thought we'd take the liberty of suggesting some baby name ideas for the pair. Our five faves:
1. Kalamity. It's very sassy, very 'old west.' Hey, there's another reason to like it - it's apropos for Kanye.
2. Kimye. A perfect blend of the two, and when pronounced, "Kim-Yay," it's a true celebration of mom.
3. Kasper. A spin on the friendliest ghost of all.
4. Kaliente. One hot person + another hot person = one super hot bundle of joy.
5. Keurig. It's early and we haven't had our coffee yet.
Bing: Worst celeb baby names
Photo: Photo: Christopher Polk/Getty Images For BET
More from MSN Living:
Top baby name predictions for 2013
News, stories, tips and laughs for moms & dads
Who knew parenting would make you feel so dumb?

Bob King, 68, found himself stuck

Witnesses now say they were helping mom, who was on the scene

Screaming won't make things better.

Adventures, friends, and boys—all the makings of a great movie. We may be a bit too old for summer camp, but these 10 movies bring us back to those times when all that mattered was winning Capture the Flag. We can practically taste the s'mores.

With summer comes vacations, trips, and relaxed time in the backyard, all of which I'd like to capture on film - hopefully with my kids' eyes open. Here are 10 pro tips to help capture your favorite moments.

Panic gives way to calmness and all ends well

We've all been there - here's how to deal...

It's not nice to make an expectant mom cry

If you're searching for a breed that may enjoy the company of a kid, we have some great suggestions for you.

It's all fun and games...unless you're a hyper-observant parent

Battle-hardened warrior? She also goes by Mom.