Kid hero: Boy Scout saves man from possible suicide
Boulder County, Colo., teen administers first aid to man bleeding from self-inflicted wrist wound.
One Colorado Boy Scout earned his First Aid Merit Badge – and then some – this past weekend when he saved a man from possible suicide.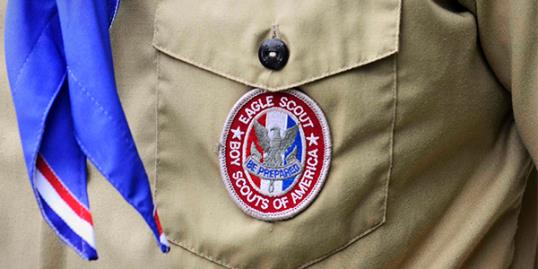 Video on Kid Wonders: 14-year-old's mission to end hunger
The Boulder County Sheriff's Office is crediting a teenage Boy Scout for his quick thinking in administering aid to an injured man. The teen was riding on his ATV when he discovered a man bleeding heavily from what appeared to be a self-inflicted wrist injury, reports Huffington Post. The brave Boy Scout stayed with the 46-year-old man until medical help arrived.  
Video on Kid Wonders: 15-year-old invents cancer test
The victim was airlifted to St. Anthony Central Hospital, where he underwent emergency surgery.
Read the complete story here.
Tell us: What do you think of this teen's heroism?
Bing: Kids who make a difference
More from The Family Room:
Queen's granddaughter Zara Phillips is pregnant
Social media policies: Should schools have them?
Inside Kate Middleton's posh delivery room and playlist
Subscribe to The Family Room | Friend us on Facebook, follow us on Twitter and find us on Pinterest.
A Boy Scout came to the aid of an injured man over the weekend. Eagle badge and uniform is seen in this file photo taken in Orlando, Fla., on May 30, 2012. (David Manning/Newscom/RTR)​
News, stories, tips and laughs for moms & dads
Learning these 10 things is a good base with which to begin the tough preteen and teen years. Helping our children maneuver life is our jobs as parents, even if we haven't quite figured it all out ourselves yet.

We've all seen her... But should we judge her?

Unique, or downright strange?

In a few short weeks you'll be dropping your child off at college, where they'll spend the next four years learning, laughing, and probably partying. Of course, in true teen fashion, your child has already started shopping for their dorm room essentials. Don't panic just yet!

When tots burst through the door after a busy day at school, the first order of business is securing a snack.

The only thing more important than what you pack your child for lunch is what you pack it in.

Frustrated mom invents Ignore No More app

Do you have the right mix of moms surrounding you?

It's hard to keep young kids entertained while being confined indoors, but fear not, for we have some fun ideas to keep the entire family from climbing the walls during rainy days.

Back in our day, ending up with the same exact backpack as your BFF was a legitimate back-to-school concern. Nowadays? There are so many options, it's dizzying!

It is a parent's eternal dilemma: What do I make the kids for lunch today? And tomorrow? And next week? We fall into ruts, succumb to the tried-and-true, give in to our children's demands for junk food. No more! These school lunch ideas—for everything from sandwiches to snacks to hot meals—will freshen up your daily routine, so much so you may be tempted to make them for yourself.

Whether your kids have recently gone back to school or are preparing to go shortly, it's never too late to start thinking about how we can make this year successful and low-stress, both for our kids and ourselves. With that, here are 6 things parents might want to stop doing this year in order to make it the best one yet...for all of you!