Mother: I regret having my kids
Isabella Dutton says her two children are 'like parasites.'
For many women, having a child is a joyous, albeit life-changing, occasion. But for 57-year-old Isabella Dutton of Britain, it was her biggest mistake.
Dutton, a typist, wrote a first-hand account for the U.K.'s Daily Mail in which she details her regrets about having her two children, Stuart and Jo.
"My son Stuart was five days old when the realisation hit me like a physical blow: Having a child had been the biggest mistake of my life," she wrote. "I felt completely detached from this alien being who had encroached upon my settled married life and changed it, irrevocably, for the worse."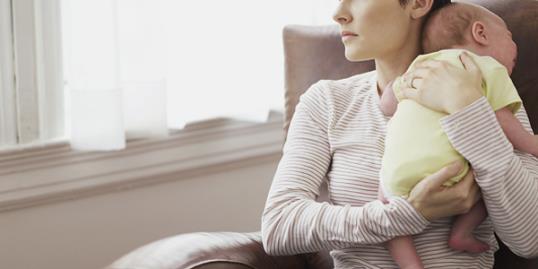 Dutton said that despite her indifference, she invested all of her time and energy into caring for her children. But she soon came to resent their neediness and the time spent doting on them that could have been used to "reflect, read and enjoy her own company."
She described her own family life as "happy" and "conventional" as one of five siblings.
"I know there are millions who will consider me heinously cold-blooded and unnatural, but I believe there will also be those who secretly feel the same," Dutton wrote.
Universally, it's more common to hear of women who regret the decision not to have children, and according to a recent U.K. survey, it's the same for most men.
The small study, conducted at Keele University, found that men are as likely as women to regret not having children. More than half the men surveyed said they felt jealous of people with kids, compared with under half of the women.
But Dutton is not most women. She never got over the peace and simplicity that she loved about her life before her kids came along.
"It's just that I have been honest -- some may contend brutally so -- and admitted to my true feelings," she wrote. "In doing so I have broken a supposedly inviolable law of nature. What kind of mother, after all, wishes she hadn't had children?"
What do you think about Dutton's point of view about her children? Tell us in the comments.
More from The Family Room:
Does having kids make you happy?
Are single-child families the new normal?
Spanking in public: Another great parenting debate
Bing: The cost of raising a child
Photo: Alexandra Grablewski/Getty Images
News, stories, tips and laughs for moms & dads
A thrill-obsessed subculture claimed another life this week.

A few suggested answers for the diciest questions

Must-haves for every mommy on the road

Here's our list of fifteen moms in the food industry that deserve some recognition.

The site gets high marks for its user-friendly interface and excellent and responsive customer service. And the reviews are also pretty accurate. Compare amenities and prices next to a hotel's in the same area, and you're likely to see Airbnb come out on top.

We captured a frame-by-frame look just for you.

Other moms can be ruthless when it comes to picking apart your parenting choices. From dissing your decision to go back to work to criticizing when you started baby on solids, here are the most ridiculous comments moms have heard. Bonus, we've got just the right way to respond to the haters! You're welcome.

Nope, you don't have to spend the next nine months in black elastic-waist pants and oversize sweaters. And you don't have to shell out a fortune on your "temporary" wardrobe either. Check out these stylish and affordable maternity clothes.

Because society crumbles without us

Another kid figured out how to get into a claw machine.

As a new mom, you've recently discovered there are many things you can live without—sleep and modesty being chief among them. But what can't you live without? Seasoned moms share their Top 10 list for how to survive the early months of motherhood.

Here are our experts' best tips for how to be a positive role model for your kids so that they grow up healthy, strong and confident about the way they look.