Mother: I regret having my kids
Isabella Dutton says her two children are 'like parasites.'
For many women, having a child is a joyous, albeit life-changing, occasion. But for 57-year-old Isabella Dutton of Britain, it was her biggest mistake.
Dutton, a typist, wrote a first-hand account for the U.K.'s Daily Mail in which she details her regrets about having her two children, Stuart and Jo.
"My son Stuart was five days old when the realisation hit me like a physical blow: Having a child had been the biggest mistake of my life," she wrote. "I felt completely detached from this alien being who had encroached upon my settled married life and changed it, irrevocably, for the worse."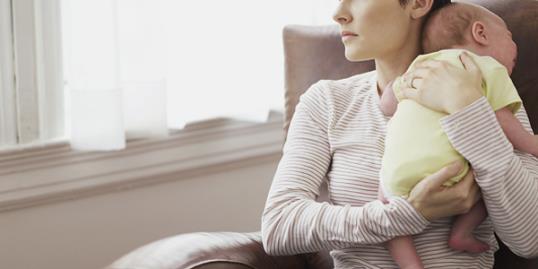 Dutton said that despite her indifference, she invested all of her time and energy into caring for her children. But she soon came to resent their neediness and the time spent doting on them that could have been used to "reflect, read and enjoy her own company."
She described her own family life as "happy" and "conventional" as one of five siblings.
"I know there are millions who will consider me heinously cold-blooded and unnatural, but I believe there will also be those who secretly feel the same," Dutton wrote.
Universally, it's more common to hear of women who regret the decision not to have children, and according to a recent U.K. survey, it's the same for most men.
The small study, conducted at Keele University, found that men are as likely as women to regret not having children. More than half the men surveyed said they felt jealous of people with kids, compared with under half of the women.
But Dutton is not most women. She never got over the peace and simplicity that she loved about her life before her kids came along.
"It's just that I have been honest -- some may contend brutally so -- and admitted to my true feelings," she wrote. "In doing so I have broken a supposedly inviolable law of nature. What kind of mother, after all, wishes she hadn't had children?"
What do you think about Dutton's point of view about her children? Tell us in the comments.
More from The Family Room:
Does having kids make you happy?
Are single-child families the new normal?
Spanking in public: Another great parenting debate
Bing: The cost of raising a child
Photo: Alexandra Grablewski/Getty Images
News, stories, tips and laughs for moms & dads
Make sure your go-to gadgets are as cute as your style, with these trendy tech finds!

Oh, how the times have changed...

Get ready to hit the mall! Check out the hottest back-to-school trends—and get ready to make a major style statement this year.

Unique, or downright strange?

This is Kevin Droniak and his grandma. They're besties, they're awesome and they're YouTube stars.

It can be difficult to entice little ones to eat anything at all, let alone to devour a healthy plate. But feeding your kids nutritious snacks after school just got way easier, thanks to these adorably clever and cute snack ideas! For more smart and fun ways to get your kids to enjoy healthful and delicious foods, try one of these amazingly artsy lunch ideas.

Through a tonsillectomy all the way to brain surgery, my mother deserves some recognition. She's my spine, my birthday shadow, my BFF, my thunder buddy, so Mommy, thank you.

My son needs me, as much as yours needs you. Sadly, my son needs me more. He needs someone to have his back, when it seems that the police, the men he'd wave to with excitement as a little boy, see him as a being worthy only of prison or death.

If you know someone who has adopted and have made some of these comments, don't fret... now you know!

"Because you shine from within," I said, touching my finger to her heart. "Not everybody sees it, but I do. I see it. And my job is to protect that light. So when people say mean comments that squelch that light, I want you to tell me. I will protect your light by listening and loving you, my brave, courageous, and unique little firefly."

Studies have shown that it helps, top education officials have recommended it, and now doctors are officially saying the same.

I may have accidentally dropped you a few times, forgotten to document your first fart, let a little pee fly and dressed you like an idiot, but I have also loved you with every piece of me, and you will never hear an apology for that.