Mother: I regret having my kids
Isabella Dutton says her two children are 'like parasites.'
For many women, having a child is a joyous, albeit life-changing, occasion. But for 57-year-old Isabella Dutton of Britain, it was her biggest mistake.
Dutton, a typist, wrote a first-hand account for the U.K.'s Daily Mail in which she details her regrets about having her two children, Stuart and Jo.
"My son Stuart was five days old when the realisation hit me like a physical blow: Having a child had been the biggest mistake of my life," she wrote. "I felt completely detached from this alien being who had encroached upon my settled married life and changed it, irrevocably, for the worse."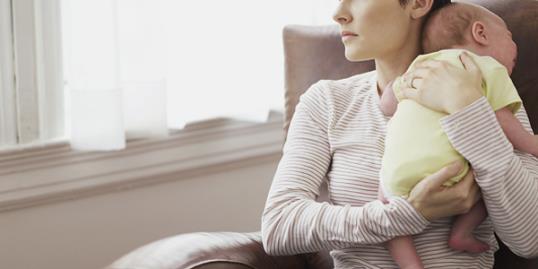 Dutton said that despite her indifference, she invested all of her time and energy into caring for her children. But she soon came to resent their neediness and the time spent doting on them that could have been used to "reflect, read and enjoy her own company."
She described her own family life as "happy" and "conventional" as one of five siblings.
"I know there are millions who will consider me heinously cold-blooded and unnatural, but I believe there will also be those who secretly feel the same," Dutton wrote.
Universally, it's more common to hear of women who regret the decision not to have children, and according to a recent U.K. survey, it's the same for most men.
The small study, conducted at Keele University, found that men are as likely as women to regret not having children. More than half the men surveyed said they felt jealous of people with kids, compared with under half of the women.
But Dutton is not most women. She never got over the peace and simplicity that she loved about her life before her kids came along.
"It's just that I have been honest -- some may contend brutally so -- and admitted to my true feelings," she wrote. "In doing so I have broken a supposedly inviolable law of nature. What kind of mother, after all, wishes she hadn't had children?"
What do you think about Dutton's point of view about her children? Tell us in the comments.
More from The Family Room:
Does having kids make you happy?
Are single-child families the new normal?
Spanking in public: Another great parenting debate
Bing: The cost of raising a child
Photo: Alexandra Grablewski/Getty Images
News, stories, tips and laughs for moms & dads
Famed event-planner David Stark shared tips for making chic holiday decorations using items you already have around the house. Take a look!

Sociologist Karen Z. Kramer found that over the past decade more than 550,000 men were stay-at-home fathers, which is about 3.5 percent of the married with kids population.

Ben Miller celebrates his wife's birthday and the anniversary of the day their premature son Ward Miles came home for good with a video documenting his first year.

Adopting an animal is a major commitment. Yet all too often people put more effort into researching what kind of car to get than the type of pet that would best fit their lifestyle.

'Tis the season to send out holiday greeting cards to all your friends and family. But, as our friends at Awkward Family Pet Photos know, not all holiday snapshots are the same. Some are just plain kooky — especially when pets are included. So with good tidings and great cheer, here are 10 wacky holiday animal portraits that are sure to make you laugh out loud and get you in the holiday spirit. And possibly make you think twice about dressing up the family cat this year.

King of the jungle? Nah, it's just a labradoodle!

Side-by-side images of adorable babies and their celebrity doppelgängers

Do you have a finicky furry friend on your holiday gift list this year? You're in luck! We've rounded up the coolest cat-approved products to bring you purrfect gift ideas for every kind of cat -- from the curious kitten to the most refined feline. Any one of these special gifts could make your resident kitty purr with pleasure and maybe, just maybe, like the present this year even more than the box and wrapping paper it came in!

Plus, puppy names to watch

This holiday season's hottest toy has yet to be revealed, but more often than not, the best gifts are the ones kids don't even know to ask for. So this year, surprise your kids with unique presents under the tree, and watch as their eyes light up when they unwrap them. From space-age sand to a DIY race track, these out-of-the-box gift ideas will provide some serious shopping inspiration. Click through the slideshow above for all our favorite picks.

Yep, you're older than you think

Avoid these gaffes for a better relationship with your stepchildren—and your spouse.