4 musts for moms of boys
My son and Steubenville
When Max was just a few months old, I sat cross-legged on the floor with him in a circle of other mothers.  The facilitator for our "Mommy and Me" playgroup would throw a question out to the group, and we would each volley back an answer.
"What quality do you want to instill in your child?  What personality characteristic would you most like for your son to be known for?" she asked.
One by one, the mothers answered.  "Athletic", "Good sense of humor", "Brave", "Smart", "Strong".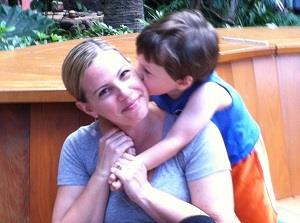 The answers blended together until it was my turn to speak.  I looked down at the tiny human wiggling around on the blanket in front of me, his perfectly round nose, his full lips that mirrored mine.  I stroked the top of his very bald head, and said with confidence "kind".
I want my son to grow up to be kind.
The eyes of the other mothers turned towards me.  "That's not always a word that you hear used for boys" one said.  "But yes, you're right….so I guess, me too".  At the end of the day, we wanted our tiny, fragile, helpless baby boys to grow up to be kind.  Strong, resilient, athletic, funny … but above all else, kind.
Max is almost 4 years old.  He knows nothing about the horrific things that young men did to a young woman on the saddest night that Steubenville has ever seen.    He doesn't know, but I sure do.  I know that someone's daughter was violated in the most violent way possible, by someone's son.  By many sons.  The blame for that night falls squarely on the shoulders of the young men who made terrible choices, but it also falls in the laps of their parents.
Sexual assault is about power and control.  But it is also about so much more.  While it's true that big scary monster men sometimes jump out of bushes to rape unsuspecting women, most rapists look like the men who we see every day.  Acquaintance rape (or date rape) accounts for the majority of sexual assaults that we see among young people.  In colleges, in high schools, at parties, in the cars and bedrooms that belong to the men who women trust.  These men are your fraternity brothers, your athletes, your church-going friends.  They are somebody's son.  Date rape is often saturated with entitlement.  It feeds off of the hero worship that grows rampant like weeds on school campuses and in locker rooms.  Young men are taught to be strong, to be athletes, to be feared.  Young women are taught to be meek, to be feminine, to be small.  As our young people begin to sort out relationships with each other and relationships with alcohol, they encounter an endless menu of ways to hurt each other.
As a community we give our athletes free reign.  Young men are filled with the heavy power of triumph, their heroism illuminated by the bright lights of a brisk Friday night football game.  Young cheerleaders spend hours painting signs for them, adorning hallways with fluorescent notes of encouragement.  Young men are known by their football number, their last touchdown pass, their ability to get any girl they choose.  Young women fill the stands with hopeful smiles, dying to be noticed.
We have created this.  We have allowed this.  We choose not to demand more from our young men, because we see how big they grow in the spotlight.  We give them adult power, without instilling in them an adult sense of responsibility and ethics.
Moms, it is time.  Now is the time to make this stop.  If you are the mother of a son, you can prevent the next Steubenville.
It doesn't matter if your boy is 4 or 14 or 24.  Start now.
We must teach our boys to be kind.  A toddler can learn how to use words of kindness.  It's never too early to teach empathy, compassion, and awareness.  "Friend, are you OK?"  "I'm sorry friend, did you get a boo-boo?"  Encourage tiny boys to be aware of how others are feeling.  Name what they see.  "Mommy is sad right now, honey.  Our friend G is sick, and I want her to feel better".  Give children tasks that they can do to help someone in need.  Bake cookies to take to the local firehouse.  Bring dinner to a mother on bed rest.  Choose a toy to share with the new child that just joined your preschool class.  Teach your child to go towards a child who is upset, instead of walking away.  When I picked Max up from school the other day, his teacher remarked on how "kind" he was.  He checks in on other students.  He runs to them when they get hurt.  At first I was embarrassed … oh how my husband will tease me for instilling my "social worker" traits in our son.  He must be brave and tough instead.  But I am so proud that he is kind.  That he is a helper.  That he sees the emotions of those around him.  Would he have hurt for the girl in Steubenville?  Would he have felt her fear, and said something?  Teach your sons to tune in, name emotions for them, give them words to match their feelings.
We must teach our boys what it truly means to be brave.  Bravery doesn't always feel good.  I've heard it said that "Courage is being afraid, and doing it anyway".  How many of those young men in Steubenville knew in their sweet boy hearts that what was happening was wrong, but still they remained silent?  They were afraid to ruin their own hard-earned reputations, afraid of what their peers would think of them.  They were afraid of getting in trouble, afraid they wouldn't know what to say.  Teach your boys that bravery can be terrifying.  Courage can be demanded of you at the most inopportune times.  Let them know that your expectation is that they are brave enough to rise to the occasion.  And show them how.
We must not shy away from telling our sons the truth about sex.  Of course this looks different in a conversation with a 4 year old than it does with a 12 year old.  In our house, we are still working on giving body parts their appropriate names.  Making family rules about how we always wear clothes when people come to visit (OK, Sean and I are good on that one, but Max keeps answering the door in his underwear).  As uncomfortable as it is, the conversation needs to evolve as your boy gets older.  Sex feels good.  Sex is overwhelming.  Sex is confusing.  Sex tricks you into thinking that you are receiving what you need (physical satisfaction, comfort, companionship, love, respect).  Sex education is more than just giving your child condoms and reminding them about STDs.  As parents, we need to worry about our sons being respectful of their sexual partners, not just about them getting someone pregnant.  Our boys need to know that they will find themselves at a crossroads one night, or on multiple nights.  Their body will be telling them one thing, and their partner may be telling them another.  It is a young man's responsibility to listen to his partner.  Explain to your son what consent looks like (and doesn't look like).  They need to know what sex looks like.  Not the Playboy magazine/online porn version, but the logistics of how it actually works.  Teach them to ask their partners.  Teach them to check in as they take the next step with someone.  Teach them to stop if they don't think they're getting a clear answer.
We must give our sons the tools they need to protect themselves, and each other.  Can your teenager call you in the middle of the night, no questions asked?  Can they tell you the truth, without you flipping out and getting angry?  Do they trust that you are on their team, that you will sit down and talk things through with them, making a calm plan together?  Role play with your son about how to find help, who to go to for help, what numbers to call.  An embarrassed, terrified bystander in Steubenville could have quietly snuck outside to call the police for help.  Or to text an anonymous tip.  Or to call a parent or older sibling for advice.  Instead, at least a dozen sons were paralyzed by fear.  And intoxicated.  And probably overwhelmed by the sexual feelings of their own that they were experiencing … feelings that they were never given the context for.  Give your son the tools they need to understand that their sexuality is a powerful thing, one that they are solely responsible for.  Give them a framework for understanding that sex carries an enormous responsibility, not just to themselves, but to their partners.  Does your son know what rape is?  Does he know what it means?  Does he know that it's not just creepy smelly guys who hide in alleys who are responsible for rape?  That it's his peers?  Discuss the ways that a woman can give consent.  Pull the curtains back on the grey areas, and demand that your son learns how to protect himself and his partner.
When I found out that I was having a son, I was relieved at first.  I thought I had dodged a bullet, not having a daughter whom I would have to protect from the big, scary, violent world that is still so unkind to women.  This will be so much easier, I thought.  But it's not.
It's harder.
I am now pregnant with my second son.  As a feminist and a mother, a survivor and an activist, a human and a writer, I have discovered that my job in preventing sexual assault is even bigger than it would be if I had a daughter.  Because every rapist is someone's son.  We have the chance to fix that, one little boy at a time.
Read more from Kim Simon's blog
How do you feel about the Steubenville case? Share your thoughts on Facebook
Plus: Why we appreciate great single parents
News, stories, tips and laughs for moms & dads
A new dad finds an Epcot Center's worth of innovation after expecting none at all.

Alcohol and tattoos are not meant for the pre-teen set

But Debra Harrell now has custody of daughter again

I am probably not the first to tell you this: Kids come with lots of stuff. Even if you try to be as minimal as possible, the little creatures require an awful lot to keep things running smoothly. Here's a master-plan slideshow of ways to cut corners on space in every room to accommodate all the things that come along with kids.

You never know for certain what type of parent you'll be until you've actually become one and your parenting style, as it becomes evident, may surprise you. Here are 4 parenting books to help you figure it all out.

Sunshine! Camping! Pool parties! BBQs! The sunny season is here and to help you make the most of it, we've hand-picked 7 great products to make this summer the best your family has ever had. Click through for our list to inspire your sunny day fun. From our sponsor: Walmart

We all love a picnic. But do one quick search for 'picnic ideas' on Pinterest and you're instantly teleported into a land of overachieving home chefs clearly looking for their big break on Food Network. Well, never mind that, we say. Scratch the 25-ingredient recipes and the incessant trips to the craft store for that perfect tablescape. Here are 5 truly simple picnic ideas that will look great, taste great, and make you feel like the winner you are! From our sponsor: Walmart

Admit it — you do these things, too! And that's OK. But maybe — just maybe — it's time to think about changing things up a little bit, for the sake of your sanity, your relationship with your kids, and because life's too short.

We asked veterinary experts and readers which breeds they think and if it is OK to shave longhaired pets in the summer.

Celeb moms post photos to show off their weight loss, but then they undermine their progress in the captions.

Kriste Lewis was inspired by her kidney disease to try out

Hittin' the road, moms and dads? Plan for these five things to happen...