America's top 20 sober schools revealed
Brigham Young takes the No. 1 spot on The Princeton Review's list.
For some, this may call for a toast — as long as the toast doesn't involve booze.
For the 16th straight year, Brigham Young University has topped The Princeton Review's list of "stone-cold sober schools."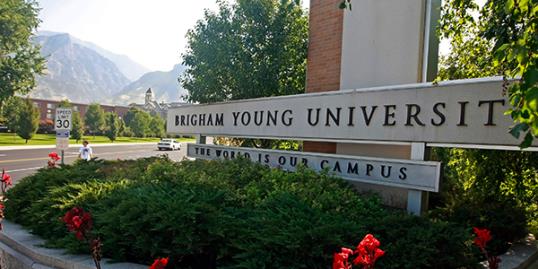 MSN The Family Room: Top 20 party schools in the United States
"I guess you could say it's our sweet 16th," BYU media relations manager Todd Hollingshead joked.
On Monday, The Princeton Review released its 2014 edition of "The Best 378 Colleges." The collection includes a list of the "Top 20 Sober Schools" in the United States. Wheaton College in Wheaton, Ill., ranked second, and College of the Ozarks in Point Lookout, Mo., ranked third. The California Institute of Technology and Xavier University of Louisiana also made the list.
MSN Living: 10 benefits of a college education
In the school's Honor Code Statement, BYU students vow to "abstain from alcoholic beverages, tobacco, tea, coffee and substance abuse."
"We absolutely embrace it," Hollingshead says. "It's a major reason why people choose to be here."
Check out The Princeton Review's rankings for the Top 20 Sober Schools, below.
Brigham Young University, Provo, Utah

Wheaton College, Wheaton, Ill.

College of the Ozarks, Point Lookout, Mo.

Thomas Aquinas College, Santa Paula, Calif.

U.S. Military Academy, West Point, N.Y.

Grove City College, Grove City, Pa.

Wesleyan College, Macon, Ga.

U.S. Coast Guard Academy, New London, Conn.

U.S. Naval Academy, Annapolis, Md.

Calvin College, Grand Rapids, Mich.

City University of New York-Brooklyn College, Brooklyn, N.Y.

City University of New York-City College, New York City

City University of New York-Queens College, Flushing, N.Y.

Mills College, Oakland, Calif.

Agnes Scott College, Atlanta/Decatur, Ga.

Franklin W. Olin College of Engineering, Needham, Mass.

California Institute of Technology, Pasadena, Calif.

Simmons College, Boston

Wellesley College, Wellesley, Mass.

Xavier University of Louisiana, New Orleans

More from The Family Room:
5 things Prince William must do as a new daddy before returning to work
Swaddle-maker swamped after UK prince's photo-op
Little girls in high heels?
Subscribe to The Family Room | Friend us on Facebook, follow us on Twitter and find us on Pinterest.
Photo: Brigham Young University / George Frey/Bloomberg via Getty Images
News, stories, tips and laughs for moms & dads
Protect yourself and your family with these ingenious gizmos and smartphone apps.

Make sure your go-to gadgets are as cute as your style, with these trendy tech finds!

Oh, how the times have changed...

Get ready to hit the mall! Check out the hottest back-to-school trends—and get ready to make a major style statement this year.

Unique, or downright strange?

This is Kevin Droniak and his grandma. They're besties, they're awesome and they're YouTube stars.

It can be difficult to entice little ones to eat anything at all, let alone to devour a healthy plate. But feeding your kids nutritious snacks after school just got way easier, thanks to these adorably clever and cute snack ideas! For more smart and fun ways to get your kids to enjoy healthful and delicious foods, try one of these amazingly artsy lunch ideas.

Through a tonsillectomy all the way to brain surgery, my mother deserves some recognition. She's my spine, my birthday shadow, my BFF, my thunder buddy, so Mommy, thank you.

My son needs me, as much as yours needs you. Sadly, my son needs me more. He needs someone to have his back, when it seems that the police, the men he'd wave to with excitement as a little boy, see him as a being worthy only of prison or death.

If you know someone who has adopted and have made some of these comments, don't fret... now you know!

"Because you shine from within," I said, touching my finger to her heart. "Not everybody sees it, but I do. I see it. And my job is to protect that light. So when people say mean comments that squelch that light, I want you to tell me. I will protect your light by listening and loving you, my brave, courageous, and unique little firefly."

Studies have shown that it helps, top education officials have recommended it, and now doctors are officially saying the same.