America's top 20 sober schools revealed
Brigham Young takes the No. 1 spot on The Princeton Review's list.
For some, this may call for a toast — as long as the toast doesn't involve booze.
For the 16th straight year, Brigham Young University has topped The Princeton Review's list of "stone-cold sober schools."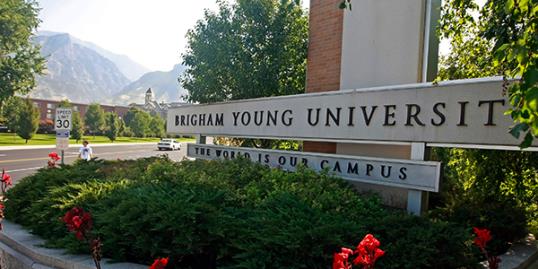 MSN The Family Room: Top 20 party schools in the United States
"I guess you could say it's our sweet 16th," BYU media relations manager Todd Hollingshead joked.
On Monday, The Princeton Review released its 2014 edition of "The Best 378 Colleges." The collection includes a list of the "Top 20 Sober Schools" in the United States. Wheaton College in Wheaton, Ill., ranked second, and College of the Ozarks in Point Lookout, Mo., ranked third. The California Institute of Technology and Xavier University of Louisiana also made the list.
MSN Living: 10 benefits of a college education
In the school's Honor Code Statement, BYU students vow to "abstain from alcoholic beverages, tobacco, tea, coffee and substance abuse."
"We absolutely embrace it," Hollingshead says. "It's a major reason why people choose to be here."
Check out The Princeton Review's rankings for the Top 20 Sober Schools, below.
Brigham Young University, Provo, Utah

Wheaton College, Wheaton, Ill.

College of the Ozarks, Point Lookout, Mo.

Thomas Aquinas College, Santa Paula, Calif.

U.S. Military Academy, West Point, N.Y.

Grove City College, Grove City, Pa.

Wesleyan College, Macon, Ga.

U.S. Coast Guard Academy, New London, Conn.

U.S. Naval Academy, Annapolis, Md.

Calvin College, Grand Rapids, Mich.

City University of New York-Brooklyn College, Brooklyn, N.Y.

City University of New York-City College, New York City

City University of New York-Queens College, Flushing, N.Y.

Mills College, Oakland, Calif.

Agnes Scott College, Atlanta/Decatur, Ga.

Franklin W. Olin College of Engineering, Needham, Mass.

California Institute of Technology, Pasadena, Calif.

Simmons College, Boston

Wellesley College, Wellesley, Mass.

Xavier University of Louisiana, New Orleans

More from The Family Room:
5 things Prince William must do as a new daddy before returning to work
Swaddle-maker swamped after UK prince's photo-op
Little girls in high heels?
Subscribe to The Family Room | Friend us on Facebook, follow us on Twitter and find us on Pinterest.
Photo: Brigham Young University / George Frey/Bloomberg via Getty Images
News, stories, tips and laughs for moms & dads
As all the kids line up to go to school, your son, Timmy, turns to you and says, "I don't want to take the bus. My stomach hurts. Please don't make me go." You cringe and think, Here we go again. What should be a simple morning routine explodes into a daunting challenge.

Learning these 10 things is a good base with which to begin the tough preteen and teen years. Helping our children maneuver life is our jobs as parents, even if we haven't quite figured it all out ourselves yet.

We've all seen her... But should we judge her?

Unique, or downright strange?

In a few short weeks you'll be dropping your child off at college, where they'll spend the next four years learning, laughing, and probably partying. Of course, in true teen fashion, your child has already started shopping for their dorm room essentials. Don't panic just yet!

When tots burst through the door after a busy day at school, the first order of business is securing a snack.

The only thing more important than what you pack your child for lunch is what you pack it in.

Frustrated mom invents Ignore No More app

Do you have the right mix of moms surrounding you?

It's hard to keep young kids entertained while being confined indoors, but fear not, for we have some fun ideas to keep the entire family from climbing the walls during rainy days.

Back in our day, ending up with the same exact backpack as your BFF was a legitimate back-to-school concern. Nowadays? There are so many options, it's dizzying!

It is a parent's eternal dilemma: What do I make the kids for lunch today? And tomorrow? And next week? We fall into ruts, succumb to the tried-and-true, give in to our children's demands for junk food. No more! These school lunch ideas—for everything from sandwiches to snacks to hot meals—will freshen up your daily routine, so much so you may be tempted to make them for yourself.