How much is that puppy in the window ... per month?
A full-service pet leasing business claims to make keeping and caring for a pet easier than ever.
Yes, that's right. If you're so inclined, you can say goodbye to the old days when you owned a pet and took care of his needs yourself. Instead, you can now elect to "adopt" a pet for a monthly fee and live comfortably with the knowledge that your adored family member gets all the meals, supplies and healthcare he needs — except that he's not really your pet.
Hannah the Pet Society is a new company that's taking the concept of pet placement and animal healthcare to what its founder believes is the next level: a full-service pet leasing business that claims to make keeping and caring for a pet easier than ever.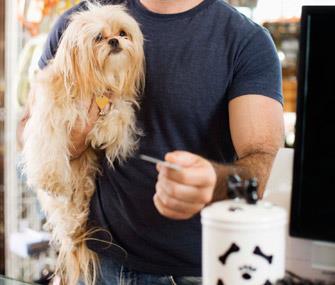 How it works
You pick out a pet in one of two Portland, Ore., storefronts (the first of their kind) and agree to pay a set monthly fee to cover the cost of his lease, food, basic supplies and veterinary care. Prospective pet keepers can choose a dog, cat, rabbit or guinea pig knowing that if it doesn't work out, they can always return him.
The sales pitch
Offering you everything that your pet needs in a convenient, one-payment-a-month approach means more people can budget appropriately for their pets and feel secure in the knowledge that they will not want for anything. The service gets more animals into more homes, with fewer reasons for relinquishment to shelters — or so the sales pitch claims.
Bing: Find out where to adopt a pet
The catch
The downside is that you don't actually have any legal control over your pet. Not only does the company reserve the right to repossess your pet — say, if you should fail to make timely payments — but it's in charge of all of your pet's nutrition, wellness care and medical decisions, too.
This veterinarian's concerns
This latter point is largely why veterinarians like me are uncomfortable with pet services like Hannah's. The fact that the person most invested in the life of the pet isn't responsible for major medical decisions is somewhat unsettling. And knowing that a for-profit company with actuarial tables to consult and books to balance is in charge of someone you love should send shivers down your spine.
Read the rest of the story here.
More from Vetstreet:
Rent-a-Pet Cafes Are All the Rage
10 Hottest Dog Names for 2013
Should I Get My Pet a Flu Shot?
Veterinarian's Surprising Confession
13 Dog Breeds Ideal for Apartment Living

Love content like this? Friend us on Facebook, follow us on Twitter and find us on Pinterest




Are you kidding me??  So, these pets can be ripped out of their homes if Hannah deems it necessary or people can just take the pet back if it 'doesn't work out'?  How horrible for the pet.  They can just be passed around and around.  And then Hannah can decide if your pet deserves the possible life-saving medical care it may need?  Shut them down!!
Are you sure you want to delete this comment?
News, stories, tips and laughs for moms & dads
As a new mom, you've recently discovered there are many things you can live without—sleep and modesty being chief among them. But what can't you live without? Seasoned moms share their Top 10 list for how to survive the early months of motherhood.

Here are our experts' best tips for how to be a positive role model for your kids so that they grow up healthy, strong and confident about the way they look.

The center of the family is your relationship; not the children.

Transform your mornings from grumpy to great by following these 12 simple steps. (Singing in the shower is highly encouraged.)

We're all aware of the reasons one might prefer to raise biological children. There's the miraculous experience that is pregnancy and childbirth. Also, let's not forget how expensive adoption is (though with the cost of childbirth in the United States growing ever-more crippling, it's hard to say which method is most economical). Couple that with the difficulty of the adoption process -- unless, of course, you're Madonna -- and you've got plenty of strong incentives to go the traditional route. Despite the arduous adoption process and the significant financial commitment, all kinds of people -- both famous and not -- choose to adopt for a variety of reasons. Check out this slideshow to see which celebrities (besides the famous Jolie-Pitts) opted to adopt.

One of our favorite ways to start the day is with a piping hot cup of coffee and a thought-provoking TED talk. In case you'€™re not familiar with the group, TED (which stands for Technology, Entertainment and Design) is a nonprofit organization dedicated to spreading ideas through projects and talks by a diverse group of inspired thinkers - people of all cultures, ages and disciplines. As you can probably guess, listening to these innovators share their ideas is a surefire way to jumpstart your day and get your creative juices flowing. Click through the slideshow above for the eight TED talks every parent needs to see. By Cordelia Tai

Got kids that are questioning whether or not the Easter Bunny is real? If you want to keep the tradition going at least one more year, try one of these ideas...

You're cold-hearted? We'll take care of that for you...read on.

This kid despises poetry and he's not afraid to let you know.

I used to be one of those moms who thought, 'who on earth would bring their child to an event like that?' and then I had a son. Here's why you might become a convert, too.

Take a look at your house for these telltale signs that a cat is running the show.

Check out this list of requirements you should meet before getting a new puppy or adult dog.