How much is that puppy in the window ... per month?
A full-service pet leasing business claims to make keeping and caring for a pet easier than ever.
Yes, that's right. If you're so inclined, you can say goodbye to the old days when you owned a pet and took care of his needs yourself. Instead, you can now elect to "adopt" a pet for a monthly fee and live comfortably with the knowledge that your adored family member gets all the meals, supplies and healthcare he needs — except that he's not really your pet.
Hannah the Pet Society is a new company that's taking the concept of pet placement and animal healthcare to what its founder believes is the next level: a full-service pet leasing business that claims to make keeping and caring for a pet easier than ever.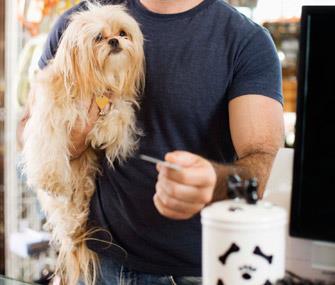 How it works
You pick out a pet in one of two Portland, Ore., storefronts (the first of their kind) and agree to pay a set monthly fee to cover the cost of his lease, food, basic supplies and veterinary care. Prospective pet keepers can choose a dog, cat, rabbit or guinea pig knowing that if it doesn't work out, they can always return him.
The sales pitch
Offering you everything that your pet needs in a convenient, one-payment-a-month approach means more people can budget appropriately for their pets and feel secure in the knowledge that they will not want for anything. The service gets more animals into more homes, with fewer reasons for relinquishment to shelters — or so the sales pitch claims.
Bing: Find out where to adopt a pet
The catch
The downside is that you don't actually have any legal control over your pet. Not only does the company reserve the right to repossess your pet — say, if you should fail to make timely payments — but it's in charge of all of your pet's nutrition, wellness care and medical decisions, too.
This veterinarian's concerns
This latter point is largely why veterinarians like me are uncomfortable with pet services like Hannah's. The fact that the person most invested in the life of the pet isn't responsible for major medical decisions is somewhat unsettling. And knowing that a for-profit company with actuarial tables to consult and books to balance is in charge of someone you love should send shivers down your spine.
Read the rest of the story here.
More from Vetstreet:
Rent-a-Pet Cafes Are All the Rage
10 Hottest Dog Names for 2013
Should I Get My Pet a Flu Shot?
Veterinarian's Surprising Confession
13 Dog Breeds Ideal for Apartment Living

Love content like this? Friend us on Facebook, follow us on Twitter and find us on Pinterest



News, stories, tips and laughs for moms & dads
Learning these 10 things is a good base with which to begin the tough preteen and teen years. Helping our children maneuver life is our jobs as parents, even if we haven't quite figured it all out ourselves yet.

We've all seen her... But should we judge her?

Unique, or downright strange?

In a few short weeks you'll be dropping your child off at college, where they'll spend the next four years learning, laughing, and probably partying. Of course, in true teen fashion, your child has already started shopping for their dorm room essentials. Don't panic just yet!

When tots burst through the door after a busy day at school, the first order of business is securing a snack.

The only thing more important than what you pack your child for lunch is what you pack it in.

Frustrated mom invents Ignore No More app

Do you have the right mix of moms surrounding you?

It's hard to keep young kids entertained while being confined indoors, but fear not, for we have some fun ideas to keep the entire family from climbing the walls during rainy days.

Back in our day, ending up with the same exact backpack as your BFF was a legitimate back-to-school concern. Nowadays? There are so many options, it's dizzying!

It is a parent's eternal dilemma: What do I make the kids for lunch today? And tomorrow? And next week? We fall into ruts, succumb to the tried-and-true, give in to our children's demands for junk food. No more! These school lunch ideas—for everything from sandwiches to snacks to hot meals—will freshen up your daily routine, so much so you may be tempted to make them for yourself.

Whether your kids have recently gone back to school or are preparing to go shortly, it's never too late to start thinking about how we can make this year successful and low-stress, both for our kids and ourselves. With that, here are 6 things parents might want to stop doing this year in order to make it the best one yet...for all of you!