How much is that puppy in the window ... per month?
A full-service pet leasing business claims to make keeping and caring for a pet easier than ever.
Yes, that's right. If you're so inclined, you can say goodbye to the old days when you owned a pet and took care of his needs yourself. Instead, you can now elect to "adopt" a pet for a monthly fee and live comfortably with the knowledge that your adored family member gets all the meals, supplies and healthcare he needs — except that he's not really your pet.
Hannah the Pet Society is a new company that's taking the concept of pet placement and animal healthcare to what its founder believes is the next level: a full-service pet leasing business that claims to make keeping and caring for a pet easier than ever.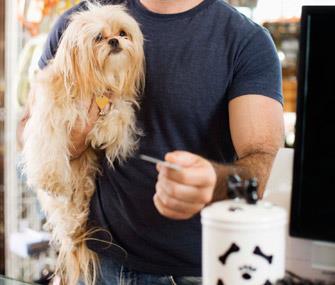 How it works
You pick out a pet in one of two Portland, Ore., storefronts (the first of their kind) and agree to pay a set monthly fee to cover the cost of his lease, food, basic supplies and veterinary care. Prospective pet keepers can choose a dog, cat, rabbit or guinea pig knowing that if it doesn't work out, they can always return him.
The sales pitch
Offering you everything that your pet needs in a convenient, one-payment-a-month approach means more people can budget appropriately for their pets and feel secure in the knowledge that they will not want for anything. The service gets more animals into more homes, with fewer reasons for relinquishment to shelters — or so the sales pitch claims.
Bing: Find out where to adopt a pet
The catch
The downside is that you don't actually have any legal control over your pet. Not only does the company reserve the right to repossess your pet — say, if you should fail to make timely payments — but it's in charge of all of your pet's nutrition, wellness care and medical decisions, too.
This veterinarian's concerns
This latter point is largely why veterinarians like me are uncomfortable with pet services like Hannah's. The fact that the person most invested in the life of the pet isn't responsible for major medical decisions is somewhat unsettling. And knowing that a for-profit company with actuarial tables to consult and books to balance is in charge of someone you love should send shivers down your spine.
Read the rest of the story here.
More from Vetstreet:
Rent-a-Pet Cafes Are All the Rage
10 Hottest Dog Names for 2013
Should I Get My Pet a Flu Shot?
Veterinarian's Surprising Confession
13 Dog Breeds Ideal for Apartment Living

Love content like this? Friend us on Facebook, follow us on Twitter and find us on Pinterest



News, stories, tips and laughs for moms & dads
Two sociologists have found that parents who have daughters are more inclined to support the GOP and turn a cold shoulder to Democrats.

The experts at Nameberry.com predict what will be big in baby-naming next year

Famed event-planner David Stark shared tips for making chic holiday decorations using items you already have around the house. Take a look!

Sociologist Karen Z. Kramer found that over the past decade more than 550,000 men were stay-at-home fathers, which is about 3.5 percent of the married with kids population.

Ben Miller celebrates his wife's birthday and the anniversary of the day their premature son Ward Miles came home for good with a video documenting his first year.

Adopting an animal is a major commitment. Yet all too often people put more effort into researching what kind of car to get than the type of pet that would best fit their lifestyle.

'Tis the season to send out holiday greeting cards to all your friends and family. But, as our friends at Awkward Family Pet Photos know, not all holiday snapshots are the same. Some are just plain kooky — especially when pets are included. So with good tidings and great cheer, here are 10 wacky holiday animal portraits that are sure to make you laugh out loud and get you in the holiday spirit. And possibly make you think twice about dressing up the family cat this year.

King of the jungle? Nah, it's just a labradoodle!

Side-by-side images of adorable babies and their celebrity doppelgängers

Do you have a finicky furry friend on your holiday gift list this year? You're in luck! We've rounded up the coolest cat-approved products to bring you purrfect gift ideas for every kind of cat -- from the curious kitten to the most refined feline. Any one of these special gifts could make your resident kitty purr with pleasure and maybe, just maybe, like the present this year even more than the box and wrapping paper it came in!

Plus, puppy names to watch

This holiday season's hottest toy has yet to be revealed, but more often than not, the best gifts are the ones kids don't even know to ask for. So this year, surprise your kids with unique presents under the tree, and watch as their eyes light up when they unwrap them. From space-age sand to a DIY race track, these out-of-the-box gift ideas will provide some serious shopping inspiration. Click through the slideshow above for all our favorite picks.