Teens lie, cheat & steal less
A new ethics survey finds that high school students are straightening up.
Indicting our age and its corrupt customs is as old as Cicero. But a new study by the Josephson Institute of Ethics suggests high school students are actually more moral than in years past.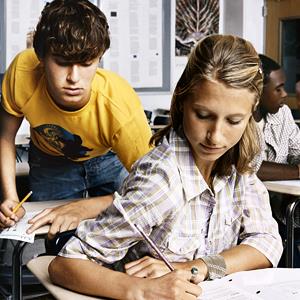 The study found that reported incidents of stealing, cheating and lying were down for the first time in a decade among a sampling of 23,000 teens.
Fifty-one percent of high schoolers surveyed confessed to cheating in 2012, compared with a reported 59 percent in 2010. Specifically, copying another's homework dropped from 34 to 32 percent among the survey sample.
More on MSN Living: 50 ways to stay bonded with your kids
Deception also dropped among teens, according to the Josephson Institute. In 2010, 61 percent of those questioned admitted to lying to a teacher "in the past year about something significant;" 2012 saw 55 percent of students doing the same. Dissembling to one's parents decreased from 80 to 76 percent in the two-year timespan.
More on MSN Living: Totally awkward pet holiday photos
Shoplifting, too, fell among the high school students surveyed. 2012 saw 20 percent of teens admitting to the crime, versus 27 percent in 2010.
On the whole, the study found that young adults consider ethics when making decisions. However, it also indicated that boys are slightly more dishonest than girls.
"It's a small ray of sunshine shining through lots of dark clouds," said Michael Josephson, the founder and president of the Josephson Institute of Ethics. "Changes in children's behavior of this magnitude suggest a major shift in parenting and school involvement in issues of honesty and character. Though there is still far too much cheating, lying and stealing, I think we have turned the corner."
Photo: Digital Vision./Getty Images
Bing: Find gifts for teens.
More on MSN Living:
10 most popular cat names
5 weird reasons couples have divorced
15 themed rooms for your teen

I have a Step-Daughter that can not open her mouth without lying. Sad thing, it's taught to her daily by her biological father; he's a real piece of sh*t!! In turn, the kid is following in his footsteps. The apple did not fall far from the tree.
How are you doing Brian Doyle, Hickory Creek, TX.

I believe the young kids today are more honest than those of the past. I am 65 years old and I see it in my grandchildren that they are much more up-front and honest  than many other earlier on generations.
Sure there are a few that are and can be worse than many other generations but I do agree that many more tend to be very good and certainly much more honest than lets say our current politicians and definitely the CEO's of today. So, the future of our country very well may be better than today
Great to see this!!!

Teenagers are teenagers. It all depends on how everyone is raised, individually. Teens often lie on who they are to impress their friends' way of thinking on what the trend is. Some lie for other reasons (e.g progress reports, values etc [teen stuff]).). Don't assume teens are the ONLY big liars. Adults as well are liars. Some less than teens, some more than teens. Just because people are older doesn't mean they are wiser than the youth. Adults lie to their bosses calling in "sick" when really they need a break. Look at the stats for crime in people +18. We cannot discriminate an age group, we were there too. Remember when YOU lied to YOUR parents.

I really do not believe this one.  I have been robbed repeatedly by breakins to my car, my room and all were young teens roaming the streets at night.  Even worse are the 18 to 30 crowd. No morals, no respect for others property.  The next one I catch may lose their right hand. The one good idea from Islam.
Are you sure you want to delete this comment?
family: tips, trends & advice for all things family
From designer crosses to giant breeds, we scoured Vetstreet's data of millions of dog breeds to determine the trendiest breeds of the past decade.

One of the most unsettling consequences of bringing a child into your previously simple, happily oblivious manly life is that you're now unquestionably, inescapably…The Man.

Whether it was baby's first kick or the first time your boobs leaked in public, there's a point in every mom's life when the world as you know it ends and you realize -- Whoa, I'm someone's mom now. Some of our favorite mommy bloggers revealed what their aha moments were. They range from heartwarming to completely hilarious.

From DIY jewelry to homemade "flowers" to sweet vases, you can help your kid make mom's day with these crafty gifts.

The first parenting shock: They let you take the baby home. Like, without supervision. Only then do the real surprises unfold. Here's what readers told us was most unexpected for them as they embraced this whole mama thing.

Be prepared to say, 'awww,' multiple times while flipping through this collection super-sweet stuff for babies and kids on Etsy.com. Take a peek at some of our favorite finds for moms (and click 'More' to find out how to get this amazing gnome hat!)...By MSN Living editors

Your Mother's Day plans are all set, right? Brunch is booked and a fabulous gift is wrapped and ready to go. So take a breather and celebrate these stylish celebrity moms who work hard, care for their kids, and manage to look amazing in the process.

Find out this year's top baby names on Parenting.com, and see what we predict will be big in 2013

Sophia and Jacob reign supreme.

In an online contest, Parenting.com asked readers to tell us what it means to "have it all." Read the winner's moving essay on how that phrase has defined her motherhood, plus essays from the three runners up.

Tow lot employee finds abandoned pup.

Animals, says Dr. Patty Khuly, are the best listeners in the world and don't care that you've just been dumped or laid off.