Teens lie, cheat & steal less
A new ethics survey finds that high school students are straightening up.
Indicting our age and its corrupt customs is as old as Cicero. But a new study by the Josephson Institute of Ethics suggests high school students are actually more moral than in years past.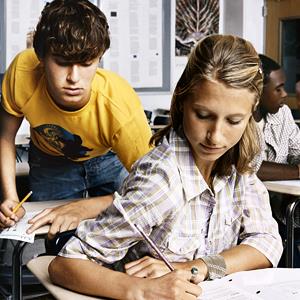 The study found that reported incidents of stealing, cheating and lying were down for the first time in a decade among a sampling of 23,000 teens.
Fifty-one percent of high schoolers surveyed confessed to cheating in 2012, compared with a reported 59 percent in 2010. Specifically, copying another's homework dropped from 34 to 32 percent among the survey sample.
More on MSN Living: 50 ways to stay bonded with your kids
Deception also dropped among teens, according to the Josephson Institute. In 2010, 61 percent of those questioned admitted to lying to a teacher "in the past year about something significant;" 2012 saw 55 percent of students doing the same. Dissembling to one's parents decreased from 80 to 76 percent in the two-year timespan.
More on MSN Living: Totally awkward pet holiday photos
Shoplifting, too, fell among the high school students surveyed. 2012 saw 20 percent of teens admitting to the crime, versus 27 percent in 2010.
On the whole, the study found that young adults consider ethics when making decisions. However, it also indicated that boys are slightly more dishonest than girls.
"It's a small ray of sunshine shining through lots of dark clouds," said Michael Josephson, the founder and president of the Josephson Institute of Ethics. "Changes in children's behavior of this magnitude suggest a major shift in parenting and school involvement in issues of honesty and character. Though there is still far too much cheating, lying and stealing, I think we have turned the corner."
Photo: Digital Vision./Getty Images
Bing: Find gifts for teens.
More on MSN Living:
10 most popular cat names
5 weird reasons couples have divorced
15 themed rooms for your teen

I have a Step-Daughter that can not open her mouth without lying. Sad thing, it's taught to her daily by her biological father; he's a real piece of sh*t!! In turn, the kid is following in his footsteps. The apple did not fall far from the tree.
How are you doing Brian Doyle, Hickory Creek, TX.

I believe the young kids today are more honest than those of the past. I am 65 years old and I see it in my grandchildren that they are much more up-front and honest  than many other earlier on generations.
Sure there are a few that are and can be worse than many other generations but I do agree that many more tend to be very good and certainly much more honest than lets say our current politicians and definitely the CEO's of today. So, the future of our country very well may be better than today
Great to see this!!!

Teenagers are teenagers. It all depends on how everyone is raised, individually. Teens often lie on who they are to impress their friends' way of thinking on what the trend is. Some lie for other reasons (e.g progress reports, values etc [teen stuff]).). Don't assume teens are the ONLY big liars. Adults as well are liars. Some less than teens, some more than teens. Just because people are older doesn't mean they are wiser than the youth. Adults lie to their bosses calling in "sick" when really they need a break. Look at the stats for crime in people +18. We cannot discriminate an age group, we were there too. Remember when YOU lied to YOUR parents.

I really do not believe this one.  I have been robbed repeatedly by breakins to my car, my room and all were young teens roaming the streets at night.  Even worse are the 18 to 30 crowd. No morals, no respect for others property.  The next one I catch may lose their right hand. The one good idea from Islam.
Are you sure you want to delete this comment?
News, stories, tips and laughs for moms & dads
Watch the video of Kristen Bell going head to head with paparazzi - it will make you angry

Every year, toy makers from around the world gather to show their latest creations at the Toy Fair in New York City. The high-tech models, gadgets and trinkets on display put those basic Legos we played with at kids to shame. Here are 10 new toys that we'd happily buy or children. Or, really, ourselves.

Find yourself wandering the aisles, suddenly needing an owl-shaped candle while drinking a $5 latte? You're not alone, moms...

Here's some parenting advice for whatever stage of separation or divorce you're in.

Whether you pop it in the mail or post it on social media, a creative photo is a surefire way to grab everyone's attention and proudly say, "I'm pregnant!" Prepare for a lot of likes.

Remember the magical children's rooms in Peter Pan and The Little Prince? These timeless novels described spaces that were enchanting and made us wish that we could inhabit the rooms ourselves. The sumptuous interiors that were filled with never-ending toys and fort-like draping may seem like a fairytale, but thanks to four of our favorite kids' furniture websites, the dream could actually become a reality. Click through the slideshow to check out the best kids furniture websites that have everything necessary to create a fantasy room for your little one. And check out Sophia Demenge's super-fun space in the video below. By Barry Samaha

They lay, they play, and they take selfies with supermodels. Meet 5 of the most social media-savvy pets—animals taking control of their own fashionable online image.

We could try to offer you carefully researched and crafted words of Dad-centric inspiration, intended to show you the path to being a better man and, in turn, a better father. But Tom Limbert took up the task for us in his new book 'Dad's Playbook: Wisdom for Fathers from the Greatest Coaches of All Time,' so we left it to him. Limbert -- a parent coach and the founder of the Studio Grow children's play space in Berkeley, California -- has collected pearls of wisdom from an elite crew of coaches who have not only experienced greatness themselves, but also found ways to consistently instill it in their teams. "It's monkey-see, monkey-do," Limbert told us, after we asked him to gather the best quotes on achieving one's goals. "If you want your child to follow, you have to lead." Click on to read the often simple-seeming words that have inspired countless others to follow through on the field, but that can also easily be translated to the school, work, fitness, and, of course, parenting arenas.

What parents need to know

It's raining, it's pouring ... but that doesn't mean the day has to be a snore. Rather than let the kids grow restless and rambunctious, why not divert their energy toward some fun family bonding activities? Although the weather may have scotched your original plans for the day, seize the opportunity to reconnect and let loose with your loved ones. Click through this slideshow for ten refreshing rainy day activities that'll make you glad the clouds (almost) rained on your parade.

Every family has its oddballs. And the holiday season is the one time of year when you're pretty much forced to interact and play nice with the grand majority of them. Click through the slideshow above for our guide to dealing with the five worst kinds of kin. *Disclaimer: All characters appearing in this work are fictitious. Any resemblance to real persons, living or dead, is purely coincidental.

Not great with a budget? Don't sweat it. Try these simple ways to save.