Teens lie, cheat & steal less
A new ethics survey finds that high school students are straightening up.
Indicting our age and its corrupt customs is as old as Cicero. But a new study by the Josephson Institute of Ethics suggests high school students are actually more moral than in years past.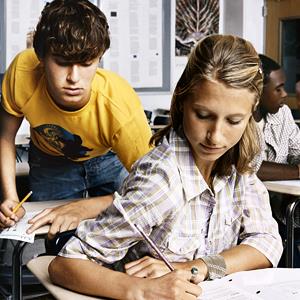 The study found that reported incidents of stealing, cheating and lying were down for the first time in a decade among a sampling of 23,000 teens.
Fifty-one percent of high schoolers surveyed confessed to cheating in 2012, compared with a reported 59 percent in 2010. Specifically, copying another's homework dropped from 34 to 32 percent among the survey sample.
More on MSN Living: 50 ways to stay bonded with your kids
Deception also dropped among teens, according to the Josephson Institute. In 2010, 61 percent of those questioned admitted to lying to a teacher "in the past year about something significant;" 2012 saw 55 percent of students doing the same. Dissembling to one's parents decreased from 80 to 76 percent in the two-year timespan.
More on MSN Living: Totally awkward pet holiday photos
Shoplifting, too, fell among the high school students surveyed. 2012 saw 20 percent of teens admitting to the crime, versus 27 percent in 2010.
On the whole, the study found that young adults consider ethics when making decisions. However, it also indicated that boys are slightly more dishonest than girls.
"It's a small ray of sunshine shining through lots of dark clouds," said Michael Josephson, the founder and president of the Josephson Institute of Ethics. "Changes in children's behavior of this magnitude suggest a major shift in parenting and school involvement in issues of honesty and character. Though there is still far too much cheating, lying and stealing, I think we have turned the corner."
Photo: Digital Vision./Getty Images
Bing: Find gifts for teens.
More on MSN Living:
10 most popular cat names
5 weird reasons couples have divorced
15 themed rooms for your teen

I have a Step-Daughter that can not open her mouth without lying. Sad thing, it's taught to her daily by her biological father; he's a real piece of sh*t!! In turn, the kid is following in his footsteps. The apple did not fall far from the tree.
How are you doing Brian Doyle, Hickory Creek, TX.

I believe the young kids today are more honest than those of the past. I am 65 years old and I see it in my grandchildren that they are much more up-front and honest  than many other earlier on generations.
Sure there are a few that are and can be worse than many other generations but I do agree that many more tend to be very good and certainly much more honest than lets say our current politicians and definitely the CEO's of today. So, the future of our country very well may be better than today
Great to see this!!!

Teenagers are teenagers. It all depends on how everyone is raised, individually. Teens often lie on who they are to impress their friends' way of thinking on what the trend is. Some lie for other reasons (e.g progress reports, values etc [teen stuff]).). Don't assume teens are the ONLY big liars. Adults as well are liars. Some less than teens, some more than teens. Just because people are older doesn't mean they are wiser than the youth. Adults lie to their bosses calling in "sick" when really they need a break. Look at the stats for crime in people +18. We cannot discriminate an age group, we were there too. Remember when YOU lied to YOUR parents.

I really do not believe this one.  I have been robbed repeatedly by breakins to my car, my room and all were young teens roaming the streets at night.  Even worse are the 18 to 30 crowd. No morals, no respect for others property.  The next one I catch may lose their right hand. The one good idea from Islam.
Are you sure you want to delete this comment?
News, stories, tips and laughs for moms & dads
It can be difficult to entice little ones to eat anything at all, let alone to devour a healthy plate. But feeding your kids nutritious snacks after school just got way easier, thanks to these adorably clever and cute snack ideas! For more smart and fun ways to get your kids to enjoy healthful and delicious foods, try one of these amazingly artsy lunch ideas.

"Because you shine from within," I said, touching my finger to her heart. "Not everybody sees it, but I do. I see it. And my job is to protect that light. So when people say mean comments that squelch that light, I want you to tell me. I will protect your light by listening and loving you, my brave, courageous, and unique little firefly."

Studies have shown that it helps, top education officials have recommended it, and now doctors are officially saying the same.

I may have accidentally dropped you a few times, forgotten to document your first fart, let a little pee fly and dressed you like an idiot, but I have also loved you with every piece of me, and you will never hear an apology for that.

Back-to-school shopping is still in full swing, and your little gents probably need some new kicks to round out their fall wardrobes (you already picked up some bold shoes for the little ladies in your life, right?).

Not every kid is a fan of returning to the classroom, so parents try to ease the blow with a little back-to-school shopping.

Would you rather be a parent now or then?

As all the kids line up to go to school, your son, Timmy, turns to you and says, "I don't want to take the bus. My stomach hurts. Please don't make me go." You cringe and think, Here we go again. What should be a simple morning routine explodes into a daunting challenge.

The strong bonds that dogs can form are undeniable.

Think you know your pet's every unspoken wish? Think again. Your pet is unlikely to be capable of communicating her wants and needs in ways you might assume she would. Even those of you most in touch with your pets' feelings are likely missing a few cues here and there.

The Chesapeake Bay Retriever made both our readers' and veterinary professionals' lists of breeds that love the water.

You might proudly call yourself a dog owner, pet parent or canine guardian, but let's be real: Your dog owns you. You might be laughing now, but think about it — you've surrendered the best seat on the sofa to him, you plan your entire weekend around his trips to the dog park, and you take him to the groomer more often than you get your own hair cut. And let's not forget who's in every photo on your Facebook and Instagram feeds. Sound familiar? We thought so. But in case you still think you're in charge, here are seven classic signs that your dog is the one calling the shots.