When will school shootings stop?
A personal essay from Parenting.com
By Ana Connery - Parenting.com
My son's principal just sent an email asking parents to come get our kids—and exactly where to find them, as soon as dismissal time arrives in 45 minutes. Only two doors to the school are open now. She mentions scary things like "copycat crimes" in the wake of this morning's horrific shooting at an elementary school in Connecticut. Considering the similar mall shooting in Oregon earlier this week, the news is particularly unsettling, if not downright terrifying.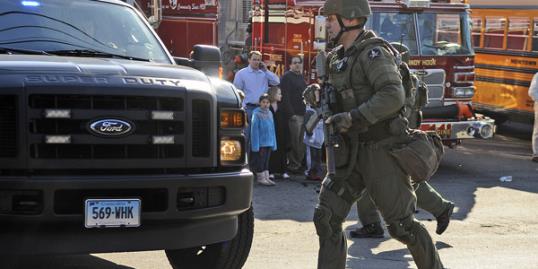 My son, Jav, is 7, the same age as many of the kids who were killed just hours ago. Like Jav, I am sure those kids love superheroes, too, and Disney Junior, and coveted their Wii, DS, Barbie or whatever object of affection they had at the moment they took their last terrified breath. I am sure that, like Jav, they, too, were waiting for Santa, perhaps many of them already sent him letters detailing their wish lists. Santa will now be forced to skip their home, and those letters will go unanswered, and in my mind, there is no seemingly good reason for this.
Details are still emerging as to who did this and why. Guns have been recovered. The age-old debate in America will make the rounds again. Some will emphatically defend their right to protect themselves and their families. Others will explain, just as emphatically, why they are opposed.
Whatever you believe, who protects our kids when they're in the middle of math class or at the mall, shopping with Grandma? Are we all supposed to start carrying around guns everywhere, just in case? Are we supposed to teach our kids how to use one, the way we teach them to use an Epi-Pen, and send them off to school with one in their backpack? Ridiculous, right? But so is getting an automated voicemail from your school's superintendent saying there has been a shooting at your child's school. So is walking into a school with one and killing close to 30 people, many of them far from old enough even to have a Facebook account.
My boyfriend has a gun. He insists it remains tucked away on a shelf, too high for the kids to reach it, unloaded, and locked. It haunts me when we visit him. We never talk about it, but I know it's there. I was a kid once, too. I was curious, careless--it's part of growing up. Unfortunately that kind of curiosity can lead to death. I don't want my kid to end up on the news.
When I drive to Jav's school in a few moments, my drive will be far different from those parents who drove there just this morning only to learn their child was murdered. I will pray. I will cry. I will hug my kid and take him for that cupcake I promised him for getting a great grade on his math test this week. But my mind will be cloudy, confused, scared.
Of all the things that parenthood teaches us, how to deal with a tragedy like this rarely comes up. For a slew of parents today, the lesson will be forced upon them, and my heart breaks for them.
Photo: Cloe Poisson/Hartford Courant/MCT via Getty Images
More from Parenting and MSN Living:
How to talk to your kids about scary news
family: tips, trends & advice for all things family
With all the glitz and glamour that comes out of Tinseltown (not to mention the endless tabloid fodder), it's not always obvious that many celebrities are animal lovers, too.

From designer crosses to giant breeds, we scoured Vetstreet's data of millions of dog breeds to determine the trendiest breeds of the past decade.

One of the most unsettling consequences of bringing a child into your previously simple, happily oblivious manly life is that you're now unquestionably, inescapably…The Man.

Whether it was baby's first kick or the first time your boobs leaked in public, there's a point in every mom's life when the world as you know it ends and you realize -- Whoa, I'm someone's mom now. Some of our favorite mommy bloggers revealed what their aha moments were. They range from heartwarming to completely hilarious.

From DIY jewelry to homemade "flowers" to sweet vases, you can help your kid make mom's day with these crafty gifts.

The first parenting shock: They let you take the baby home. Like, without supervision. Only then do the real surprises unfold. Here's what readers told us was most unexpected for them as they embraced this whole mama thing.

Be prepared to say, 'awww,' multiple times while flipping through this collection super-sweet stuff for babies and kids on Etsy.com. Take a peek at some of our favorite finds for moms (and click 'More' to find out how to get this amazing gnome hat!)...By MSN Living editors

Your Mother's Day plans are all set, right? Brunch is booked and a fabulous gift is wrapped and ready to go. So take a breather and celebrate these stylish celebrity moms who work hard, care for their kids, and manage to look amazing in the process.

Find out this year's top baby names on Parenting.com, and see what we predict will be big in 2013

Sophia and Jacob reign supreme.

In an online contest, Parenting.com asked readers to tell us what it means to "have it all." Read the winner's moving essay on how that phrase has defined her motherhood, plus essays from the three runners up.

Tow lot employee finds abandoned pup.