When will school shootings stop?
A personal essay from Parenting.com
By Ana Connery - Parenting.com
My son's principal just sent an email asking parents to come get our kids—and exactly where to find them, as soon as dismissal time arrives in 45 minutes. Only two doors to the school are open now. She mentions scary things like "copycat crimes" in the wake of this morning's horrific shooting at an elementary school in Connecticut. Considering the similar mall shooting in Oregon earlier this week, the news is particularly unsettling, if not downright terrifying.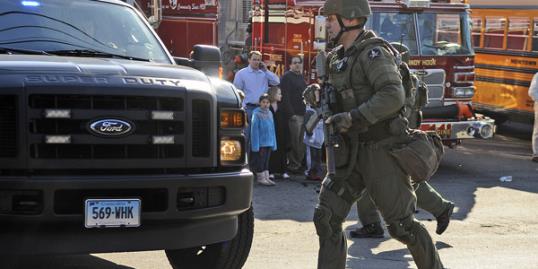 My son, Jav, is 7, the same age as many of the kids who were killed just hours ago. Like Jav, I am sure those kids love superheroes, too, and Disney Junior, and coveted their Wii, DS, Barbie or whatever object of affection they had at the moment they took their last terrified breath. I am sure that, like Jav, they, too, were waiting for Santa, perhaps many of them already sent him letters detailing their wish lists. Santa will now be forced to skip their home, and those letters will go unanswered, and in my mind, there is no seemingly good reason for this.
Details are still emerging as to who did this and why. Guns have been recovered. The age-old debate in America will make the rounds again. Some will emphatically defend their right to protect themselves and their families. Others will explain, just as emphatically, why they are opposed.
Whatever you believe, who protects our kids when they're in the middle of math class or at the mall, shopping with Grandma? Are we all supposed to start carrying around guns everywhere, just in case? Are we supposed to teach our kids how to use one, the way we teach them to use an Epi-Pen, and send them off to school with one in their backpack? Ridiculous, right? But so is getting an automated voicemail from your school's superintendent saying there has been a shooting at your child's school. So is walking into a school with one and killing close to 30 people, many of them far from old enough even to have a Facebook account.
My boyfriend has a gun. He insists it remains tucked away on a shelf, too high for the kids to reach it, unloaded, and locked. It haunts me when we visit him. We never talk about it, but I know it's there. I was a kid once, too. I was curious, careless--it's part of growing up. Unfortunately that kind of curiosity can lead to death. I don't want my kid to end up on the news.
When I drive to Jav's school in a few moments, my drive will be far different from those parents who drove there just this morning only to learn their child was murdered. I will pray. I will cry. I will hug my kid and take him for that cupcake I promised him for getting a great grade on his math test this week. But my mind will be cloudy, confused, scared.
Of all the things that parenthood teaches us, how to deal with a tragedy like this rarely comes up. For a slew of parents today, the lesson will be forced upon them, and my heart breaks for them.
Photo: Cloe Poisson/Hartford Courant/MCT via Getty Images
More from Parenting and MSN Living:
How to talk to your kids about scary news
News, stories, tips and laughs for moms & dads
Make sure your go-to gadgets are as cute as your style, with these trendy tech finds!

Oh, how the times have changed...

Get ready to hit the mall! Check out the hottest back-to-school trends—and get ready to make a major style statement this year.

Unique, or downright strange?

This is Kevin Droniak and his grandma. They're besties, they're awesome and they're YouTube stars.

It can be difficult to entice little ones to eat anything at all, let alone to devour a healthy plate. But feeding your kids nutritious snacks after school just got way easier, thanks to these adorably clever and cute snack ideas! For more smart and fun ways to get your kids to enjoy healthful and delicious foods, try one of these amazingly artsy lunch ideas.

Through a tonsillectomy all the way to brain surgery, my mother deserves some recognition. She's my spine, my birthday shadow, my BFF, my thunder buddy, so Mommy, thank you.

My son needs me, as much as yours needs you. Sadly, my son needs me more. He needs someone to have his back, when it seems that the police, the men he'd wave to with excitement as a little boy, see him as a being worthy only of prison or death.

If you know someone who has adopted and have made some of these comments, don't fret... now you know!

"Because you shine from within," I said, touching my finger to her heart. "Not everybody sees it, but I do. I see it. And my job is to protect that light. So when people say mean comments that squelch that light, I want you to tell me. I will protect your light by listening and loving you, my brave, courageous, and unique little firefly."

Studies have shown that it helps, top education officials have recommended it, and now doctors are officially saying the same.

I may have accidentally dropped you a few times, forgotten to document your first fart, let a little pee fly and dressed you like an idiot, but I have also loved you with every piece of me, and you will never hear an apology for that.