When will school shootings stop?
A personal essay from Parenting.com
By Ana Connery - Parenting.com
My son's principal just sent an email asking parents to come get our kids—and exactly where to find them, as soon as dismissal time arrives in 45 minutes. Only two doors to the school are open now. She mentions scary things like "copycat crimes" in the wake of this morning's horrific shooting at an elementary school in Connecticut. Considering the similar mall shooting in Oregon earlier this week, the news is particularly unsettling, if not downright terrifying.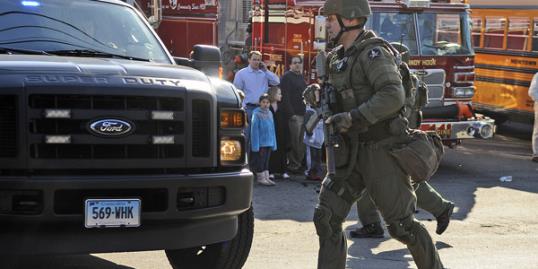 My son, Jav, is 7, the same age as many of the kids who were killed just hours ago. Like Jav, I am sure those kids love superheroes, too, and Disney Junior, and coveted their Wii, DS, Barbie or whatever object of affection they had at the moment they took their last terrified breath. I am sure that, like Jav, they, too, were waiting for Santa, perhaps many of them already sent him letters detailing their wish lists. Santa will now be forced to skip their home, and those letters will go unanswered, and in my mind, there is no seemingly good reason for this.
Details are still emerging as to who did this and why. Guns have been recovered. The age-old debate in America will make the rounds again. Some will emphatically defend their right to protect themselves and their families. Others will explain, just as emphatically, why they are opposed.
Whatever you believe, who protects our kids when they're in the middle of math class or at the mall, shopping with Grandma? Are we all supposed to start carrying around guns everywhere, just in case? Are we supposed to teach our kids how to use one, the way we teach them to use an Epi-Pen, and send them off to school with one in their backpack? Ridiculous, right? But so is getting an automated voicemail from your school's superintendent saying there has been a shooting at your child's school. So is walking into a school with one and killing close to 30 people, many of them far from old enough even to have a Facebook account.
My boyfriend has a gun. He insists it remains tucked away on a shelf, too high for the kids to reach it, unloaded, and locked. It haunts me when we visit him. We never talk about it, but I know it's there. I was a kid once, too. I was curious, careless--it's part of growing up. Unfortunately that kind of curiosity can lead to death. I don't want my kid to end up on the news.
When I drive to Jav's school in a few moments, my drive will be far different from those parents who drove there just this morning only to learn their child was murdered. I will pray. I will cry. I will hug my kid and take him for that cupcake I promised him for getting a great grade on his math test this week. But my mind will be cloudy, confused, scared.
Of all the things that parenthood teaches us, how to deal with a tragedy like this rarely comes up. For a slew of parents today, the lesson will be forced upon them, and my heart breaks for them.
Photo: Cloe Poisson/Hartford Courant/MCT via Getty Images
More from Parenting and MSN Living:
How to talk to your kids about scary news
News, stories, tips and laughs for moms & dads
What are we teaching our children when we focus on their achievements rather than their kindness?

Discover the seemingly insignificant things that can affect your chances of getting pregnant.

A thrill-obsessed subculture claimed another life this week.

A few suggested answers for the diciest questions

Must-haves for every mommy on the road

Here's our list of fifteen moms in the food industry that deserve some recognition.

The site gets high marks for its user-friendly interface and excellent and responsive customer service. And the reviews are also pretty accurate. Compare amenities and prices next to a hotel's in the same area, and you're likely to see Airbnb come out on top.

We captured a frame-by-frame look just for you.

Other moms can be ruthless when it comes to picking apart your parenting choices. From dissing your decision to go back to work to criticizing when you started baby on solids, here are the most ridiculous comments moms have heard. Bonus, we've got just the right way to respond to the haters! You're welcome.

Nope, you don't have to spend the next nine months in black elastic-waist pants and oversize sweaters. And you don't have to shell out a fortune on your "temporary" wardrobe either. Check out these stylish and affordable maternity clothes.

Because society crumbles without us

Another kid figured out how to get into a claw machine.