'Plus-Sized' Clothing For Kids — Problematic?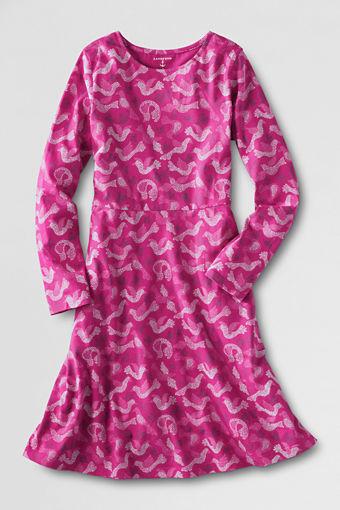 When your child requires a bit more room in their clothing — sometimes because they're simply taller than average — do they really need "plus sizes"? Whether or not there should be any negative connotations associated with the term, some claim that labeling young girls' sizes as "plus" is hurting their self-esteem.
Recently on the TODAY show, we heard consumer correspondent Janice Lieberman discuss the fact that, though parents appreciate having stylish options available regardless of their child's size, some feel it's doing emotional damage.
Morgan Joseph, 11, shared on TODAY that she's tall for her age and thus has struggled to find right-sized clothing for most of her young life. She shared with TODAY's Natalie Morales that she doesn't like the "plus sized" label. "I'd rather they just put numbers like they do for other kids," she said.
Many retailers nationwide and in the United Kingdom are cashing in on the growing need for larger sized kids' clothing. Sears introduced a successful "Pretty Plus" line for girls 7 to 10 years old. The Gap, J.C. Penney, Old Navy, Land's End, and The Children's Place are also offering "special sized" options for kids, among other retailers.
The whole issue provokes the question: Are we, as parents and adults, to blame for passing down to our kids any negative association we feel towards the "plus sized" terminology? Do clothing manufacturers need to rethink how they categorize clothing sizes altogether, for taller/larger kids and adults alike?
Weigh in: Do you think calling kids "plus size" is bad for their self-esteem? And if so, isn't it also bad for adult women's self-esteem? What would you recommend clothing companies do to better address this issue?
Photo: Land's End
More from MSN:
5 Things You Shouldn't Wear This Fall
Great Plus-Sized Fashion for Fall
How to Praise Your Kids

News, stories, tips and laughs for moms & dads
I am probably not the first to tell you this: Kids come with lots of stuff. Even if you try to be as minimal as possible, the little creatures require an awful lot to keep things running smoothly. Here's a master-plan slideshow of ways to cut corners on space in every room to accommodate all the things that come along with kids.

You never know for certain what type of parent you'll be until you've actually become one and your parenting style, as it becomes evident, may surprise you. Here are 4 parenting books to help you figure it all out.

Sunshine! Camping! Pool parties! BBQs! The sunny season is here and to help you make the most of it, we've hand-picked 7 great products to make this summer the best your family has ever had. Click through for our list to inspire your sunny day fun. From our sponsor: Walmart

We all love a picnic. But do one quick search for 'picnic ideas' on Pinterest and you're instantly teleported into a land of overachieving home chefs clearly looking for their big break on Food Network. Well, never mind that, we say. Scratch the 25-ingredient recipes and the incessant trips to the craft store for that perfect tablescape. Here are 5 truly simple picnic ideas that will look great, taste great, and make you feel like the winner you are! From our sponsor: Walmart

Admit it — you do these things, too! And that's OK. But maybe — just maybe — it's time to think about changing things up a little bit, for the sake of your sanity, your relationship with your kids, and because life's too short.

We asked veterinary experts and readers which breeds they think and if it is OK to shave longhaired pets in the summer.

Celeb moms post photos to show off their weight loss, but then they undermine their progress in the captions.

Kriste Lewis was inspired by her kidney disease to try out

Hittin' the road, moms and dads? Plan for these five things to happen...

Who knew parenting would make you feel so dumb?

Bob King, 68, found himself stuck

Witnesses now say they were helping mom, who was on the scene