'Plus-Sized' Clothing For Kids — Problematic?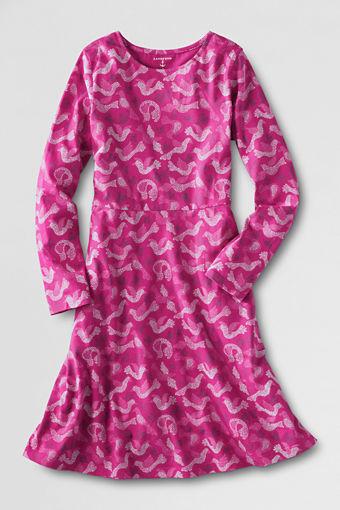 When your child requires a bit more room in their clothing — sometimes because they're simply taller than average — do they really need "plus sizes"? Whether or not there should be any negative connotations associated with the term, some claim that labeling young girls' sizes as "plus" is hurting their self-esteem.
Recently on the TODAY show, we heard consumer correspondent Janice Lieberman discuss the fact that, though parents appreciate having stylish options available regardless of their child's size, some feel it's doing emotional damage.
Morgan Joseph, 11, shared on TODAY that she's tall for her age and thus has struggled to find right-sized clothing for most of her young life. She shared with TODAY's Natalie Morales that she doesn't like the "plus sized" label. "I'd rather they just put numbers like they do for other kids," she said.
Many retailers nationwide and in the United Kingdom are cashing in on the growing need for larger sized kids' clothing. Sears introduced a successful "Pretty Plus" line for girls 7 to 10 years old. The Gap, J.C. Penney, Old Navy, Land's End, and The Children's Place are also offering "special sized" options for kids, among other retailers.
The whole issue provokes the question: Are we, as parents and adults, to blame for passing down to our kids any negative association we feel towards the "plus sized" terminology? Do clothing manufacturers need to rethink how they categorize clothing sizes altogether, for taller/larger kids and adults alike?
Weigh in: Do you think calling kids "plus size" is bad for their self-esteem? And if so, isn't it also bad for adult women's self-esteem? What would you recommend clothing companies do to better address this issue?
Photo: Land's End
More from MSN:
5 Things You Shouldn't Wear This Fall
Great Plus-Sized Fashion for Fall
How to Praise Your Kids

News, stories, tips and laughs for moms & dads
Famed event-planner David Stark shared tips for making chic holiday decorations using items you already have around the house. Take a look!

Sociologist Karen Z. Kramer found that over the past decade more than 550,000 men were stay-at-home fathers, which is about 3.5 percent of the married with kids population.

Ben Miller celebrates his wife's birthday and the anniversary of the day their premature son Ward Miles came home for good with a video documenting his first year.

Adopting an animal is a major commitment. Yet all too often people put more effort into researching what kind of car to get than the type of pet that would best fit their lifestyle.

'Tis the season to send out holiday greeting cards to all your friends and family. But, as our friends at Awkward Family Pet Photos know, not all holiday snapshots are the same. Some are just plain kooky — especially when pets are included. So with good tidings and great cheer, here are 10 wacky holiday animal portraits that are sure to make you laugh out loud and get you in the holiday spirit. And possibly make you think twice about dressing up the family cat this year.

King of the jungle? Nah, it's just a labradoodle!

Side-by-side images of adorable babies and their celebrity doppelgängers

Do you have a finicky furry friend on your holiday gift list this year? You're in luck! We've rounded up the coolest cat-approved products to bring you purrfect gift ideas for every kind of cat -- from the curious kitten to the most refined feline. Any one of these special gifts could make your resident kitty purr with pleasure and maybe, just maybe, like the present this year even more than the box and wrapping paper it came in!

Plus, puppy names to watch

This holiday season's hottest toy has yet to be revealed, but more often than not, the best gifts are the ones kids don't even know to ask for. So this year, surprise your kids with unique presents under the tree, and watch as their eyes light up when they unwrap them. From space-age sand to a DIY race track, these out-of-the-box gift ideas will provide some serious shopping inspiration. Click through the slideshow above for all our favorite picks.

Yep, you're older than you think

Avoid these gaffes for a better relationship with your stepchildren—and your spouse.