Most conflicting theories about the royal baby-to-be
We decided not to sort fact from fiction about Kate Middleton and Prince William's bundle of joy.
By Kylie McConville for TheBump.com
I think it was Patrick Henry who said, "Give me liberty or the royal baby!" and I've got to hand it to the guy because I couldn't have said it any better myself. Each and every day, the rumor mill (both English and American!) gives us so much Kate Middleton and Prince William news to digest that I'm actually confusing myself. I'm just so ready for this royal baby to be here that I'm filled with so many questions: Is a girl? a boy? at the very least, a human?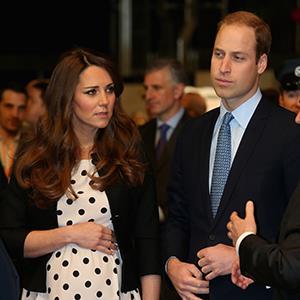 More from The Bump: The latest on The Royal Bump
With the royal due date fast approaching (spoiler alert! Kath is due this July, y'all!), the theorists keep coming out of the woodwork with all sorts of 'news' on her pregnancy. I'll admit, it's hard to keep up. So we decided not to sort fact from fiction (because the royal couple has kept very mum on their very royal bundle!), but instead to charm you with the most confounding, confusing and conflicting theories we've heard so far during the Duchess of Cambridge's adorable pregnancy! Have at 'em:
1. Kate went on a 'babymoon' exactly 5 minutes after announcing her pregnancy. After leaving the hospital for her stay (the Duchess was treated for her severe morning sickness shortly after she and the Will) revealed they were expanding their family together, Kate joined her husband and her parents for some much needed (and much deserved!) R&R. What she didn't do, however, was jet off on a babymoon. Seriously — her parents were there! Oh, and so were the paps.
2. They're having a boy. According to the Chinese Gender Chart, based on her age and our best guess at the month of their conception, Kate and Will are most likely expecting a perfect little prince come July.
3. No, wait, they're having a girl! On the same day that Kate debuted her adorable bump, the Duchess reportedly slipped up after someone in the crowd handed her a sweet teddy bear. Kate apparently said, "Oh, this is for our d…" Fdgjdfgdfjgdfjgdfgdf​g! Since everyone believed Kate was about to say "daughter", royal princess fever took over.
4. JK, they're still having a boy! Did you really think Kate would slip up in front of the cameras? Nah ah! According to the Daily Star, Kate and William know they're expecting an heir to the throne and have chosen a very familial name to bestow upon the future King.
5. Gotcha again! See how gullible you are? They're having a girl! For all of you out there who placed your bet on the couple welcoming an heiress to the monarchy, prepare to collect! The expectant parents reportedly know they're having a girl and have chosen a royal, regal and 100 percent classical name for their little girl. We love it 'cause it's a nod to all the important women in Will and Kate's lives!
6. OMG I could do this all day! Seriously. They're having a BOY. Know how we know? According to CelebrityBabyScoop, Kate reportedly confided in some army wife friends of hers that she recently purchased a light blue Bugaboo buggy for her darling little lad. The army wives were going to stay Kate's royal confidants and they realized they'd get paid the big bucks if they spilled the beans to reporters the world over.
7. Okay, but really, they're having a girl! Because why else would Kate choose the color purple for her nail polish? The U.K based polish company, Butter, created the pretty (and purpley!) shade for the Duchess. It's called "Pitter Patter" when really, they should have called it We're-going-to-confu​se-you-again-just-be​cause-we-can.
8. They don't know what they're having so they're taking suggestions — from COMMONERS. The horror! But apparently, not so far from the truth. Kate played coy in front of reporters and said that she and William have picked names for a baby girl and a baby boy — but they don't know which they like best, so they're soliciting advice from Kate's friends, who keep texting her baby name suggestions. Hey, Kate, if you're still taking opinions — we've got tons!
9. We know exactly what the baby will look like. I'll tell ya, technology today. Amirite or amirite? Okay, fine, we don't really know which traits the royal babe will pick up from mom and pop, but we did have a lot of fun creating the royal baby. Since we ran ourselves in circles trying to decide if she was having a boy (or a girl!), we decided to mock up both a she and he. They're pretty cute, no?
10. Kate's baby shower broke from royal tradition and boy, was it a fairy-tale. Apparently, Pippa wanted to throw her big sis a down-to-earth baby shower but the royals weren't having it. Fast forward to today, when someone created this dream-like image of Kate, grandma-to-be, the Queen, Pip, Kate's mum, Carole, and Kate enjoying her baby shower. And yes, if you were wondering, they are celebrating on a cloud.
11. But really, she is having a baby shower. The shower was all Pippa's idea, even though it's not a royal tradition. Last we heard, Kate was really hoping that the Queen would attend.
12. Sorry, no shower. Because it's not royal tradition, royal experts say that there won't be a royal baby shower. Aside from the fact that they're not commonplace in the UK (though the trend is just starting to pick up over there!), Victoria Arbiter, an ABC News Royal Expert, says that there would be, "added pressure that they are clearly very wealthy and a lavish baby shower would be seen as highly inappropriate. There's nothing they can't go out and buy themselves."
13. Baby-to-be prefers the soothing sounds of the Black Eyed Peas, sung in a Capella by her father. I kid you not. According to "insiders", the royal baby loves to listen to the Black Eyed Peas hit jam, 'Lets Get It Started in Here!' Not only does the baby like the song, but she loves when her daddy-to-be sings it.
Confused yet?
More from The Bump:
The worst baby names we've ever heard
10 things no one warned you about pregnancy
Photo: Kate Middleton and Prince William attend the Warner Bros. Studios launch on April 26 (Rex Features)
News, stories, tips and laughs for moms & dads
6-year-old has rare brain condition

He wanted to know if woman was pregnant

Did your state make the grade?

A new dad finds an Epcot Center's worth of innovation after expecting none at all.

Alcohol and tattoos are not meant for the pre-teen set

But Debra Harrell now has custody of daughter again

I am probably not the first to tell you this: Kids come with lots of stuff. Even if you try to be as minimal as possible, the little creatures require an awful lot to keep things running smoothly. Here's a master-plan slideshow of ways to cut corners on space in every room to accommodate all the things that come along with kids.

You never know for certain what type of parent you'll be until you've actually become one and your parenting style, as it becomes evident, may surprise you. Here are 4 parenting books to help you figure it all out.

Sunshine! Camping! Pool parties! BBQs! The sunny season is here and to help you make the most of it, we've hand-picked 7 great products to make this summer the best your family has ever had. Click through for our list to inspire your sunny day fun. From our sponsor: Walmart

We all love a picnic. But do one quick search for 'picnic ideas' on Pinterest and you're instantly teleported into a land of overachieving home chefs clearly looking for their big break on Food Network. Well, never mind that, we say. Scratch the 25-ingredient recipes and the incessant trips to the craft store for that perfect tablescape. Here are 5 truly simple picnic ideas that will look great, taste great, and make you feel like the winner you are! From our sponsor: Walmart

Admit it — you do these things, too! And that's OK. But maybe — just maybe — it's time to think about changing things up a little bit, for the sake of your sanity, your relationship with your kids, and because life's too short.

We asked veterinary experts and readers which breeds they think and if it is OK to shave longhaired pets in the summer.