School design may affect a child's grades
A study of school design has discovered that school layouts can influence a child's development by as much as 25 percent over the course of an academic year.
If you want your kid to get good grades in school, you may want to take an eye-for-design approach and consider the school's layout. That's what a recent study published in Building and the Environment study has revealed.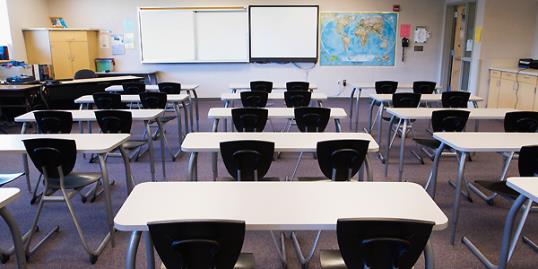 More from MSN Living: 51 perfect daytrips for families
751 pupils using 34 classrooms across seven primary schools in Blackpool, U.K. were studied over the 2011-12 academic year, reports Wired.co.uk. University of Salford's School of the Built Environment and architecture firm, Nightingale Associates collected data on each child at the start and end of the school year, including age, gender and academic performance. Each classroom was scored on a variety of environmental factors. Six of these factors – color, choice, connection, complexity, flexibility and light – resulted in a clear correlation with grade scores.
More from MSN Living: The most popular baby names of all time
Architect Peter Barrett, the study's lead author, was quoted: "This is the first time a holistic assessment has been made that successfully links the overall impact directly to learning rates in schools. The impact identified is in fact greater than we imagined."
Read more of the story here.
Do you think school design and classroom layout can affect a student's grades? Why or why not?
Bing: The best schools in America
More from MSN Living:

Elvis song leaves Utah school district 'All Shook Up'
Is Wi-Fi on school buses a good idea?
Baby names for Kim and Kanye
Photo: ColorBlind Images/Getty Images
News, stories, tips and laughs for moms & dads
Transform the fall vegetable into cool decor pieces.

Put together these creative, but simple, Halloween looks for your youngsters.

We know you're documenting just about every move baby makes. (Do you even have any memory left on your phone? We didn't think so.) These tips from professional photographers can help you perfect your pics.

These six on-trend ideas will make baby's room your new favorite place to hang out.

Baby probably won't remember his first birthday party, but that doesn't mean you can't go all out (after all, parents need to celebrate making it through this first year, right?). These fun, colorful themes take planning to the next level.

See what celebrities who had problems conceiving have to say.

You'll be hearing a lot of advice and opinions. Some of it will be really helpful and some will be just plain wrong. Here are the most common things people say about babies that aren't true.

A new dad finds an Epcot Center's worth of innovation after expecting none at all.

The dog days of summer may be well behind us, but that doesn't mean it's time to pack in the outdoor adventures quite yet.

Protect yourself and your family with these ingenious gizmos and smartphone apps.

Make sure your go-to gadgets are as cute as your style, with these trendy tech finds!

Oh, how the times have changed...