Parents grossed out: Fungus found in Capri Sun
Five types of fungus have been identified in the popular kids' juice drink Capri Sun, researchers say.
Cue the "eeews." Five types of fungus have been identified in the popular kids' juice drink Capri Sun.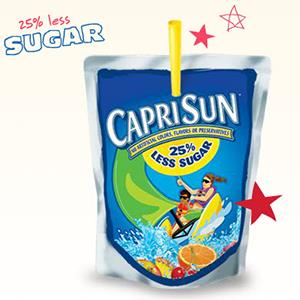 According to The Christian Science Monitor, researchers found "mats of fungus consisting of millions of cells in the drink." While the thought of your kids' drink acting as a petri dish isn't all that appetizing, study researcher Kathleen Dannelly, associate professor microbiology at Indiana State University says the fungi probably aren't harmful to most people.
More from MSN Living: High school proms: Then and now
"Probably, those of us with healthy immune systems, we could even eat that, and that wouldn't be a problem," Dannelly told The Christian Science Monitor, referring to the fungal mats in Capri Sun. It may be a different story for people with compromised immune systems, such as those with AIDS, leukemia or cystic fibrosis.
Kraft, which manufactures Capri Sun, posted the following statement on its website:
Mold that forms on food and beverages is usually a common mold. It's generally much like common bread mold, though it may look different depending on where it forms. And yes, it can be ugly, gross and totally unappealing.
The bottom line: Five types of fungus have been found in Capri Sun and they likely won't harm you, but they sure are gross.
More from MSN Living: The most awkward pregnancy photos ever
Here's how some parents are reacting:
"Everyone always talks about Capri Suns as if they are

indestructible--that​

they are ideal for sports and outdoor activities because the packaging is safe and keeps bacteria and other icky stuff out. So the idea that the packaging might actually be helping keep fungus in makes me uneasy." –

Kayt Sukel

, author of "This is Your Brain on Sex"
 "That is DISGUSTING!!! I don't even know what that is, and I've graduated in Microbiology and have practically seen all kinds of molds, fungus and bacterias." – Rosemichelle on

The Bump
"That is BEYOND gross!  This freaks me out.  Really freaks me out." – Mary0913 on

The Bump
 "Unfortunately the solution will be to put preservatives in it or to make it perishable and have to be chilled. I wonder which one is more profitable?" – speculates

Chef and Father

, Greg Johnson
"I quit buying them once I heard that. Gross." – Whitney on Facebook
"I always thought it was gross." – Lori on Facebook
"Another reason to drink the ultimate beverage...water!!" – Dawnelle on Facebook
"Another good reason to give your kids homemade drinks with no preservatives!" – Monica on Facebook
Tell us: What do you think about this? Icky or okay?
Bing: Grossest food recalls
More from Family Room:
Strapless dresses banned at middle-school dance
Dad illustrates his kids' lunch bags
Should you bring your kids to work?
Love content like this? Friend us on Facebook, follow us on Twitter and find us on Pinterest.
Readers: Calling all mom bloggers — we're looking for fresh voices on MSN Living. Email us your samples and contact info.
News, stories, tips and laughs for moms & dads
Megan Davies Mennes has been blogging and posting photos of her son Quinn online for some time now. Quinn has Down syndrome, and Mennes has dealt with a few nasty comments here and there, the type of stuff you'd expect to encounter on the Internet.

From a cozy-chic hotel by the seashore in Los Angeles that doubles as a home away from home to a nature-lover's tropical paradise in Costa Rica, each of these properties is a family-friendly in its own special way.

Two controversial science projects resembled weapons, school officials said.

Must-haves for every mommy on the road

What are we teaching our children when we focus on their achievements rather than their kindness?

Discover the seemingly insignificant things that can affect your chances of getting pregnant.

A thrill-obsessed subculture claimed another life this week.

A few suggested answers for the diciest questions

Here's our list of fifteen moms in the food industry that deserve some recognition.

The site gets high marks for its user-friendly interface and excellent and responsive customer service. And the reviews are also pretty accurate. Compare amenities and prices next to a hotel's in the same area, and you're likely to see Airbnb come out on top.

We captured a frame-by-frame look just for you.

Other moms can be ruthless when it comes to picking apart your parenting choices. From dissing your decision to go back to work to criticizing when you started baby on solids, here are the most ridiculous comments moms have heard. Bonus, we've got just the right way to respond to the haters! You're welcome.