Social media policies: Should schools have them?
Mashable reached out to schools across the U.S. and asked: Should there be an overall policy for social media use?
Facebook, Twitter, Instagram, Reddit and Tumblr did not exist when I was in high school. Instead, our biggest forms of social distraction were passing notes in class and flirting. As in face-to-face and not via 140 characters or scandalous Snapchat photos.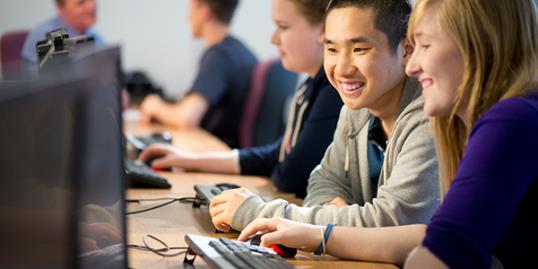 So how do teachers today manage student social media habits in the classroom?
From Redbook: Are social media killing your relationship?
Mashable reached out to schools across the U.S. and asked: Should there be an overall policy for social media use?
Here's what people had to say:
Hans Mundahl, director of technology and integration at the New Hampton School, a private boarding high school in New Hampton, N.H., said his school has three levels of policies. 
"Teachers are not to friend or follow any of their students on any social media channel. We, teachers and staff, are sort of the 'parents-plus.'  It's important to establish great relationships with students offline that are not necessarily 'friend' relationships online."
Robert Dill, who teaches government, psychology and sociology at the public Forest Hills High School in Sidman, Pa., told Mashable that his school doesn't have a formal policy in place.
"Teachers are still cautioned to not discuss a student's grades or performance over social media — but really, that's the only rule of thumb," Dill told Mashable. "I know several teachers who are Facebook friends with their students."
True or false: Women lie on social media to appear more interesting
New York-based attorney Pedram Tabibi thinks it's important for schools to have a social media policy in place.
"Social media policies are not meant to be some sort of restrictive or privacy-violating blanket," Tabibi told Mashable. "But if you take your community's culture and values into consideration, you can nail down some sort of structure that will prevent both the staff and students from getting into trouble down the road."
Read the complete story on Mashable.
Tell us: Do you think schools should have a social media policy? Why or why not?
Bing: Most social media savvy cities
More on The Family Room:
Teen faces prison time after Facebook comment
Baby's name chosen by coffee drinkers
Is Kate Middleton having a boy or a girl?
Love content like this? Friend us on Facebook, follow us on Twitter and find us on Pinterest.
News, stories, tips and laughs for moms & dads
Make sure your go-to gadgets are as cute as your style, with these trendy tech finds!

Oh, how the times have changed...

Get ready to hit the mall! Check out the hottest back-to-school trends—and get ready to make a major style statement this year.

Unique, or downright strange?

This is Kevin Droniak and his grandma. They're besties, they're awesome and they're YouTube stars.

It can be difficult to entice little ones to eat anything at all, let alone to devour a healthy plate. But feeding your kids nutritious snacks after school just got way easier, thanks to these adorably clever and cute snack ideas! For more smart and fun ways to get your kids to enjoy healthful and delicious foods, try one of these amazingly artsy lunch ideas.

Through a tonsillectomy all the way to brain surgery, my mother deserves some recognition. She's my spine, my birthday shadow, my BFF, my thunder buddy, so Mommy, thank you.

My son needs me, as much as yours needs you. Sadly, my son needs me more. He needs someone to have his back, when it seems that the police, the men he'd wave to with excitement as a little boy, see him as a being worthy only of prison or death.

If you know someone who has adopted and have made some of these comments, don't fret... now you know!

"Because you shine from within," I said, touching my finger to her heart. "Not everybody sees it, but I do. I see it. And my job is to protect that light. So when people say mean comments that squelch that light, I want you to tell me. I will protect your light by listening and loving you, my brave, courageous, and unique little firefly."

Studies have shown that it helps, top education officials have recommended it, and now doctors are officially saying the same.

I may have accidentally dropped you a few times, forgotten to document your first fart, let a little pee fly and dressed you like an idiot, but I have also loved you with every piece of me, and you will never hear an apology for that.