Social media policies: Should schools have them?
Mashable reached out to schools across the U.S. and asked: Should there be an overall policy for social media use?
Facebook, Twitter, Instagram, Reddit and Tumblr did not exist when I was in high school. Instead, our biggest forms of social distraction were passing notes in class and flirting. As in face-to-face and not via 140 characters or scandalous Snapchat photos.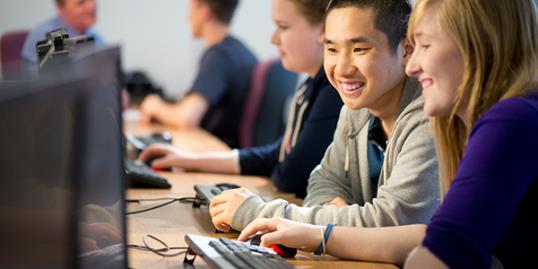 So how do teachers today manage student social media habits in the classroom?
From Redbook: Are social media killing your relationship?
Mashable reached out to schools across the U.S. and asked: Should there be an overall policy for social media use?
Here's what people had to say:
Hans Mundahl, director of technology and integration at the New Hampton School, a private boarding high school in New Hampton, N.H., said his school has three levels of policies. 
"Teachers are not to friend or follow any of their students on any social media channel. We, teachers and staff, are sort of the 'parents-plus.'  It's important to establish great relationships with students offline that are not necessarily 'friend' relationships online."
Robert Dill, who teaches government, psychology and sociology at the public Forest Hills High School in Sidman, Pa., told Mashable that his school doesn't have a formal policy in place.
"Teachers are still cautioned to not discuss a student's grades or performance over social media — but really, that's the only rule of thumb," Dill told Mashable. "I know several teachers who are Facebook friends with their students."
True or false: Women lie on social media to appear more interesting
New York-based attorney Pedram Tabibi thinks it's important for schools to have a social media policy in place.
"Social media policies are not meant to be some sort of restrictive or privacy-violating blanket," Tabibi told Mashable. "But if you take your community's culture and values into consideration, you can nail down some sort of structure that will prevent both the staff and students from getting into trouble down the road."
Read the complete story on Mashable.
Tell us: Do you think schools should have a social media policy? Why or why not?
Bing: Most social media savvy cities
More on The Family Room:
Teen faces prison time after Facebook comment
Baby's name chosen by coffee drinkers
Is Kate Middleton having a boy or a girl?
Love content like this? Friend us on Facebook, follow us on Twitter and find us on Pinterest.
News, stories, tips and laughs for moms & dads
Transform the fall vegetable into cool decor pieces.

Put together these creative, but simple, Halloween looks for your youngsters.

We know you're documenting just about every move baby makes. (Do you even have any memory left on your phone? We didn't think so.) These tips from professional photographers can help you perfect your pics.

These six on-trend ideas will make baby's room your new favorite place to hang out.

Baby probably won't remember his first birthday party, but that doesn't mean you can't go all out (after all, parents need to celebrate making it through this first year, right?). These fun, colorful themes take planning to the next level.

See what celebrities who had problems conceiving have to say.

You'll be hearing a lot of advice and opinions. Some of it will be really helpful and some will be just plain wrong. Here are the most common things people say about babies that aren't true.

A new dad finds an Epcot Center's worth of innovation after expecting none at all.

The dog days of summer may be well behind us, but that doesn't mean it's time to pack in the outdoor adventures quite yet.

Protect yourself and your family with these ingenious gizmos and smartphone apps.

Make sure your go-to gadgets are as cute as your style, with these trendy tech finds!

Oh, how the times have changed...