Social media policies: Should schools have them?
Mashable reached out to schools across the U.S. and asked: Should there be an overall policy for social media use?
Facebook, Twitter, Instagram, Reddit and Tumblr did not exist when I was in high school. Instead, our biggest forms of social distraction were passing notes in class and flirting. As in face-to-face and not via 140 characters or scandalous Snapchat photos.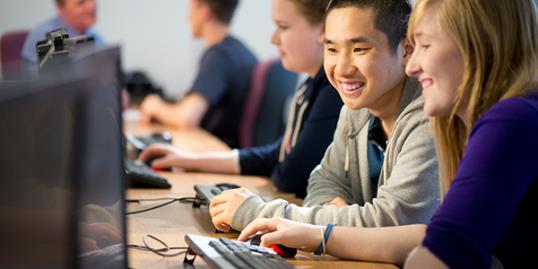 So how do teachers today manage student social media habits in the classroom?
From Redbook: Are social media killing your relationship?
Mashable reached out to schools across the U.S. and asked: Should there be an overall policy for social media use?
Here's what people had to say:
Hans Mundahl, director of technology and integration at the New Hampton School, a private boarding high school in New Hampton, N.H., said his school has three levels of policies. 
"Teachers are not to friend or follow any of their students on any social media channel. We, teachers and staff, are sort of the 'parents-plus.'  It's important to establish great relationships with students offline that are not necessarily 'friend' relationships online."
Robert Dill, who teaches government, psychology and sociology at the public Forest Hills High School in Sidman, Pa., told Mashable that his school doesn't have a formal policy in place.
"Teachers are still cautioned to not discuss a student's grades or performance over social media — but really, that's the only rule of thumb," Dill told Mashable. "I know several teachers who are Facebook friends with their students."
True or false: Women lie on social media to appear more interesting
New York-based attorney Pedram Tabibi thinks it's important for schools to have a social media policy in place.
"Social media policies are not meant to be some sort of restrictive or privacy-violating blanket," Tabibi told Mashable. "But if you take your community's culture and values into consideration, you can nail down some sort of structure that will prevent both the staff and students from getting into trouble down the road."
Read the complete story on Mashable.
Tell us: Do you think schools should have a social media policy? Why or why not?
Bing: Most social media savvy cities
More on The Family Room:
Teen faces prison time after Facebook comment
Baby's name chosen by coffee drinkers
Is Kate Middleton having a boy or a girl?
Love content like this? Friend us on Facebook, follow us on Twitter and find us on Pinterest.
News, stories, tips and laughs for moms & dads
Make the most of the summer with these family-oriented activities!

Here our experts' best tips for how to be a positive role model for your kids so that they grow up healthy, strong and confident about the way they look.

Pets are part of many children's lives. Learn how to help them foster strong, healthy relationships.

It's that time again, parents...

One of our favorite ways to start the day is with a piping hot cup of coffee and a thought-provoking TED talk. In case you'€™re not familiar with the group, TED (which stands for Technology, Entertainment and Design) is a nonprofit organization dedicated to spreading ideas through projects and talks by a diverse group of inspired thinkers - people of all cultures, ages and disciplines. As you can probably guess, listening to these innovators share their ideas is a surefire way to jumpstart your day and get your creative juices flowing. Click through the slideshow above for the eight TED talks every parent needs to see. By Cordelia Tai

Much like their famous owners, these pooches live a fabulous life. Some are rescues, others purebred, but one thing is certain – these dogs play an important part in their famous parents' lives. Can you guess who owns each of these dogs?

If you value the backside of your theater seat and making it to your next paycheck, you may want to stay home

Two controversial science projects resembled weapons, school officials said.

One mom shares how she and her family make the Sedar fun and memorable for all

The threats were in public view on the boy's social media wall.

Sometimes, love isn't enough to save us.

Joe, Kevin, and Nick aren't the only hot bros in Hollywood. Seventeen has uncovered the cutest celebrity siblings!